The vendor map for the Design Market is here – take a closer look at the participating brands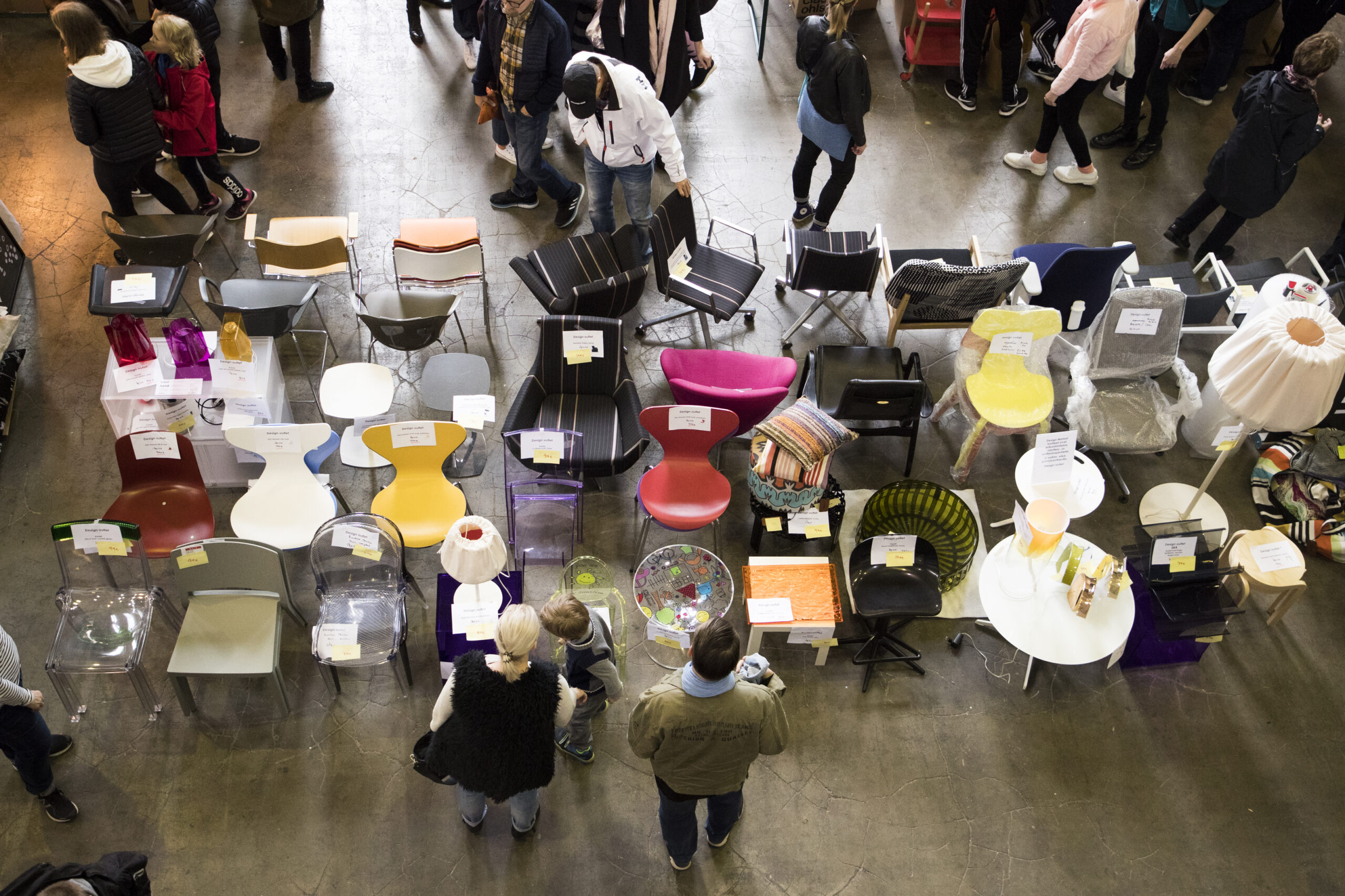 The Design Market has become one of the favourites of the festival over the years, and this year is no exception thanks to all the design finds we can make for a great price. The map lists close to 200 vendors and guides you through the Cable Factory on 8 and 9 September.
We'll meet the brands familiar from previous years as well as some titles presented for the very first time. The design brands include Hakola, Secto, Artek and some 200 other vendors. This year's novelties include traditionally made pastel-toned ryijy rugs from Ragmate.
Download the Design Market vendor map here. 
During the weekend, we'll be able to browse through the collections at the Vinyl Market produced by We Jazz. In addition to music, we'll hear discussions, during which the panellists will discuss the common denominators of music, vinyls and design.
Saturday, 8 September
11:00–13:00 DJ Matti Nives
13:00–13:30 Interview: photographer Tero Ahonen
13:30–15:30 DJ Tupla-Jukka (Timmion Records)
15:30–16 :00 Interview: Jukka Sarapää (Timmion Records)
16:00–18:00 DJ Fredrik Lavik (Afro7/Jazzaggression)
Sunday, 9 September
11:00–13:o0 We Jazz DJs
13:oo–13:30 Interview: photographer Maarit Kytöharju
13:30–15:30 We Jazz DJs
15:30–16:00 Interview: Suvi Saloniemi (Designmuseo)
16:00–18:00 We Jazz DJs
Finnish flavours are in focus at this year's New Market. The New Market x Food at the Cable Factory loft produced in cooperation with Produce from Finland by Ruokatieto will introduce twenty-some brands and products that have to do with food design, nourishment trends and Nordic ingredients. This market will also offer a food-themed programme, discussions about food design and info spots. The textiles in the venue are provided by Finlayson.
Foodies will also get a chance to taste authentic Syrian delicacies by Cafe Damascus at the end of the Merikaapelihalli hall. Just like last year, we'll be able to enjoy restaurant Loop's vegetarian dishes that help reduce food waste.
To help transport all newly found design treasures home, Whim will be giving out travel money at the event. They are also welcoming everyone to their tent, where shoppers can find delicious tea and additional fun program will be available.
This year's Print Market will feature 18 brands
In addition to design finds, vinyls, and food brands, the market will feature printed products, as is its tradition. At the Print Market, shoppers can get their hands on skilfully executed print products. There are posters, post cards, city maps, customizable interior design products and Helsinki-themed textiles on sale. This year's brands include:
2 x ilo Design
Ainoa Graphic Design / Oot niin ihana
asun amar
bookm-ark.fi
Groovink
Helle Visuals
KaisaGraf
KARINA
Kehvola
Leena Kisonen
Loistavakauppa
Markku Tanttu
MIRA MALLIUS
Moikkamuikku
Papurino
Putinki
Sasha Kretova
Studio Reponen / Plot Communications
syster henry & little perky
The Freda Flower Market (Fredan Kukkaistori) is back in the inner courtyard, where you can design hand-picked flower bouquets at a workshop arranged by Arteflos on Sunday. On Saturday, there is also a chance to express oneself as a creator of fashion – the participants of Anna Markiz's workshop will be able to edit their chosen fashion picture and eventually execute a 3D depiction of the clothing idea. You are welcome to also participate in MUM's pin workshop and select a designer print for your pin for both days of the weekend.
Last year the Design Market gathered more than 30,000 visitors at the Cable Factory.
NOTE! For safety reasons and to avoid blocking the walking lanes, buggies and prams cannot be brought inside the building. They can be left outside in the pram parking area.