Introducing the makers of Xmas Design Market WeeGee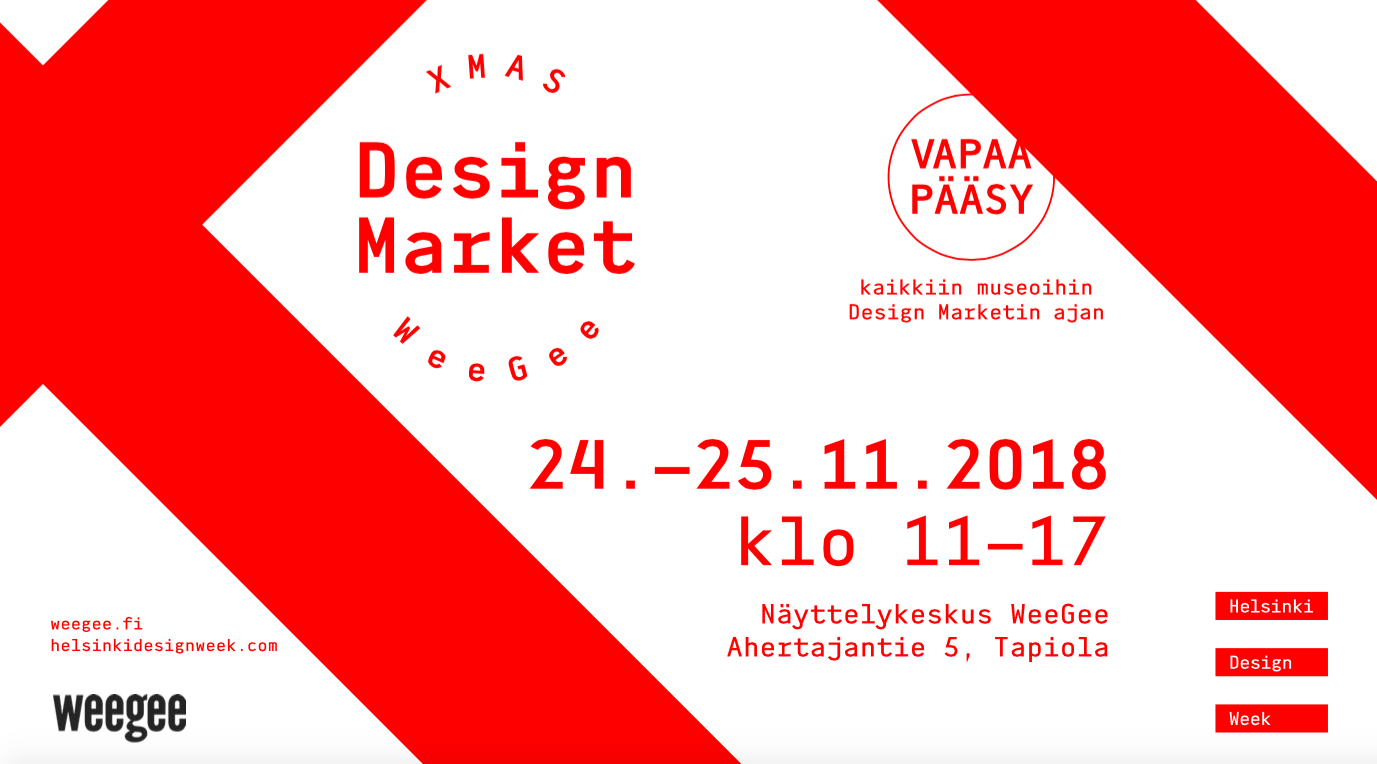 Helsinki Design Week brings one of its most popular events to Espoo. The Xmas version of the Design Market will take place at Exhibition Centre WeeGee on 24-25 November, from 11 am to 5 pm.
There will be thirty-seven hand-picked vendors selling high quality Christmas presents, Freda's Flower Market and the Kameleontti Choir singing songs suitable for the festive season. There will also be music chosen by the We Jazz DJs. There is free entrance to all museums during the weekend! More details can be found here.
Xmas Design Market WeeGee vendors
Quality-conscious elves will have a lot to choose from. The hugely popular Aida Impact earrings, the softest items from Anno and Habitek, Elma B's bee farm's handmade honey, soaps and candles and Nord-T's lovely teas are the perfect gifts.
Other vendors include Field Day, LUMI, Demoog, Gina Bulgamin and Heidy Tiits. HIMMEE and Melaja will take care of the atmospheric lighting in the space.
There will also be presents for those who have been extra nice this year. This will be taken care of by Juuripuu, Studio Arto Halmetoja, LumoKids, Woodnotes and Made by Choice. The loveliest knits and linen products will be sold by Kauneve, Knitworks, Vestiarium, Raijan aitta, Sahra's Shop, Niinmun' design, Niimaar and MaiMai.
For kids' presents, the selection includes colourful books by Etana Editions and clothing from Jännä and Klaus Haapaniemi Giants. Games by N/E are of interest to adults, too, and the profit made by selling Unicef's handmade dolls will go directly to charity work.
The selection of interior objects includes products from familiar Design Market vendors: Into Interior, Verso Design, LANGØ and Teemu Järvi illustrations. The table will be set with ceramics and dishes by Tuias, Raaka/Rå, Brummer & Brummer and ceramicist Johanna Ojanen.
More details can be found at Facebook
Xmas Design Market WeeGee 24 – 15 November, 11am – 5pm. 
WeeGee, Ahertajantie 5, 02100 Espoo
Free entrance