Presenting new Editor in Chief and Programme Director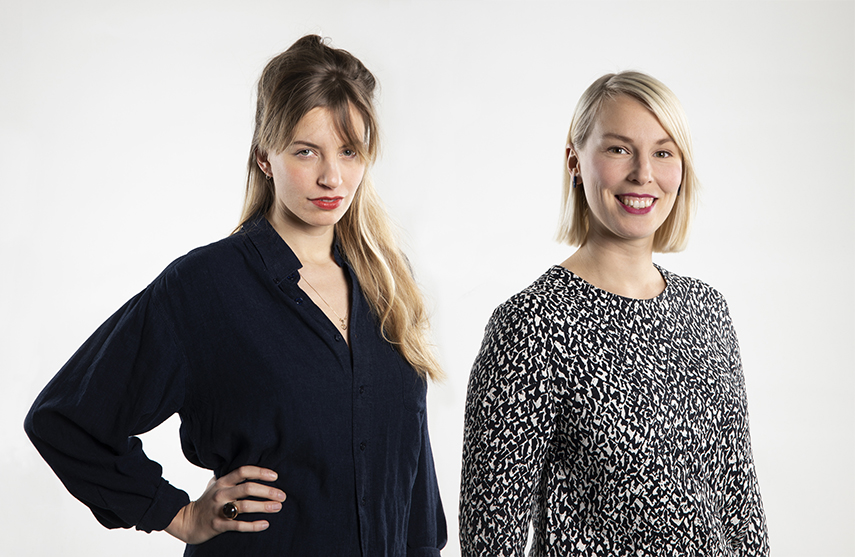 Helsinki Design Weekly's new Editor in Chief Ida Kukkapuro is a multitalent of design communications. Anni Korkman moves on to work as Programme Director for Luovi Productions. Anni and Ida work together at Radio Helsinki, too. Here they ask each other about future plans and reveal their thoughts about Wolt, public saunas and sour milk, among other things.
Anni: Ida, welcome to our team! Lovely to have a partner to work with. You're the new editor in chief of Helsinki Design Weekly. How does it feel?
Ida: This is a dream job, to be honest. As a journalist, I've specialized in design and architecture for soon a decade, and as the editor in chief of Weekly I get to pursue this specialization full time! That's luxury! And in good company, too. Your work description will change, too. What will it be?
Anni: In the role of programme director I'll get to consider the big picture regarding the contents we produce. I'll further reinforce co-creation with universities, museums, companies and other partners, both locally and globally. I'll also explore our responsibilities within the domain of design as well as sustainable ways of working.
Ida: Let's hear an example.
Anni: The challenge with the Helsinki Design Week festival is that it's temporary. On one hand, I want to carefully consider the justification of temporariness, and on the other, what sustainable elements we could create for the city. We'll examine the entire field critically, yet encouragingly. What kind of plans do you have?
Ida: Grandiose plans, ha ha. Since Helsinki Design Week is the biggest design festival in the Nordic countries, it only makes sense to turn Weekly into the biggest design medium in this area. That is a lot of work, but a great long-term goal at the same time. Now, short term, we'll focus on multichannelling. We'll continue our programme at Radio Helsinki and create more video content. In addition, I want to develop our news production. What do you dream about in terms of work?
Anni: I want everything we do to create a reaction, like, "oh, this can be done, this is what's out there". My dream is for all kinds of people to find their way to Fiskars Village Art & Design Biennale in May. I also dream that during Helsinki Design Week, the city people will feel not only proud but also surprised about the possibilities of design. One more dream: more and more revelations for the Weekly listeners, viewers and readers. Wow, now I'm excited. 
Ida: Ha, so this is a great opportunity to shoot some quick questions. Wolt or Whim?
Anni: Whim. I've never had food delivered home in Finland. There's always a piece of cheese in the fridge. Instagram or a novel?
Ida: Both. I read printed fiction every single night, never an e-book. It's been my way since childhood and guarantees good sleep. For a long time, Instagram has been the application that most entertains me and feeds into my curiosity. Now, however, I've made a break, because I realized it's causing addiction, which I don't like. R-Collection or Samuji?
Anni: Samuji. I'd love to be a Samuji woman, but I don't know if I have enough ethereal vibe. I do have the Chunky beanie. Löyly or Kulttuurisauna?
Ida: Kulttuurisauna. Löyly seems like a place that works better as a scale model than an actual building. I love the smoke sauna, but why is there no proper view to the sea from the sauna? Why do they have such crappy locker rooms? At Kulttuurisauna, I appreciate the devout atmosphere as well as the playlist and the menu. It's a place to my liking, a place where you can get a boiled egg and a glass of sour milk. Milan or Dutch Design Week?
Anni: Milan. Both are impressive design festivals and very different from each other. Fuorisalone in Milan is fabulous. Its April light, colours and people from all over the world. This year, it'll be particularly exciting with the Wonderwater Café by Jane Withers and Kari Korkman back as part of the Broken Nature exhibition curated by Paola Antonelli for the Triennale. Pontus or Sea Horse?
Ida: I'm delighted with both interiors. I want everything: the cabbage rolls of Sea Horse and the soft ice of Pontus. Do we have a date?