Pure Waste – A Climate Pioneer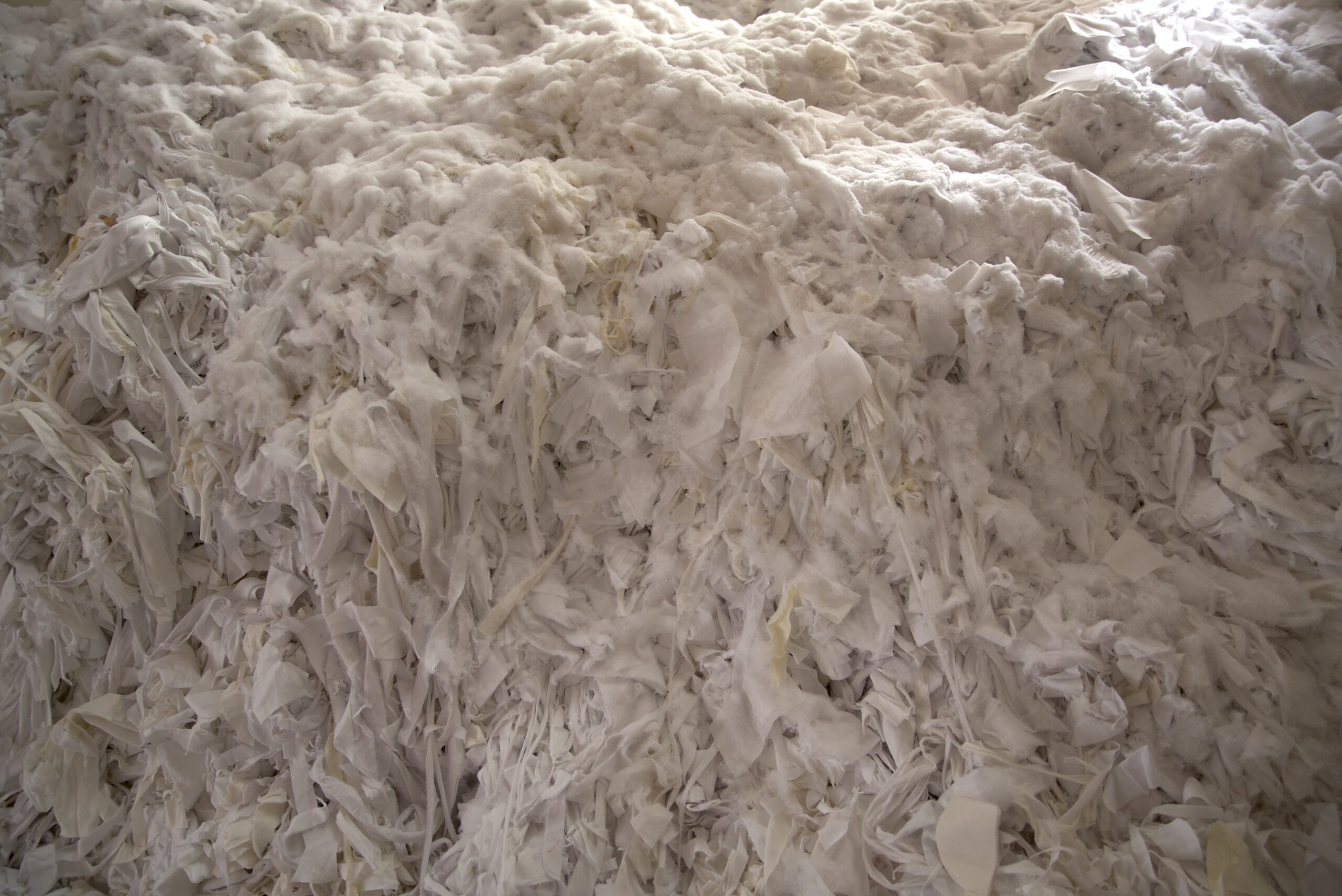 The clothing industry is under pressure from various directions to recycle. The Finnish company Pure Waste is one of the pioneers in textile recycling.
The clothing industry is under pressure from various directions to recycle. The Finnish company Pure Waste is one of the pioneers in textile recycling.
 This is how it often goes: at first, nobody believes in the idea. Then everybody wants a piece of it. An inevitable transformation that perhaps ten years ago was hard to imagine is about to commence in the clothing industry.
On Yrjönkatu in the centre of Helsinki, one company operates on two different levels – literally and symbolically. On the street level, we have the Costo and Pure Waste brands' concept store. These premises feature cool and refined Scandinavian decor, including hardwood floors. The products, too, are cool and minimalistic, consisting mainly of hats and T-shirts in solid colours.
Across the street on the third floor we find impressive offices previously occupied by the Amos Anderson art museum. This is the location from which Costo and Pure Waste are currently run. The interior of this well-lit stone property with high ceilings exudes prestige. The office walls exhibit framed promotional materials, and amidst innocent-looking office plants we discover random items: a pan flute on a chair, for example.
Looking at the stand-up workstations, we could be in any self-assured advertising or communications agency. Nothing implies that this is a recycling business.
"We feel rather privileged and lucky to have gotten this location," says one of the Costo and Pure Waste founders Hannes Bengs. We are then joined by Jukka Pesola, another founder of Pure Waste. They work together to produce ecological clothing from recycled material.
Appropriately we meet on the Earth Overshoot Day, a hot day in July in Finland. This year, too, our consumption has exceeded the planet's tolerance limit earlier than ever before.
Smirking, the two men acknowledge this controversy. The clothing industry produces an equal amount of emissions as flight and freight transports in total. It is the second most polluting industry in the world. Only the oil industry contaminates more. This company asks: "Why produce more clothing when people have more than enough already?"
15% was not enough
They have a point. And big plans and ideals. Bengs's email signature says "Become a pioneer, subscribe to Pure Waste's B2B newsletter from this link". They can be called pioneers because the company produces clothing made of 100% recycled material. Only a few clothing companies can or want to say the same. Less than ten years ago only a few believed this could be possible.
Once Bengs and Pesola get to talking about their business, it's difficult to get a word in. They finish each others' sentences and occasionally talk out of turn. It's fun to see how passionate they are, considering that they claim to have arrived in this business accidentally.
It all started with Costo in 2006. A group of friends founded the company before they knew what to do with it. Bengs was a furniture designer fresh from school, and his brother Anders had designed hats. They decided to combine the fields, to make hats of furniture manufacturers' scrap materials. "We thought: let's start here, this is ecological," Bengs explains
Pesola had a boutique called Le Putiikki on Bulevardi, took Costo's products on its shelves and was soon part of the business. They made hats in the basement and carried them on a small scale until the business took off during 2008 and 2009.
The Pure Waste concept design began in 2010. Originally the designers wanted Costo to use 100% recycled fabrics, which were not available on the market. Clothes and textiles had been recycled for decades, but 100% recycled fabrics had never been produced. The men were able to find 10 to 15% recycled materials, but that was not enough. "We realized there's a niche market, and we cannot be the only ones wanting to do this. At first we were told such fabric cannot be made, but after testing they found out that it is possible," Bengs recalls.
After performing many tests and working out the process, Pure Waste founded its own factory in India. Idealism and investing in a dedicated factory have paid off; the net sales keep growing and have passed the sales for Costo. This company of twenty people is run from an investment property in the city centre. Its budget for this year is about four million euros.
The end of the world
Bengs and Pesola's company is a counterblow to fast fashion and the related operating logic. The millennium did not produce the Y2K bug or the end of the world, but it did create fast fashion, which in the future may be considered a factor to blame for the end of the world.
The IKEA of the fashion industry and Sweden's gift to the world, H&M, opened in New York in April 2000. H&M clothes are so cheap that people can buy several items at once. The average Finn buys 14 kilogrammes of clothing every year.
With fast fashion, the sales of new clothes doubled, and their use rate went down by 50%. Clothing brands used to make one to three collections per year, but these days Zara, for example, produces 24 collections per year. H&M produces 12 to 16 collections per year.
This translates into enormous overproduction. Fast fashion's revenue logic is based on selling huge amounts with a small margin. "We get contacted by companies asking if we could recycle or re-use their surplus items. But the problem should be solved by not overproducing at all," Bengs retorts, frustrated.
According to calculations by the Ellen MacArthur Foundation, 73% of all manufactured clothing ends up in a landfill or an incinerator. In 2017, the luxury brand Burberry burned 32 million euros of items they could not sell to protect the brand, as selling cheap would hurt the brand's image.
From last December to April, unsold goods worth 3.7 billion euros were left in H&M's storehouses. What is more, a power plant in Västerås, Stockholm will quit using coal and oil for energy production because it receives so much material from cheap fashion chains to burn for energy.
Cotton swept from the factory floor
At the moment, Pure Waste is focusing on industrial pre-consumer waste in India. The textile industry in Finland is now too small to produce a sufficient amount of waste for recycling.
Post-consumer waste is the next expansion opportunity for Pure Waste. There is plenty of that in Finland as well as in other Nordic countries. But it is much more difficult to recycle compared to using industrial waste, because in addition to cotton, post-consumer waste can contain anything from elastane to colouring and other chemicals. However, it is important to learn to recycle post-consumer waste, because at the moment most of it ends up burned or dumped.
"With factory waste, we know it's all cotton. Post-consumer waste should be sorted more accurately," Bengs says.
When unused material is swept from the factory floor in India, it only needs to be sorted by colour. It is not as difficult as sorting post-consumer waste, but it's still time-consuming and expensive manual work for Pure Waste.
The clothing industry could use the same kind of passion to develop algorithms and machine learning as has been implemented in the car industry, for example. "We believe that the sorting of industrial waste will improve in the future. We've discussed it with various possibilities. Factories can profit more from better sorted material," Bengs notes.
This formula has many winners. Factories can sell their extra material, and Pure Waste gets cheap material to make clothes to sell. "In recent years, material prices have been climbing," say Bengs and Pesola.
It's a good sign, of course, that other operators are also interested in recycling, which is why the price of waste is climbing. The efficient recycling of post-consumer waste would be the next major step forward for the industry. Pure Waste plans to establish a test spinning mill in Finland next year to utilize post-consumer textile waste. The plan is part of the local Telaketju project for utilizing textile waste, participated in by Lounais-Suomen Jätehuolto, the Turku University of Applied Sciences and VTT Technical Research Centre of Finland.
Pesola says that post-consumer waste alone cannot be spun into yarn with high enough quality. "But we can mix it with other recycled and biodegradable fibres to produce a high enough quality. Next year we'll do the tests, and if they prove us right, we can make an investment and start production in Finland."
Internationally, post-consumer waste recycling will be encouraged by developing countries, which are increasingly closing their borders to textile waste. For example, the textile industry in Africa is nearly decimated due to all the waste coming in from Europe and the United States. Last year Kenya tried to ban textile waste import but withdrew the ban after being pressured by the US. "Hauling textiles far away from where they're produced makes no sense at all. It's obviously best to recycle in the country of origin," Bengs notes.
Old should be the new black
Considering how much more destructive the textile industry is to the climate compared to air transport, it is odd that the industry's impact has only recently become a topic of public discussion. Operators such as Pure Waste are among the few minor forerunners, and large enterprises are slowly waking up to smell the situation.
Professor of Sustainability Management at Aalto University Minna Halme thinks recycling will become a vast phenomenon in the clothing industry in the future – not only to greenwash it but because practical challenges will force major clothing chains to recycle. Cotton farming cannot be extended any further, and public regulation will become tighter.
"This phenomenon is not primarily about sustainability but pure business," Halme says.
Consumers, too, will increasingly demand environmentally friendly clothing, Halme says. "Buying second hand is becoming more and more popular, but it's not yet a mainstream choice. If we leave the red and green bubble of Helsinki and look at a wealthy family in the suburbs, for example, we'll notice they buy more new items."
The textile industry's heaviest load on the environment is its raw material production. Making polyester requires oil, and cotton farming uses a great deal of water. Cotton farming also pollutes the environment and takes land from food production.
When we combine all this with the fast fashion culture that produces waste to be dumped or burned, we find ourselves in an intolerably wasteful situation. Yet unsustainability has become the new normal: new trends keep coming, and many daily commodities, such as smartphones, involve ridiculously short lifecycles.
According to the Ellen MacArthur Foundation, greenhouse emissions by the textile industry would decrease by 44% if consumers were to double the service time of their clothing. Halme feels optimistic about consumers' ability to move away from the fast fashion cycle. It would not require transforming any major infrastructure, only consumption patterns. "It's a bit like trying a new shampoo or switching from meat to vegetarian sausages. It will require a change in trends, a change in what creates a positive identity."
In other words, the new clothing posted by influencers would not be desired and admired but ridiculed. No-one would be interested in Kim Kardashian's new sweatpants anymore.
Instead, our culture would encourage using the same piece of clothing for ten years and sharing the accomplishment. Unfortunately in this era of fast fashion, new clothing is not designed to last. "In the 1990s, the clothes were more expensive but lasted longer," Halme says.
Better than Gore Tex – sustainable production
In addition to Pure Waste, the recently established Infinited Fibre is advocating for the use of sustainable recycled materials in Finland. The company produces 100% recycled textiles for industrial use. Infinited Fiber has just collected 3.7 million euros of funding from H&M, among others.
H&M now emphasizes environmental values in its communications. The Swedish chain's objective is to become "climate positive" by 2040. This means that the company must remove more carbon dioxide from the atmosphere than it is emitting. "There are pros and cons to this. Large companies with money want to help, but at the same time they do harm," Bengs says.
Although we see positive signs of circular economy and sustainable development, both Pesola and Bengs firmly say "no" when asked if it is possible to put a stop to the fast-paced fashion world.
They make a point of not doing fashion. They do not have collections. Costo provides the same basic models from year to year. About 85–90 percent of the company's turnover comes from business to business sales. All along the purpose of Pure Waste has been to provide an ecological alternative for the fashion industry: fabric made of 100% recycled material. "The idea was to brand recycled fabric because there are not many related brands available. There are Fair Trade and GoreTex. And GoreTex is not very ecological, but it's a good brand," Bengs says.
All in all, they sell clothing. "It contradicts what we really want," Pesola says and continues, "We cannot change anything alone, but we can show the way. People didn't believe in us when we started, but now nobody questions us. Somebody must show what can be done."
Pure Waste organises the Waste Side Story fashion show at Tavastia on 10 September at 20.
This long read was supported by Pure Waste but all thoughts and editorial content are our own. Like everything at Helsinki Design Weekly, our partner content is carefully curated to make sure it's relevant to our readers.