Weekly Studio: Rolf Ekroth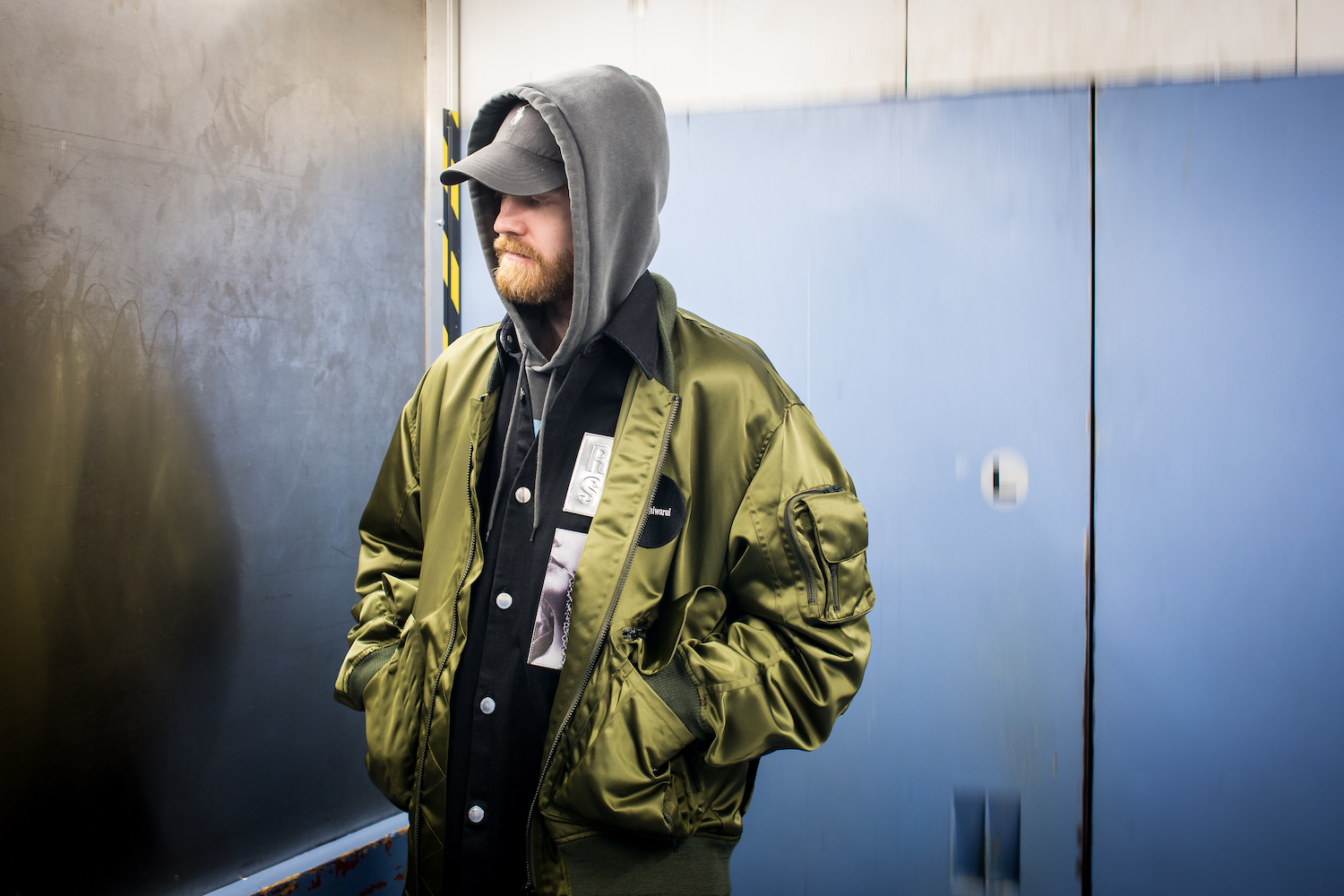 Following his much-lauded double launch of Terinit and Rolf at Pitti Uomo in January last year, Rolf Ekroth sat down with Weekly Studio to talk about the joys and challenges of helming two brands at once and his undying love for New England Patriots quarterback, Tom Brady.
Following his much-lauded double launch of Terinit and Rolf at Pitti Uomo in January last year, Rolf Ekroth sat down with Weekly Studio to talk about the joys and challenges of helming two brands at once and his undying love for New England Patriots quarterback, Tom Brady.
There are a lot of things I want to ask about the double launch at Pitti Uomo of your own label, Rolf, alongside the relaunch of Terinit, but let's start with your agreement to helm the brand on the condition that they finance your own label. How did that all come about?
In the spring of 2018, I showed the Halti collection collaboration at Pitti Uomo. Finland was the guest nation that year and when I received the invitation to participate, I didn't want to sew my own clothes and make another student project. Instead, I started contacting Finnish companies and Halti was first to respond. We sorted out a deal quite quickly. In the end, I think we realised a strong collection and there was a good response.
Although it's not so typical among Finns, I've always been quite comfortable talking about myself. Most Finns are quite shy, even modest, but I'm a Finnish-Swede, so that's not my nature. When I was growing up, my dad always said, 'you'll do what you want to do, other people will do what they can do'. He really boosted my confidence and instilled in me the idea that it's up to me to work hard and do what I want. Everything comes down to good parenting. My mom always jokes that I don't say anything nice about her in interviews, but she showed me other qualities like undying support. She's still the one I call first whenever I have news, whether good or bad.
And how did Halti lead to the Terinit job?
They read about me because I gave quite a lot of interviews and then I was approached through a head-hunter. I had a job offer from a big Parisian fashion house which I was almost ready to sign, but thought I had nothing to lose by going to meet them.
The owner of Holmberg Brands, Terinit's parent company, is a really special person. She's a real character. She has an amazing energy and gets super excited about things. I liked her immediately and we got along well in part because I'm not afraid to speak my mind. That led to a meeting with the rest of the investors who asked me about my deal with Halti and future plans. In the middle of the meeting, in the heat of the moment, I just said that the only reason why I would come to work for them is if they would also finance my own label.
Do you think you're going to be able to sustain the development of two brands in the long term given the demands of developing two collections per year for each? 
Although I get bored if I don't have enough to do, I am slightly kicking myself at the moment because there's just so much work. I only have one half-day assistant, so it's basically two people doing the day-to-day job. I've also hired an amazing group of people for my team, but it's been a busy one and a half years, I can't lie.
That said, I definitely I want to continue building the two labels. It's my dream job, really and I couldn't have imagined anything better. At times, I can be a bit ungrateful and complaining; it's one of my biggest faults. When I was a fashion outsider, I thought that fashion insiders complain and moan a lot, but now I'm deeper into it, that's all I do as well. It's difficult to juggle the different strings. I deal with the factories, producers, showrooms, agents, stores, everything. But I also realise that this is the best job ever and it's a miracle I get paid to do it.
I wasn't there, so I'm only speaking from the photographs I've seen, but it seems like there was quite a theatrical bent to your double presentation in Florence at Palazzo Pucci. Where does that come from?
I think we saw it more as a funny joke than intentionally theatrical, the contrast between the beautiful classicism of the building's interiors and the fact that we had guys playing table hockey wearing ski outfits. Florence is so beautiful that it seems strange not to incorporate the city into the presentation. There are soulless warehouses all over the world, so why not use something beautiful if it's there.
Do you feel that there's pressure to up the ante in terms of putting together a presentation?
I'm not sure. I think we were primarily thinking about what we could do with our fairly limited budget. If I had an unlimited budget, it would probably be a nightmare because I have a real tacky side. That's why it's so important for me to have Tuomas Laitinen as part of the team because he checks my more ridiculous impulses.
I'm glad you mentioned Tuomas because I wanted to ask you how that relationship has evolved from student/teacher to professional colleagues given that he now works with you as a stylist and advisor.
I've never had a teacher as good as Tuomas was at Aalto. He has this dark sense of humour and he tells you straight up what's wrong, what's good and what you need to work on. It's not always easy to hear that you're really bad at something, but I think it's even harder to be the person who has to say those things. I really appreciate the way he moulded me, tearing down everything I thought I was good at and pushing me in the right directions. For me, it formulated a strong bond and I trust him 100%. As soon as I finalised the deal with Holmberg, I called Tuomas because I knew I needed him to be part of what I was doing.
In terms of re-launching Terinit, could you talk a bit about your thinking behind taking a sportswear brand with a prior history and translating that into a more streetwear-focused collection?
I hadn't actually heard of Terinit prior to this job. Its heyday was in the '80s and in the 80s, I wasn't looking at clothes labels. I was a young kid looking at Legos… But when I looked through the old catalogues, I immediately found interesting pieces and details, which is what I've always done as a designer; I try to find interesting old clothes, look at the details and then co-opt them for my own designs. 
Immediately, I saw a lot of potential, but then we also started to think about that history and what we could do with it. Terinit's history is closely connected with ski jumping and winter spots and we wanted that to be part of the look. 
I think it formulated quite quickly regarding what we wanted to do with the label. We knew the price point and where we would like it to sit in the market. We had a few good examples in mind of what it could be.
Such as?
We want it to be a fashion label, but a street fashion label, so we had things in mind like Napa by Martine Rose, Stone Island Shadow Project, Alyx, MISBHV, Heron Preston. That's the sort of world we wanted it to be part of.
When I started drawing for the first collection, the World Cup was on. I just put that on TV and drew thousands of drawings. What I wanted the label to be emerged quite quickly. You need a few good ideas and my first good idea was to do a hockey shirt, but to do it in knitwear. That gave me the direction. Then, of course, we needed ski jumping outfits. Of course. I want to incorporate details from the past, but not everything at once; a few details for each season helps to keep things fun. Terinit needs to be light and fun, a bit quirky. 
Do you find it difficult keeping the identities of the two labels distinct?
It's funny you should ask that, because after last season we received feedback from buyers and press that it would actually be more useful to bring the brands closer together rather than maintain them as two distinct identities. At the moment, we're working on connecting the brands so that Terinit is the sportier, more affordable and accessible version of my label, Rolf.
Was that feedback difficult to hear considering you'd originally conceived of the two brands as separate?
It might be my age, because I was older when I got into Aalto, by which point I knew that I wasn't the best at everything…even though I also tend to think that I am the best at everything. But I found it easy to take feedback at University and I think the same applies in taking feedback from the industry.
And what was the reasoning behind suggestions that bringing the brands closer together was better?
It serves both labels because maintaining them as distinct wasn't strengthening either. We want to start doing shows in the future and Rolf is around 70–80 pieces which isn't enough for an entire show. Bringing Terinit into the equation will mean enough pieces for a full show, but will also enable us to split the costs, which makes sense right now. It also offers a clearer picture to buyers that you can buy Rolf which is a high-end fashion brand or you can buy Terinit if you think your customers will like the look, but will want a more affordable price. As soon as we heard the feedback, it immediately made sense.
Both collections feature interesting technical fabrics. Where does that interest come from?
I think I'm naturally drawn to shiny things. The interest in technical materials comes from the fact that I played sports throughout my childhood and teenage years, so I feel comfortable wearing and working with technical fabrics. That said, I also use a lot of Japanese textiles as well. I got into that world through my old schoolmate, Yuki Kawakami. We worked on my first collection at Aalto during my second year and since then, it's been so easy to work together that I always want to collaborate for each collection.
I give her the idea for the collection and she comes up with something amazing. Then I go to Japan and see what she's created. Unfortunately, they are so expensive that we can only do a few pieces per collection. But through meeting her, I also became increasingly interested in Japanese fabrics and now about 30% of the collection is made with Japanese fabrics. 
With Terinit, one thing that I put more effort into this season was to work toward a more environmentally-friendly collection. Around 50% is created from recycled fabrics and we're trying to increase to 75% and eventually 100% if possible. Because we're producing such small quantities, it's impossible to make everything from recycled fabrics but I think smaller brands in general tend to be friendlier to the environment. We pay everyone involved in the cycle of making clothing. But even though we try to be ethical, we can always improve.
Given that you're designing sport-inspired streetwear for men, I wanted to ask you about masculinity—especially given all the cultural conversations going on around 'toxic masculinity'—and to what degree you're thinking about cultural ideas of maleness in your designs?
It's a subject that you sort of have to tiptoe around. During the designing process, I don't really think about it. Even though there are differences, I never thought that women and men are different and I always treated them the same.
Maybe I meant more along the lines of whether you're thinking about what kind of man is going to want to wear your designs given that they aren't clearly conforming to ideas of traditional men's tailoring or even traditional sportswear.
I feel like our clients really don't give a damn about what other people think. We have lots of big things coming for Terinit and although some of them are very colourful, I don't consider it to be too feminine or un-masculine. I just like the colour and think it works well for our collection. Men who wouldn't wear our brand isn't something I think about.
Because I was a teenager in the '90s, everything I design comes back to that period for me. At the time, there was a trend of girls wearing men's clothing, women wearing baggy pants. And although I'm absolutely not trying to design a unisex collection, because I hate the idea of unisex, in the back of my mind I do think about the fact that a lot of the clothes would also look good on women. With unisex, although I appreciate that it can mean equality, for me it reflects an idea of people being put into the same mould and not being encouraged to think outside a group mentality. That's why I dislike the term unisex, even though that's basically what we're doing.
I'm enjoying the big, slightly chaotic piles of fabrics in your studio at the moment. Is this your main space where you work on both collections?
Yes, this is where everything happens. It's a little messier than I'd like at the moment, because I've got a trip to Japan coming up in a few days and we're in the middle of preparing for it. The studio isn't so big, but it's enough for us at the moment. We've got this wall here which is the Rolf wall and then over there, a few metres away, is the Terinit wall. So we keep things separate, but still together. We try to keep the balance in the room about 50/50.
Have you got a kind of talisman or lucky object in your studio?
I do actually and it's a New England Patriots beanie. I am a huge Tom Brady fanboy. I saw a documentary about him a few years ago called The Brady 6 and it really resonated with me. I didn't know anything about his backstory, only that it seemed like he had a perfect life. When I saw the struggles he faced early in his career when nobody believed in him, I mean, I don't want to play the martyr, but when I arrived at Aalto to study fashion I had come from playing poker and doing social work and I felt the odds were against me. 
I don't want to suggest that my story is a hero story, but the hat represents something that gives me hope. I'm also just a huge New England Patriots fan. The games are always on a Sunday and my assistant can tell how things went by my mood when I come in on Monday mornings. I'm super worried about our offence right now. Tom Brady has no tools to work with. You should definitely write this down.
As you've mentioned, you're a bit older than the typical recent graduate. I was thinking about how this kind of career change, retraining and early career support is only really possible in a country like Finland, partly because of free higher education. 
That's one of the reasons why I decided not to go and work abroad after graduation. Obviously, my deal with the two labels is really good, but I'm so grateful for everything I've gotten from Finland and the Finnish government. Because I'd quit everything, I was struggling a bit with money and went to see a social worker who promised to cover my rent. And then getting the opportunity to get an amazing degree for free at the same time as receiving support from social workers. Sometimes, you forget about it because it's easy to take it for granted, but it really is an amazing support structure.