Fiskars launched its first ever clothing collection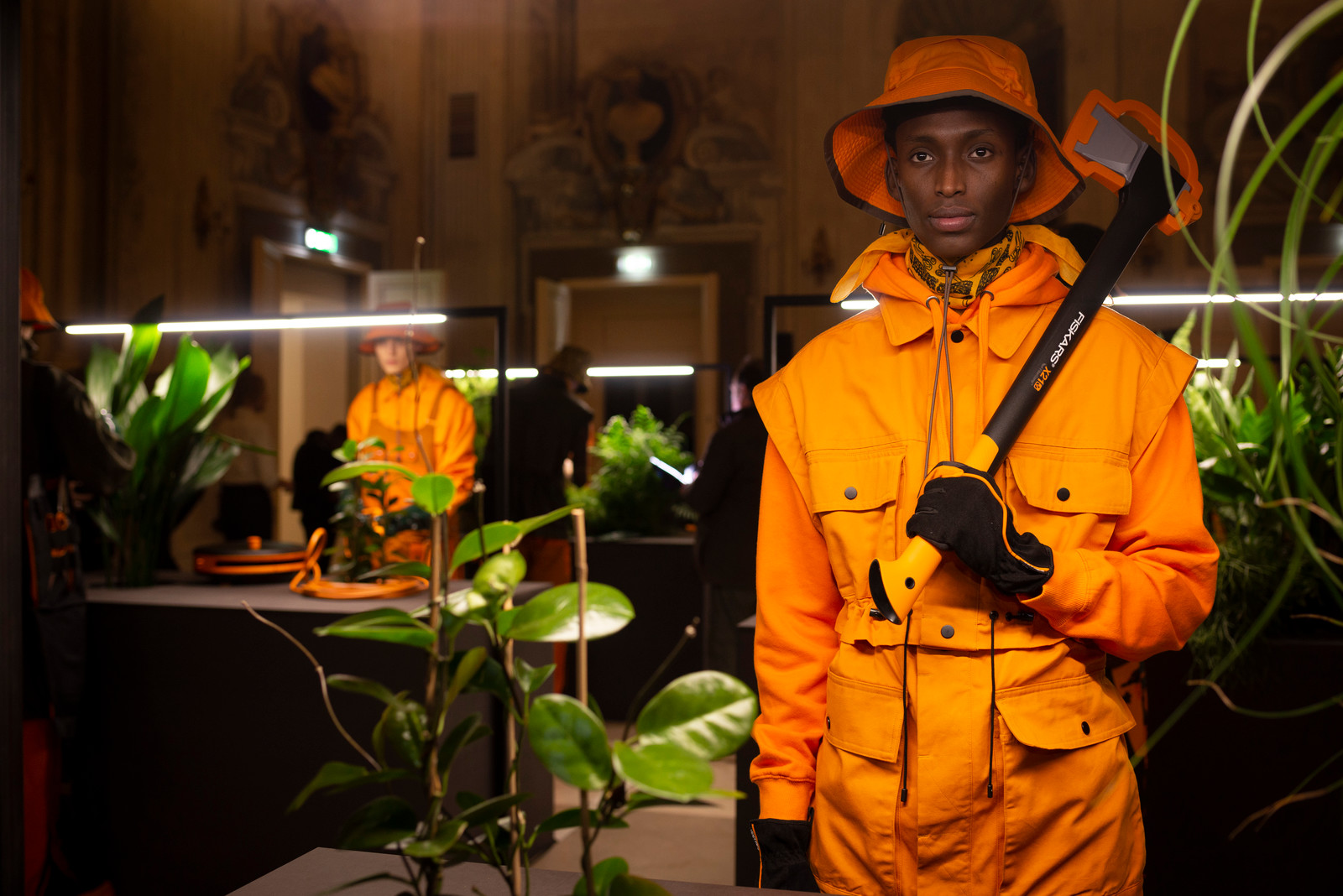 After 371 years of producing iron works and tools, Fiskars has now launched its first ever clothing collection.
After 371 years of producing iron works and tools, Fiskars has now launched its first ever clothing collection.
The collaboration between Fiskars, the company with a long tradition in manufacturing and the up and coming fashion designer Maria Korkeila was launched as official Pitti Uomo programme.
Organized in Florence, Italy for the 97th time, Pitti Uomo is a platform for men's clothing and accessory collections, and for launching new projects in men's fashion. It's held twice yearly in the center of the city, at the Fortezza da Basso. In addition to the fair with its stands and presentations, events and launch parties spread around the atmospheric city of Florence.
One of the most awaited happenings take place in Palazzo Pucci, nicknamed recently as Palazzo Finlandese.
Finland was the guest nation in 2018 (presenting the works of Mannisto, Vyner Articles, Nomen Nescio, Saint Vacant, Formal Friday (Teemu Muurimäki), Ikla Wright x Turo, Maria Korkeila x R-Collection,  and Rolf Ekroth) and over the past couple of years, Finland's role has shifted from the guest of honour to the semiofficial host of the Palazzo Pucci party.
Palazzo Finlandese, as the venue is now called among those in the know, was initially owned by a member of the aristocratic Pucci family since around 1480. The palace was re-designed around 1748 by the architect Paolo Falconieri, and the adjacent site was built by architect Gherardo Silvani. A building suitable to present the new branch of a historical company of Finns, Fiskars, founded in 1649.
"Fiskars is a household name in Finland, and in (fun) fact the oldest company that is still operational in Finland. To be a part of this project, and to be the first one designing clothes for a company like Fiskars with its immensely rich history is an amazing privilege," says Korkeila.
Urban garden wear with stab-proof pockets
Known for its scissors, axes and rakes as well as knives and pans, Fiskars has now launched its first ever clothing collection. The unisex workwear-meets-streetwear capsule collection features eleven styles, ranging from modular clothing to multi-functional bags and accessories. The versatile pieces include a jacket with stab-proof pockets and a detachable hem, hood and sleeves, and a tool belt that can be converted into a modern waist bag, giving a whole new meaning to urban garden wear.
The entire collection is crafted from organic and recycled materials and vegan leather and all the pieces have been made in the EU by socially responsible suppliers. This gardener respects the aware of the effects that production of any goods might have.
The designer, rising star Maria Korkeila, (awarded as the Young Talent in Helsinki Design Awards in 2018) who in her work follows traditions of deconstruction and DIY, wanted to variegate the history of the company to the new launch.
"When you look at the tools and products that Fiskars offers they are streamlined, highly functional and, occasionally, even futuristic. At the same time they are so familiar, rooted in tradition and history and so clearly linked to their ancestors. I wanted to take this idea of Fiskars' DNA and translate that into clothing. Something forward thinking, yet familiar," says Korkeila.
In Palazzo Finlandese's Launch event, the models wandered around chopping small bits of plants and leaves and pretended to rake leaves off the surfaces of the stands carefully placed under the beautifully painted ceiling. The references to modern, urban gardening were clear.
Gardening is becoming an increasingly popular way to spend time in urban environments, too. Even the smallest of plantings, herb pots and and communal urban gardens can bring joy and a sense of purpose to the enthusiastic gardener. Could this trend be seen as something related to the ecological concerns that affects we way we spend our free time and also notice our milieus more carefully? In it's very core, gardening is paying attention to our surroundings.
The Fiskars by Maria Korkeila collection is part of the official Pitti Uomo programme and the Palazzo Finlandese event series launched in 2019 by Juni Communications and SSAW Magazine.