Binders as a base for equality – designer Ree Melanen on gender and design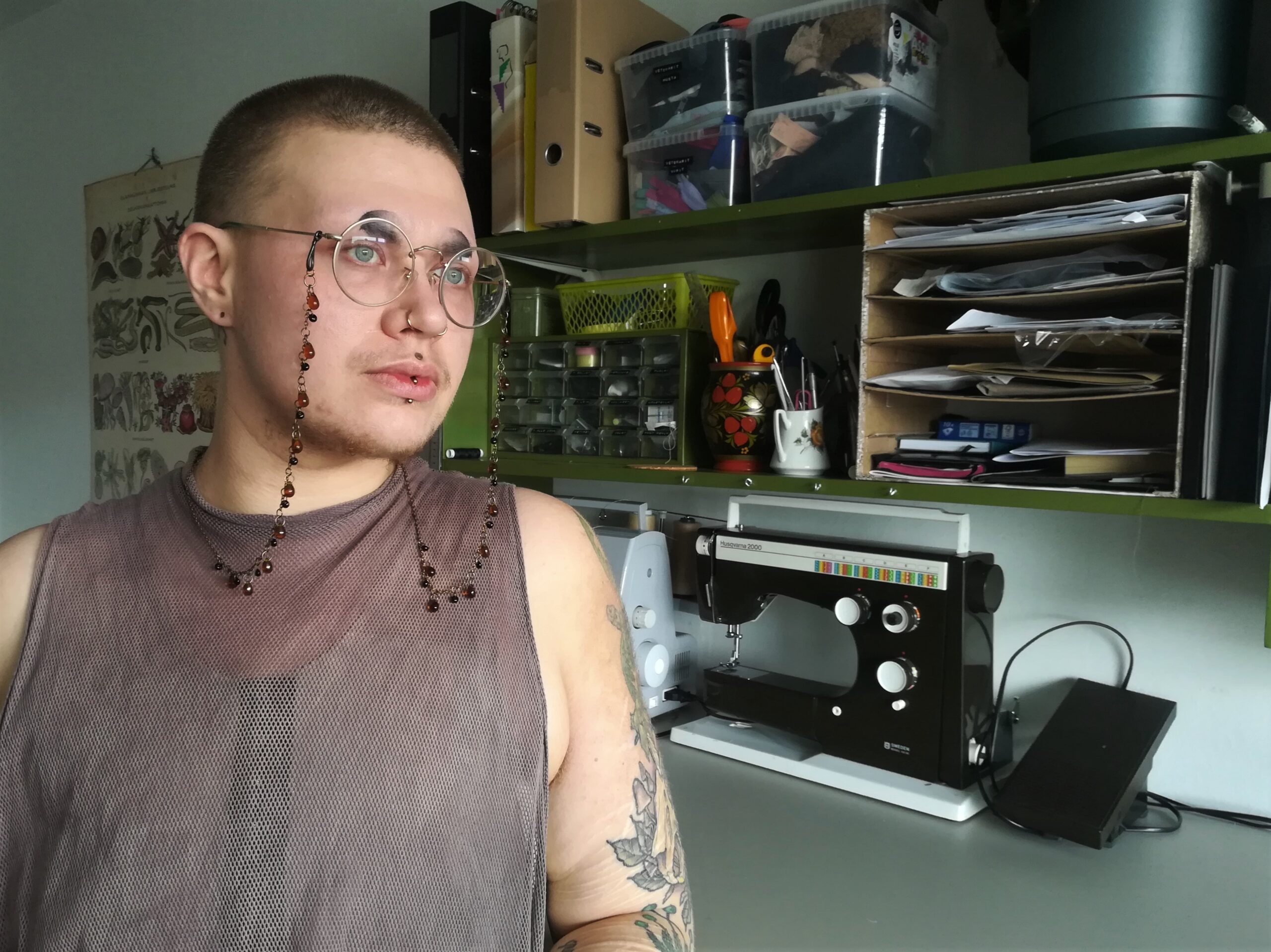 The idea of designing binders grew from Ree Melanen's personal needs. Now the designer wants to bring binders, or compression undergarments, to those in need.
The idea of designing binders grew from Ree Melanen's personal needs. Now the designer wants to bring binders, or compression undergarments, to those in need.
Six years ago Ree Melanen was browsing the Internet looking for binders. The search resulted in zero European, let alone Finnish, manufacturers. This made Melanen think. After several trials and errors the designer can now boldly claim the title of binder maker.
A binder is a compression undergarment used to flatten the appearance of a person's chest. Binders are useful in lessening the effects of gender dysphoria, experienced by many transgender men and gender-nonconforming individuals.
Melanen custom designs and makes binders – and is completely self-taught. They did consider attending artisanal education after elementary school but in the end opted for senior high school. Making clothes and garments has however, always been close to Melanen's heart.
Garments designed for transmasculine individuals need to be considered thoroughly. While the element of compression is important, the pieces also need to be practical and above all, safe to use. Recommendations include not engaging in excessive sports while wearing one and not using the garment for longer than eight hours at a time.
Safe binders are mainly made either from highly flexible material such as chunky powermesh fabric which is applied throughout or by making the front panel from stiff material and the back from more elastic fabric. Melanen prefers the latter.
Unfortunately, the market is full of binders which do not meet the safety requirements. Binders made from non-flexible fabrics are still lucrative to many byers, particularly because of their lower pricing.
Melanen strongly hopes that this will change. There are less than five safe binder manufacturers based in Finland. Apart from the designer's own Ompelimo Harakanpesä in Tampere, Suomen Liivineulomo operates from the town of Hämeenlinna.
Flexibility in design
Garments made by Melanen are available to all, regardless of economical standpoint. That makes Melanen stand out in the binder business.
"Binders are imperative to many. I am constantly pushing for lower production costs because I want to be able to offer these garments to customers for cheaper or even for free if necessary," Melanen explains.
The willingness to accommodate the prizing stems from Melanen's background in activism and working for NGO events. Progressive pricing was often used in ticket sales.
In order to work cost effectively, Melanen prefers to use recycled materials but making binders out of recycled fabric has been proven hard due to technical requirements. They utilise recycled fabrics when making bum bags and backpacks.
Melanen is inspired by Rebirth Garments. The company hailing from Chicago, is known for its use of bold colours and patterns. The designer wishes to do the same. However, patterns are hard to find in good, hefty fabrics which explains the extensive use of monochrome materials.
Melanen's custom binders are always fitted exclusively to each customer and according to their wishes concerning, for example, the neckline of the binder. Some customers wish for the undergarment to be invisible under clothing. For personal use, Melanen makes binders that are meant to be seen and marveled.
"When you make a garment that is supposed to hide gendered traits visible, it creates a juicy contradiction," they explain.
Binders made by Melanen are currently being sold at Loukko Center of Subcultures in Helsinki. Other than that, customisation is preferred. The designer does not wish to engage in making something that will end up in a storage.
Last summer Melanen started to make binders with the application of zips and fasteners. That enables the use of these garments by customers who face difficulties using their hands.
Melanen also plans on extending the production to other trans-specific products such as gaff underwear used in tucking, a practice well-known in both trans and drag circles.
Gender equality follows Melanen in all practices. It is in fact, "self-evident in everything."
This article has been produced in collaboration with the design journalism course of Haaga-Helia University of Applied Sciences' degree programme in journalism in spring 2020. Like all content in Helsinki Design Weekly, the partner articles have been written to primarily serve our readers.
Photos: Ree Melanen