Weekly Studio: Ateljé Sotamaa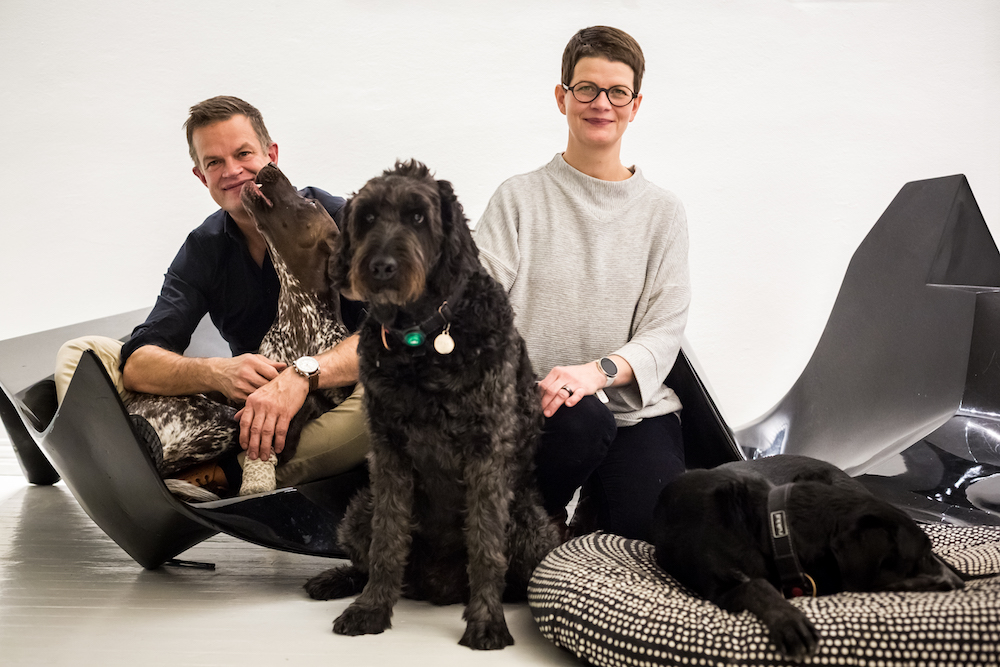 Having recently won the popular vote at the 2020 Wood Prize [Puupalkinto] for Meteorite, a home in Kontiolahti made from cross-laminated timber, brother-and-sister designers Kivi and Tuuli Sotamaa talk to Weekly Studio about running a design studio during a pandemic and nurturing client relationships through conviviality.
Having recently won the popular vote at the 2020 Wood Prize [Puupalkinto] for Meteorite, a home in Kontiolahti made from cross-laminated timber, brother-and-sister designers Kivi and Tuuli Sotamaa talk to Weekly Studio about running a design studio during a pandemic and nurturing client relationships through conviviality.
Given that it has been a difficult year for everyone, I wonder how the pandemic has impacted the studio?
Kivi Sotamaa: Like everybody else, we learned about what you can and cannot do through remote working. We have a team that has worked together for a long time, so we were surprised by how well we could work, especially during the worst period when everyone was at home.
We also learned that you cannot replace the early phase of a project remotely. Brainstorming, casual conversations and sketches; when you talk through objects, you rely on communication through cues that aren't exclusively verbal. But when you have a professional team who are used to working together, executing a project is surprisingly manageable.
Tuuli Sotamaa: We were lucky that most of our projects were in phases that didn't suffer because of remote working when the pandemic hit. The situation also made me question how I work. Even though we're a small office and we could work flexibly, we have been quite traditional in terms of working hours in the studio.
I'm now much more aware of how I use the hours in each day and what are the best times and environments for different types of work. For example, I try to keep my calendar free from early meetings so that, instead of commuting to the office on a beautiful morning, I can take my dogs for a walk in the forest and use that time to focus on thinking. Often, those are the moments when random thoughts turn into concepts.
And what about impacts on a more philosophical level?
Kivi: My wife is a doctor and she was on the front line when the pandemic hit. Our jobs just don't have that immediate significance in this kind of context. I thought about my skills and realised that I can maintain the house, I can cook pretty well and I can hunt. Compare that to my wife, though, who was running the healthcare across a municipal area. It put what we do in perspective and, in that moment, our work didn't seem to matter so much.
But the longer the pandemic dragged on, the more I realised that people also need other things to live for. We're more like musicians or artists in that we create things that make life worthwhile. In concrete terms, we make living environments better. And so, what we started doing after a couple of months is rethinking domestic spaces and how they should be designed, particularly as these divisions between school, work and home disappeared during the pandemic.
Tuuli: There's also been an interesting change in our clientele. We used to work mostly for companies and institutions, but soon after the pandemic hit, private individuals began contacting us about summer homes or expanding in to neighbouring apartments. People are paying more attention to the spaces where they are spending so much time and investing in them and asking for our help. It's also been interesting to see a shift towards sustainable lifestyles, with people looking to buy and live more sustainably. Maybe it's only in my bubble, but it certainly seems that people want to spend money on their well-being rather than on unnecessary items.
It seems that your studio is very sociable with an emphasis on shared meals and conviviality. I imagine this has become difficult during the last nine months?
Kivi: We've always been aware that this job is one you can really enjoy if both the clients and the people you work with are nice. Although it's a tough and competitive field, we've made an effort to have a good lifestyle and a studio with a convivial atmosphere. Thanks to our many Italian colleagues, who took it upon themselves to start cooking studio lunches, I think we have the best lunch restaurant in the area. We actually sometimes joke about opening a restaurant in the studio. Shared lunches are definitely something that have suffered due to the pandemic as it's difficult to lunch together when working remotely.
That's a nice segue into talking about your restaurant work. What's do you find so appealing about restaurant design? 
Kivi: One reason why we're so interested in restaurants or working with chefs is because it allows us to bring together the range of different scales we work across. But there's also the heightened focus on experience. Fine dining restaurants are more like theatre performances where everything is perfectly choreographed and that kind of holistic design is fascinating and challenging. But it also connects to the role of eating in the creative process.
I recently explained the three phases of designing a house to a client: phase one is sitting round the dinner table, talking about dreams and references; phase two is select an idea and develop it; and phase three is essentially execution of the idea. I really believe that the first phase is best done in a gastronomic setting.
Conviviality and shared meals is a much nicer way of thinking about the inspiration stage of a design process than the trope of the genius alone in the studio.
Tuuli: A lot of what we do is about creating experiences and that often starts with people's dreams. When you sit together with a client around a dinner table or other informal setting, you start to speak about things that aren't so well-formulated, but that really matter. It's those moments, I think, where you get genuine insight into the client's mind: what do they want, what are they dreaming about. Part of our design process is to create a situation for the client where they are free to talk and brainstorm, rather than an official interview.
For example, with the Meteorite, the process started long before there was a site or an idea of a building. We took long walks and bike rides through nature with Ulla, the client. We spoke a lot about the relationship between nature, people and the built environment and so the project was really built around her dreams and hopes for the future rather than to technical specifics like a certain number of square meters.
Given that you've had more and more residential home commissions this year, I wonder, considering the variety of scales the studio works across, would you be happy doing only domestic spaces?
Kivi: For me, no. I get bored too easily. If you work with experiences, you can't have too many gaps between the scales. For example, if you design a restaurant, you want the building, the objects and the interiors to all work together. We care about all aspects of design. Even if we weren't commissioned to do everything, we would still try to choreograph them all together. I remember visiting Wolf Prix's BMW Welt and thinking that the building was an amazing feat of engineering, as was the BMW itself. But, in between were these horrible displays, so the framing of the cars was a terrible experience.
You're a professional in the field, so of course you picked up on the quality of those BMW displays, but do you think that visitors actually notice things like bad exhibition design?
Kivi: Perhaps not, but I wouldn't underestimate people. They may not notice when the design is bad, but they will sense when somebody does it better. I think what's also important to say is that, although we want to work with different scales, we also want to leave space for people, for their imagination and for unexpected things to take place.
How do you see the relationship then between choreographing every detail in a space, which feels more about control, and leaving space for people?
Kivi: To clarify, by choreography, we mean how to connect the multiplicity of elements at play in a project. By analogy, if you think of a theatre performance, how do you connect the dancers, costumes, sets, music and lighting to create a total production. It's about orchestrating the setting, rather than predicting or controlling people's experiences.
All our work is built on the fact that people are different, they come from different backgrounds. That's out of our control and we have to be at ease with it. We're allergic to this idea of form follows function. We're more interested in creating spaces or objects full of potential and letting people shape experiences as they see fit.
Tuuli: Lately, I've been looking back and thinking about the past and what really intrigues me. I started thinking about my childhood interest in animal behaviour. When we were kids, we had sheep and I remember trying to teach them things. Eventually, I managed to lead and guide them a little. I also rode horses and the better I became at riding, the signals I gave became more nuanced. At one point, I started making small tests in the forest while riding: which path would the horse choose and would the horse always choose the same path, for example?
Then I started thinking how this could feed into design. How could you design a physical environment that would guide people, but not force them? What are these unspoken signals? How do you communicate without using language? These are such interesting questions for design practice. Ultimately, we build the potential and then people take over. To me, there's no wrong way to use a space.
Given that there are so few brother and sister design practices, I imagine you get asked this all the time, but I'm curious about what it's like for you to work together?
Kivi: Our design frames of reference are so similar that it's quite easy to work together in that respect. I think that comes from growing up in the same house.
Tuuli: For example, if I describe a particular curve, I know that Kivi understands exactly what I mean and doesn't need to see a visual. The shared history of a lifetime also has an impact. In most cases, it's good, but there's a certain lack of diplomacy which is both good and bad. Sometimes it would be nice if there was a filter on both sides. But there's also a very strong underlying trust and it's difficult to see anything breaking that.
Kivi: We have trust and shared references, but we've also had different life experiences so it's fertile ground for working together.
Let's talk about your studio space. Given that prototyping and model-making seem important to your work, I imagine you have good workshops.
Tuuli: We're in Töölö, an old part of the city, in a privately-owned residential building just across from a beautiful park. We've rented the whole first floor and the basement. Downstairs is for modelling, prototyping, testing, exploring—there's also a graveyard of old models. Upstairs is more for clean work and computers. We're lucky to have this much space as we've actually been able to work here physically with enough space for people to keep safe distances.
Kivi: There's also a nice kitchen and a courtyard with a barbeque and greenhouse. Probably the best feature, though, is that the sauna. From the model workshop, you open a door and there's a sauna in the basement. Because one of the owners of the building is CEO of a brewery company, our spa usually has two taps supplying beer as well. It's where we take potential employees when we want to impress them.
Tuuli: Everyone in the building is very social and there are many informal events, things like barbeques in the summer. When one of our Italian colleagues, Pietro, decided to move back home and people in the building heard, they organised an impromptu celebration party for him. Coming here really feels like coming home, not like going to work.
How do you see the future of your practice?
Kivi: I think it's worth emphasising that we're really looking in two directions as a studio. We have our clients who we want to serve as best we can, but there's also a cultural agenda and a desire to contribute to wider design and architecture culture. Because we do a lot of speculation and work across different scales, it can be difficult for us to give a concise answer to the question of what we do. There's still a lingering idea that design projects should be organised around outdated models related to sub-contracting separate disciplines. But to execute a strong concept across a number of different design fields—landscaping, graphics, interiors design, architecture—a project is much more likely to succeed with more holistic project management. And I think that's really what we, along with our trusted collection of wonderfully skilled people, can offer clients who are interested in creating bold experiences.