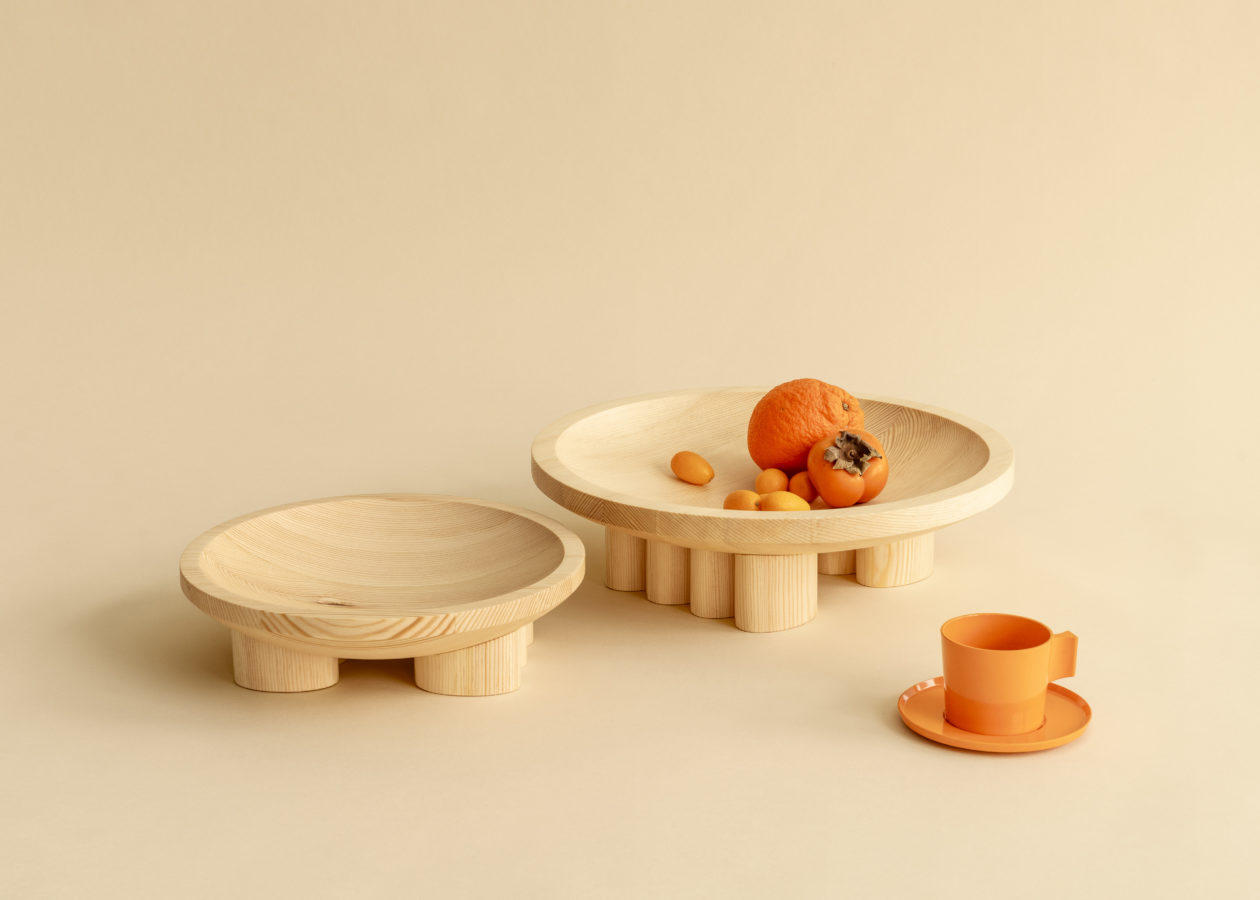 Let us introduce Vaarnii
The new furniture maker Vaarnii is Finnish to the core. Its first collection consisting of furniture and smaller items is entirely made of Finnish pine. Weekly met CEO
Antti Hirvonen
amongst the brand's commercial launch at Artek.
Vaarnii's roots can be found in Finnish raw materials and manufacturing expertise. Their collection has been inspired by tradition, yet it is completely contemporary. The founding duo, Antti Hirvonen and Miklu Silvanto, provide their first joint venture with strong design competence from various disciplines. Hirvonen's background is in sales and marketing at Artek and Tom Dixon, for example, while Silvanto left work under Sir Jonathan Iven at Apple to do industrial design at Bang & Olufsen where he continues to work as Creative Director.
Weekly: Vaarnii has a strong value base, and integrity rules your approach to transparent manufacture, packaging, transportation as well as sales. That sounds wonderful! Were there any surprises along the way in this respect? Was it challenging to stick to the values?
Antti Hirvonen: Values have been part of our operation since the very beginning. Once the framework had been specified and our principles decided, the rest was easy. The values turned into a template which we use for everything. Of course, many things would have been easier and more cost efficient had we decided to manufacture in Lithuania or Estonia, for example… But had we abandoned our principles at this early stage of the adventure, our fine story would have fallen apart, we think.
W: Integrity steers Vaarnii's aesthetics, too. The Vaarnii products have been designed to last: they are strong, they can take decades of use, and they age gracefully. How does pine grow old?
AH: We like the fact that pine is a challenge to us. It traditionally involves three problems: it's yellow, it features knots and knotholes, and it's shiny. Using pine requires thinking outside the box. The wood is soft and susceptible to scratches and dents. We embrace this quality, and we say a wooden tray should be thrown down the stairs a couple of times to make it look used. All marks and dents carry on the story of the product. It is not sensible to repair each product nor should they be repaired. As pine grows old, it becomes yellow and eventually "leathery". In antique stores, you can see 100-year-old pine furniture that lives on and on, has a life of its own. Fortunately modern manufacturing processes and finishes also helped us redefine the look and the aging ideal for a pine product.
W: Your company has chosen to utilize local resources for both materials and labour. This means that every Vaarnii collection is made of a certain natural material in a local factory by utilizing local crafts. Vaarnii's first product collection combines natural forest-grown Finnish pine and Finnish woodworking skills. Where have the products been made exactly?
AH: The information of all four factories is available on our website. Absolute honesty is very liberating: we can completely openly show what it looks like at our factories in Jurva, Lahti, Lohja and Espoo.
W: Although there is plenty of pine in Finland, it has become a forgotten resource and lost in popularity to alternative hardwood species. With the first product collection, Vaarnii revives and celebrates pine's role in furniture manufacture. Why pine in particular? What is interesting in pine?
AH: Vaarnii had two good reasons to choose pine. First of all, in order to make furniture in Finland, you basically only have two species to choose from: birch and pine. Pine, the eternal "underdog", was more interesting to us. Another reason was that we wanted to challenge the concept of modern, so called popular design. We always design for a purpose, we never do "styling", and pine is a perfect fit to this ideal. By the way, it's surprisingly difficult to find sufficiently dry high quality pine. The use of pine is decreasing, and at the moment much of it goes to pulp. We only accept wild forest-grown pine, and the best of that is found in Central Finland. Our dream is to someday own the complete process: to grow our own forest and refine the wood in our own sawmill.
W: Vaarnii's first collection consists of 12 products and has been created by a carefully selected international group of designers: Dimitri Bähler, Soft Baroque, Mac Collins, Industrial Facility, Max Lamb, Livia Lauber, Kwangho Lee, Philippe Malouin, Fredrik Paulsen and Sarah Kaye Rodden. The collection includes a lounge chair, a dining chair, a practical stool, distinctive tables and smaller items. How standard is it to provide a brief for a certain material? Pine is familiar to us Finns, but was it a surprising choice for the international designers? 
AH: Each designer we invited liked the idea of the new "old" material. Generally speaking, it is rather bold to stick to just one material. Our entire collection only includes a few details that are not made of pine; a couple of screws and some mirrors. But playing it safe rarely produces anything genuinely interesting.