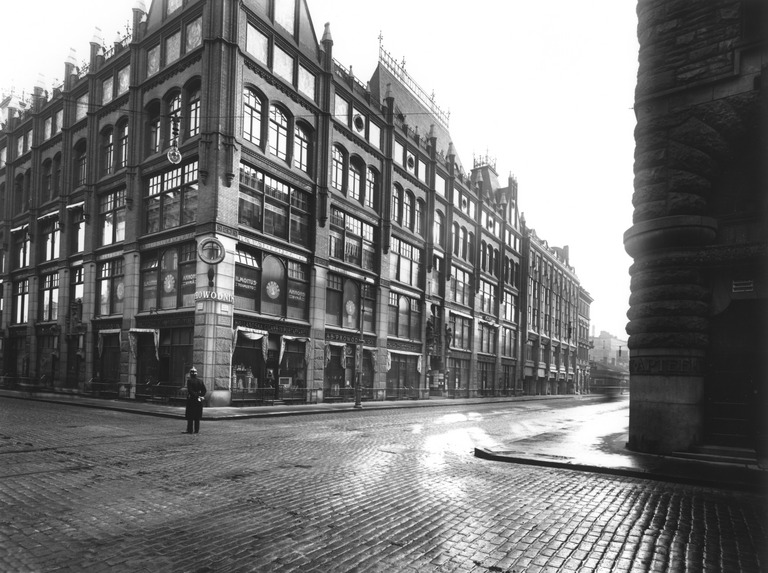 Helsinki Design Week's main venue will be on Aleksanterinkatu
Helsinki Design Week will be organized from 9 to 19 September 2021 in the city and online. Our theme this year is "What is wise to design now?" This year the main events will take place in the core of the city, in the premises of Glasshouse Helsinki. We can expect exhibitions, discussions, parties and shopping opportunities, as well as the rich programme of Children's Design Week. HDW will be spread on the second, third and fourth floors of the building. There is plenty of space in this "business palace" completed in 1900 after design by Jugend-style architect Selim A. Lindqvist.
"Each year we look for a new main venue where to invite our exhibitors and visitors. A space that changes annually offers us always new experiences and interesting views to the city centre. Maintaining the vitality of the city centre is nothing short of wise," says HDW founder and director Kari Korkman.
Our this year's theme is already stimulating debate. "Wisdom fuses knowledge and emotion, intelligence and memory, reason and vision, certainty and doubt. It also calls for imagination, and, in fact, it is fundamentally an imaginative skill. But wisdom has also an ethical component, as there is no wisdom without ethical judgement and responsibility. Wisdom is an existential gift, and it is undoubtedly the highest of human qualities," wrote architect, professor emeritus and writer Juhani Pallasmaa in Weekly. 
Exceptional conditions due to the Covid19 pandemic continue, and we have taken this into account in planning our events for September. "We are obviously keeping our eyes on official orders and guidelines as well as all of our festival partners, contributors and other participants up to date. We are prepared to update our plans if and when necessary," says HDW executive producer Helena Fernström. The architecture of the main exhibition at Glasshouse will be designed carefully, and we will only sell a limited amount of tickets.
HDW's main exhibition 2021: U-joints 
Knots & Knits is the fourth chapter of the U-JOINTS research project and exhibition series. Initiated with a first show at the 2018 Milano Salone del Mobile in Milan, U-JOINTS is a project by Andrea Caputo and Anniina Koivu that closely looks at the connections in architecture and design. 
"Often invisible, hidden elegantly within an object, joints can be overlooked. U-JOINTS sheds light on these hidden details and invites visitors to discover the beauty and quality of an object or structure starting from its detail. At Helsinki Design Week, Knots & Knits unravels the joints of textiles, fabrics, meshes, membranes and ropework. Whether used in rigging, for lifting heavy objects, wrapping a lunch box or closing a gift, securing a funambulist's highwire, to keep a climber from falling off a wall or creating adventurous playgrounds for children, knots are considered the oldest and most basic techniques of joinery. The exhibition will examine all this and more," Anniina Koivu tells Weekly. An encyclopaedic publication that brings the three-year U-JOINTS research together is out in autumn 2021.
Our other programme set is a series of installations titled "Office of the Future". The past year has changed the way we do office work, perhaps for good. The need to be with other people has not vanished, however. Will offices become ever more important meeting places where we can experience unity, exchange ideas and develop new solutions? How does premises/spatial design meet this necessity of change? How to sustainably design premises that are flexibly modifiable for various purposes and people, that suit both brainstorming in a group and focused, independent work? We'll be joined by premium furniture makers, office interior designers, service providers and work futurists.
"Glasshouse Helsinki is a meeting place for those working with design, design innovation, fashion, style, arts and local crafts. For everybody who shares our vision on the importance of assuming responsibility. It is a store and a medium at the same time, and it wants to reach audiences together with the operators," says CEO and founder Mirkku Kullberg. "Glasshouse believes that it is now more important than ever for design, art, research, architecture and public and private companies to sit down together and find solutions to the environmental crisis that is developing around us at an increasing pace. We are all part of the answers. Helsinki Design Week is an influencer in this field, taking a stand and looking forward. In the world of Glasshouse Helsinki, HDW represents the encounter of thinking and co-creation."
Helsinki Design Week welcomes all views and interpretations. Please remember our two separate open calls for contents until 27 May.
"What is wise?" On the 3rd floor of Glasshouse Helsinki:
"Now that we can finally plan our exhibition, installation and discussion contents, I hope to delve deeper into our annual theme," says Programme Director Anni Korkman. "With the title question we have been able to challenge our own way of working, too. We have, for example, developed the Design Market event, brought new voices to the Weekly radio programme and made our event calendar more versatile. It is important to remember that the festival events stimulate debate and, most of all, advance experimental culture. At best, a temporary experiment can develop into something permanent."
So, if you are a designer, architect, writer or panellist and would like to present your work and ideas as part of HDW's main exhibition in September, please contact us by email at anni.korkman@helsinkidesignweek.com. You can describe your finished production (fashion show, photography series, product launch) or share your thoughts about what to address in our design and architecture-themed Weekly Talks series.
Open Call for the HDW Event Calendar
The call for the official festival programme is open until 27 May. See the categories and extra services and fill in the application form here. 
Glasshouse Helsinki, Aleksanterinkatu 13, Helsinki.
Subscribe to Helsinki Design Weekly here.