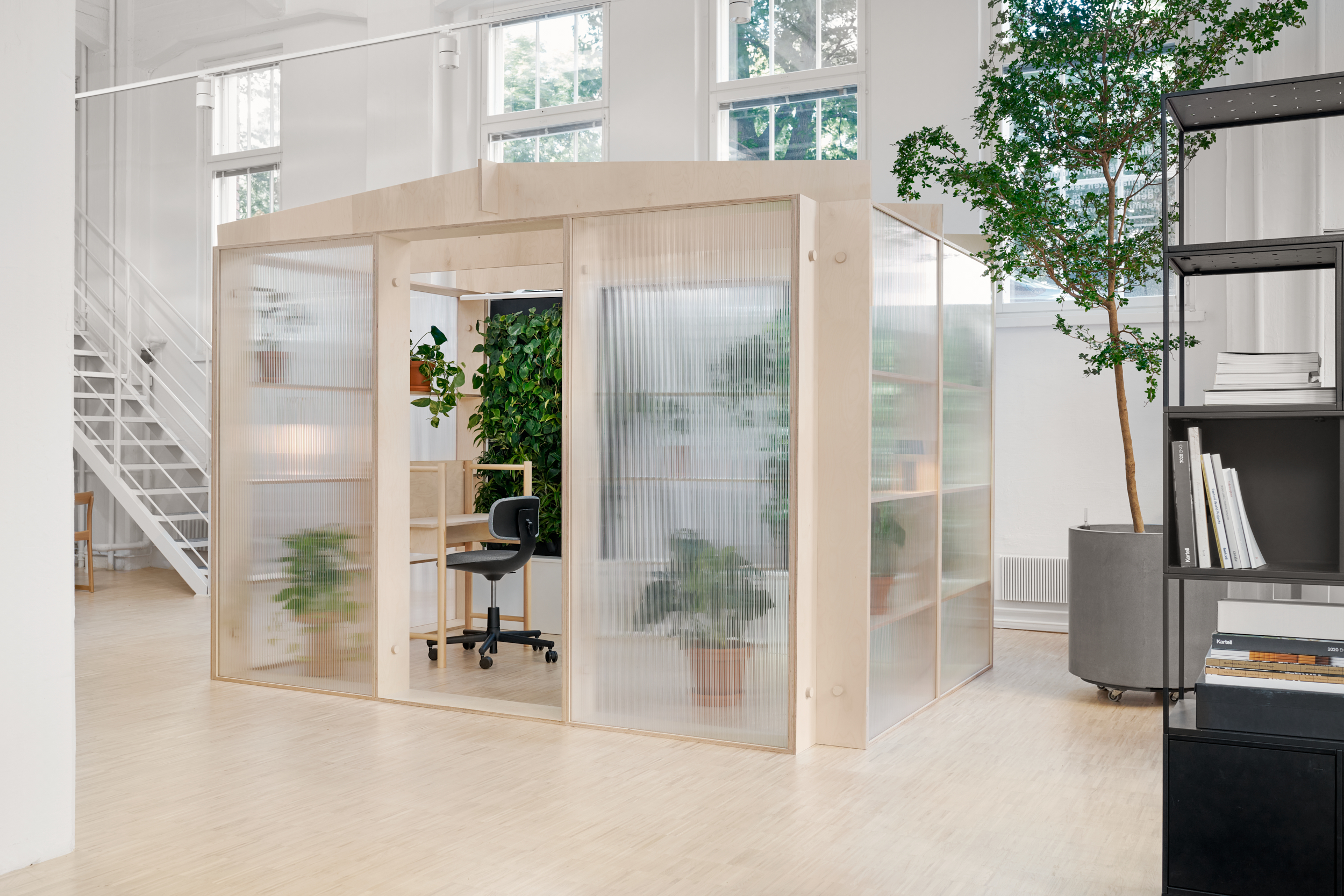 Fyra and Naava bring an oasis to the office
Fyra, the Interior Architecture Agency of the Year 2020, and Naava, the maker of intelligent green wall solutions, have co-designed Naava Oasis that offers a refreshing and safe space for office users. During Helsinki Design Week, we'll address the offices of the future, and Weekly got to take a peek at the oasis.
There are huge pressures to change the offices of today and the future. The pandemic has made us long for more personal space, and on the other hand, there is a specific need for new kind of spatial solutions at work. Biophilic work environment design is a step towards more humane solutions, which is the right way to go.
"We cannot assume that people rush from their favourite places back to the offices if offices are not an attractive alternative. An office must be a better place to work than one's home or summer home. We believe nature is key in achieving this," says Eeva Niemelä, Naava Head of Customer Experience & Service Design.
Connecting with nature in the city and indoors
We spend a lot of time indoors. So much so that we yearn to be close to nature and enjoy its health impact wherever we spend time, work or relax. The Naava green walls are large, furniture-like living-matter surfaces that revitalize people amongst all the busyness. The green plants, clean air, natural light and pleasant acoustics included help create a fresh and harmonious atmosphere. The green walls provide a protected hiding place and the variety that we long for when working in hectic open offices.
"People have become more aware of the health impact of nature, and with solutions like Naava, we strive to import the many natural benefits indoors where we spend more than 90% of our time. People have started to demand a more species-specific environment, which is nature, in the built environment and indoors, too," Niemelä says.
Biophilic design is already considered a major long-term trend regarding office environments. Product families that genuinely increase wellbeing, such as Naava Oasis, are becoming more common.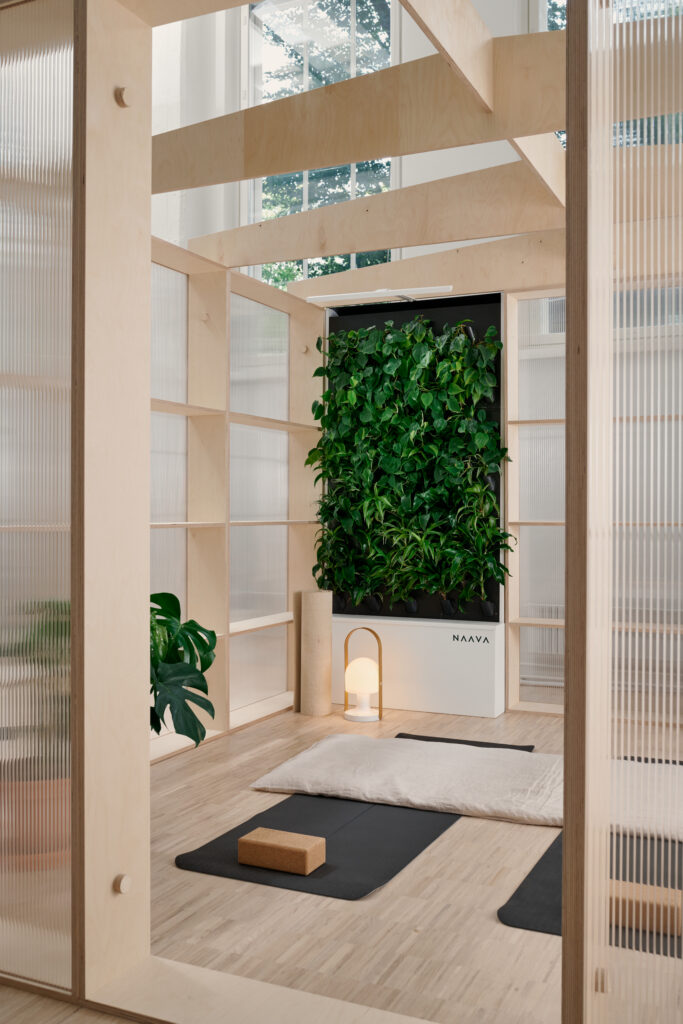 Rooms for the people
One way of working is not right for every organization, and a major part of design work is to learn the company culture and the needs of the employees.
"At the moment, there are many changes being planned for offices that aim at supporting the personnel's wellbeing and at enabling optimal team work. In a user-oriented process, the focus is on the individuals' needs and wishes," says Interior Architect and Work Environment Expert at Fyra Niina Ojutkangas.
The role of the work environment is going through a major revolution, and offices must adapt to how people now want to work. "In the future, offices must provide more versatile solutions that support team work," Ojutkangas says.
The many ways to occupy a space
The modern minimalism and streamlined design of Naava Oasis appeal to both designers and office users. The wooden surfaces and green plants add a touch of comfort and warmth to minimal design. In addition to ready-to-use room concepts, the modular structure of Naava Oasis enables custom-designed unique premises.
"The end result may be a garden-like small cafe, a yoga room or a laid-back team room that inspires brainstorming. With partition and Naava components, there is an opportunity to build any nature-inspired spatial solution to match the rooms and needs of the client," Niemelä concludes.
The Naava & Fyra collaboration is an inspiring example of modern yet futuristic office design. It includes ideas and thoughts to improve optimal office-use plus genuine solutions and attractive design. The office of the future is here.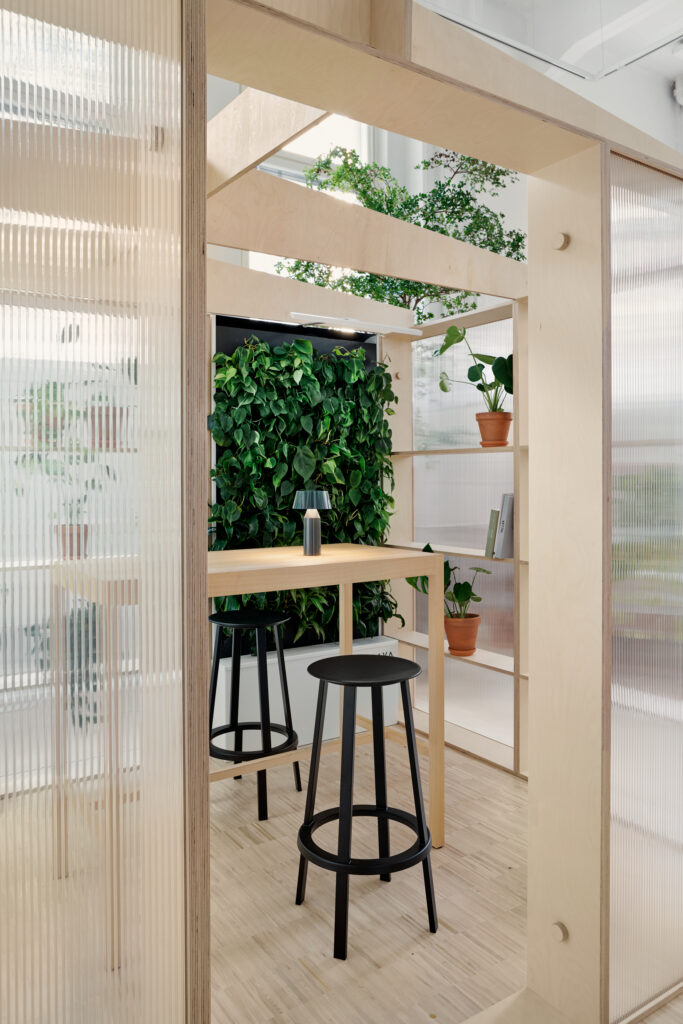 Learn more: