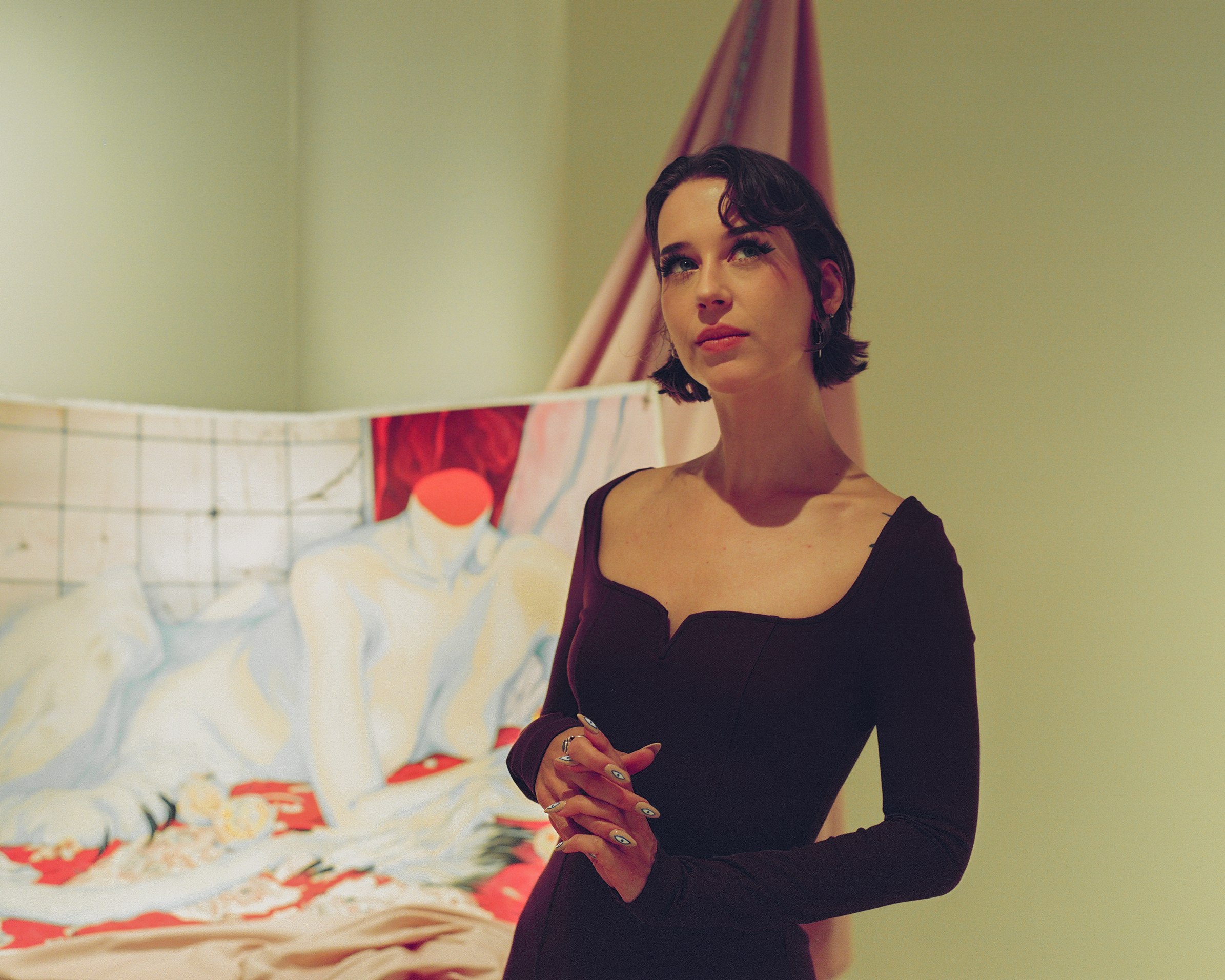 Milena Huhta's picks: A solo exhibition in Espoo and a baroque concert
In our busy, information-filled world, the importance and value of curation is increased. We long for recommendations, suggestions and tips from different perspectives. There is a lot to see, explore and do, sometimes perhaps even too much. Weekly's new series presents the choices of interesting people. We get their picks on what to read, watch and follow and where to head next.
First up is the artist and illustrator Milena Huhta, who has just opened her first solo exhibition in the Espoo Culture Centre. Harsh is Milena Huhta's first solo exhibition. Her figurative gouache paintings explore the moods and frustrations of the feminine and the flesh. The works' mythical humanoid hybrids establish their place within the tropes of the folkloric canon. Upon closer inspection, these bestial figures are trying to adapt to the desolate spaces surrounding them. This fruitless effort escalates into an ever-growing need for control, creating a vicious circle. The beings are stripped of their shell by both inner and outer chaos, revealing a vulnerable ego and vanity. Sexual frustrations, the fading memory of Catholicism, exploring the ideas of utopia/dystopia, and charting the intuitive subconscious arise as the paintings' recurrent themes. In the artwork, a fantastic other seeks to pierce the mundane. The hybrids exist within this chasm, drifting aimlessly. Gouache and watercolour as mediums bring a layer of unguarded sincerity that contrasts with the compulsive nature of the work. 
"It was a wonderful yet quite a heavy process to open the exhibition. I was surprised at how much it requires to organize an exhibition, so in the future I will be able to look at seemingly effortless shows with new eyes. It has been so lovely that people have been interested in the exhibition and visited it. I've received tons of encouraging feedback, which makes me very happy," Huhta tells Weekly.
GO / EVENTS
My exhibition Harsh is open in the Espoo Culture Centre for a couple more days, until 29 September. My other suggestion is to book a ticket to a concert by Helsinki's Baroque Orchestra. I love live classical music, especially baroque and renaissance string instruments.
READ
Aino Kallas: Sudenmorsian (1928). I also recommend the Japanese manga series Berserk.
I really like the lounge music in hotel bars. If it was up to me, I'd spend a lot more time lounging in hotels, drinking strong cocktails. Unfortunately, it's not often possible, so one has to listen to this music to get into the right atmosphere.
FOLLOW
Foo the Flowerhorn aquarium Youtube channel. Wonderfully slow and counterbalances the hecticity of everything. I appreciate the absolute dedication to one specific issue, and how they really put themselves out there.
What will Huhta do next?
"Next year, a working grant will allow me to focus solely on my artistic work. This is new to me since previously, I also spent time on commissioned illustrations. I'm not quite sure on what is to come, but I will continue to work on the themes of the exhibition. I'd like to create more sculptures, perhaps tiny ones and very big ones, even two metres! The works could be miniature versions or dioramas presenting the characters of my paintings. Let's see what I come up with."
Milena Huhta (b.1988) is a Finnish-Polish freelance artist and illustrator educated at Aalto University. Huhta is most known for her detail-oriented digital illustrations. Her signature style is an obsessive expression that combines a pastel color palette with heavy, even macabre, motifs. Huhta is active within her field and has participated in many joint exhibitions and events. @milenahuhta
The exhibition Milena Huhta: Harsh is open until 29 September. Espoo Culture Center, Kulttuuriaukio 2
By the way, "Read", "Listen", "Follow" and "Events" are the new content categories of Helsinki Design Weekly. We post inspiring stories on Design and Architecture every week year round.