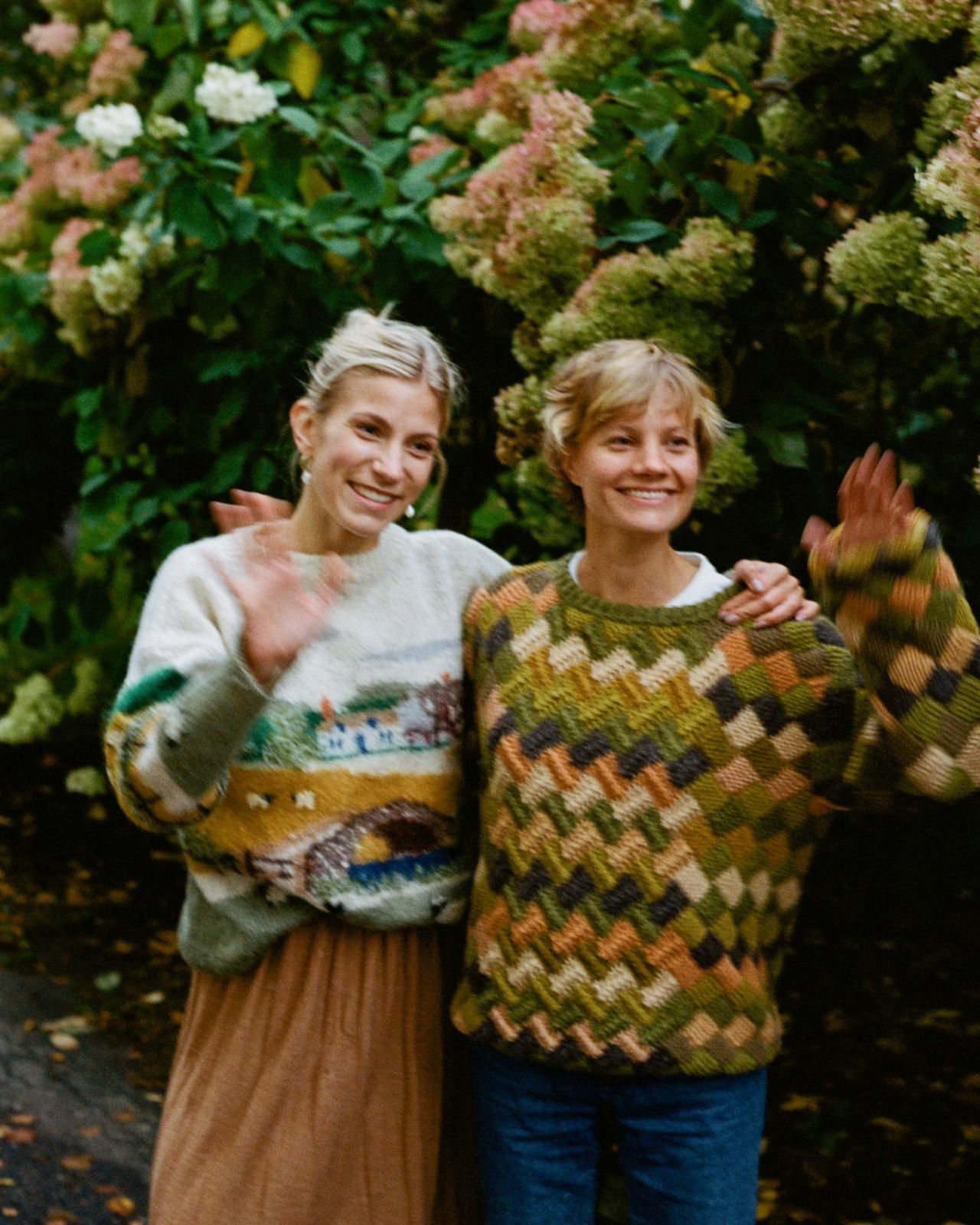 New dining concept Café Comète combines intimacy, memories and fine dining
 There is not that much to tell as the details around these exquisite nights involving food, entertainment and wine (lots of wine!) are best kept secret. But while rumours linger, this new Helsinki-born and bred community concept continues to thrive through intuition, passion and on a pace of its own.
Café Comète is kind of like a fairytale. The details around it are hazy, the information spreads mouth-to-mouth and the story gets told many a time.
Imagine a long day's work. Imagine arriving, with a handwritten note to an unknown place, only to be met with a delicious drink. Imagine a warmth as you take off your coat, the delicious drink in hand, and step into a night you know nothing about – a night involving unknown characters, juicy anecdotes and a certain tale-like depth typically unbeknownst to Finns.
Café Comète is the brainchild of visual artist Outi Forstén and actors Hilma Kotkaniemi and Ronja Kuoppamäki. A dining concept that began slowly, evolving almost like a little saga through the meeting of Forstén and Kotkaniemi.
"I think it started in 2019," Outi reminiscences.
Hilma quickly agrees, "I was working at Kuurna at the time. The pandemic had kept the restaurant closed, and myself at home for two months. While Kuurna was delivering hundreds of take away meals out the door, the staff was getting tired. The owners decided it was time for a little pick-me-up and Outi was asked to create an event for us."
"The owners of Kuurna, Laura and Tom Hansen, gave Outi a little budget to work on and the task was to turn Kuurna into something completely new. A place of its own, since due to the pandemic, there was nowhere else to go."
"Kuurna became my first client", Outi smiles.
The only negative, Outi admits, is that as per usual, she did overgo the budget by hiring two chefs and a performer to the event. But aside from that, the soirée was a hit.
"I ended up turning Kuurna into a ghost café."
"Your friend was taking pictures while being in the role of a fake photographer," Hilma laughs.
"Yes, I made this whole spiel about the restaurant being a phantom café…"
"There were stuffed animals everywhere!"
"…it was kind of my own fantasy of sorts. A place for ghosts."
According to Hilma, the evening at Kuurna brought with it unexpected change, "By that time, I had been at home for two months thinking that there was never going to be a world out there for me to perform in. As a newly graduated actor I really felt that. My night with Outi changed everything. What she had created made me realise that this was exactly what I wanted to do, where I wanted to be. I mean, there were fog machines!"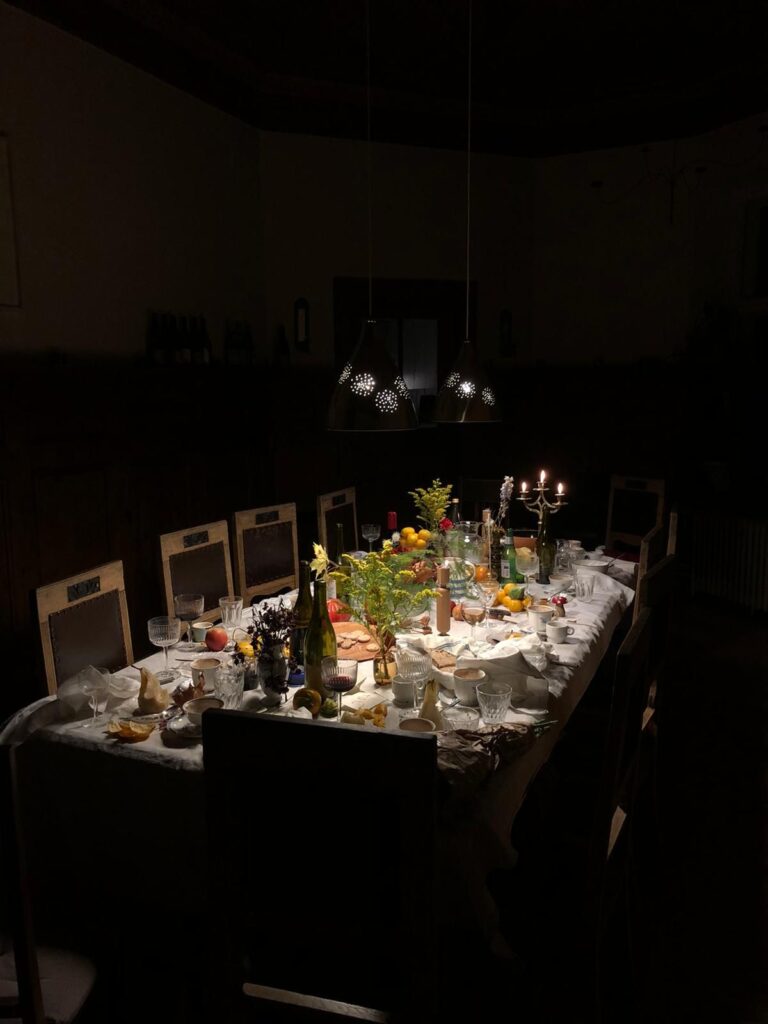 The two got to talking through social media and quickly met to discuss ways of working together. The first meeting soon turned into many more meetings and slowly a prospect started emerging.
According to Outi, rather than a restaurant concept, Café Comète is a process which revolves around art. "I would say it is more an impression of art than cuisine," she claims.
Hilma agrees, "personally as an actor I find Café Comète to be another way to express myself as an artist. It just seems like I have become entangled in this as well now."
Now imagine sitting on a comfortable chair in a caliginous room. Looking around you, you see flowers, gentle colours: greens, whites, pinks. There are wafts of scents circling you. Onions being fried, beans being sautéed, a little salad being tossed with olive oil and vinegar. Someone taps you gently on the shoulder, have we met?
While Café Comète first began with grand ideas about murder mysteries involving large plans with performative inputs, the evenings have mellowed into mostly having three things in common: none of the attendees know who will be attending the dinner, the location remains secret until the handwritten invite arrives and the food – the food first reveals itself on-site. A combination which brings on a new type of experience, a chance for play.
According to Hilma this, if anything, is typical for the concept. "More important than the food, for us, is the atmosphere. We put a lot of energy into creating nights where the ambiance, the ways in which we behave and dress and the wines make the ensemble."
The concept itself, according to Outi, revolves around bubbles. The breaking, rebuilding and recognising of social structures around us.
"I love bubbles. I have always enjoyed spending time in and being associated with effervescent bubble-like aggregations of people. Small communities and instances that share a disappearing nature. Café Comète, to me, is a bubble that exists in an alternative, possibly parallel universe and lasts for one night only."
A moment in time when people are able to intensely spend time together for a brief moment. A level of intensity which is not driven by segregation however. "We aim to bring people together, not polarise," Hilma affirms.
Let's then imagine a conversation which flowed freely, maybe the person sitting next to you told an anecdote from the past. Maybe you closed your eyes for a moment and left the room, arriving in someone else's memory of childhood. For a brief moment, you were running on soft, green grass in someone else's past. It is possible that you, upon gently opening your eyes, blinked. Only to hear a small clinging on the glass.
"Café Comète is also a game for us as organisers," Outi agrees. "Even if we know who might be coming to dinner, there are random and unsuspecting moments every night. Things we could never have anticipated."
"The event and the work surrounding the concept is always highly intuitive," Hilma concurs.
A special way of working which allows for discussion over details such as wine pouring, the way the table is being set and when the passing of the night is controlled. A strategy so outplanned it allows for minor mishaps, small incidents that create an air of intimacy.
"Café Comète is very personal to us. A small secret that Outi, Ronja and I share. Something extremely valuable to us."
Outi nods, "I am used to working in restaurants and being calm and collected. This is our way of breaking the rules. I love breaking the illusion of the host by sitting down and having a gentle discussion among the guests."
"I love partaking in these nights," Outi smiles.
Now imagine sitting at the table, calm and relaxed, maybe a little emotional with the taste of something delicious lingering in your mouth. Is it tiramisu and strong coffee?
Imagine Hilma swooping past the table with empty dessert plates, imagine Ronja quietly singing somewhere in the kitchen. Imagine Outi tenderly sitting down next to you with a glass of wine. Where were we, she might ask, wiping her hands a bit.
Imagine feeling the green grass, onions being sautéed and feeling all warm.