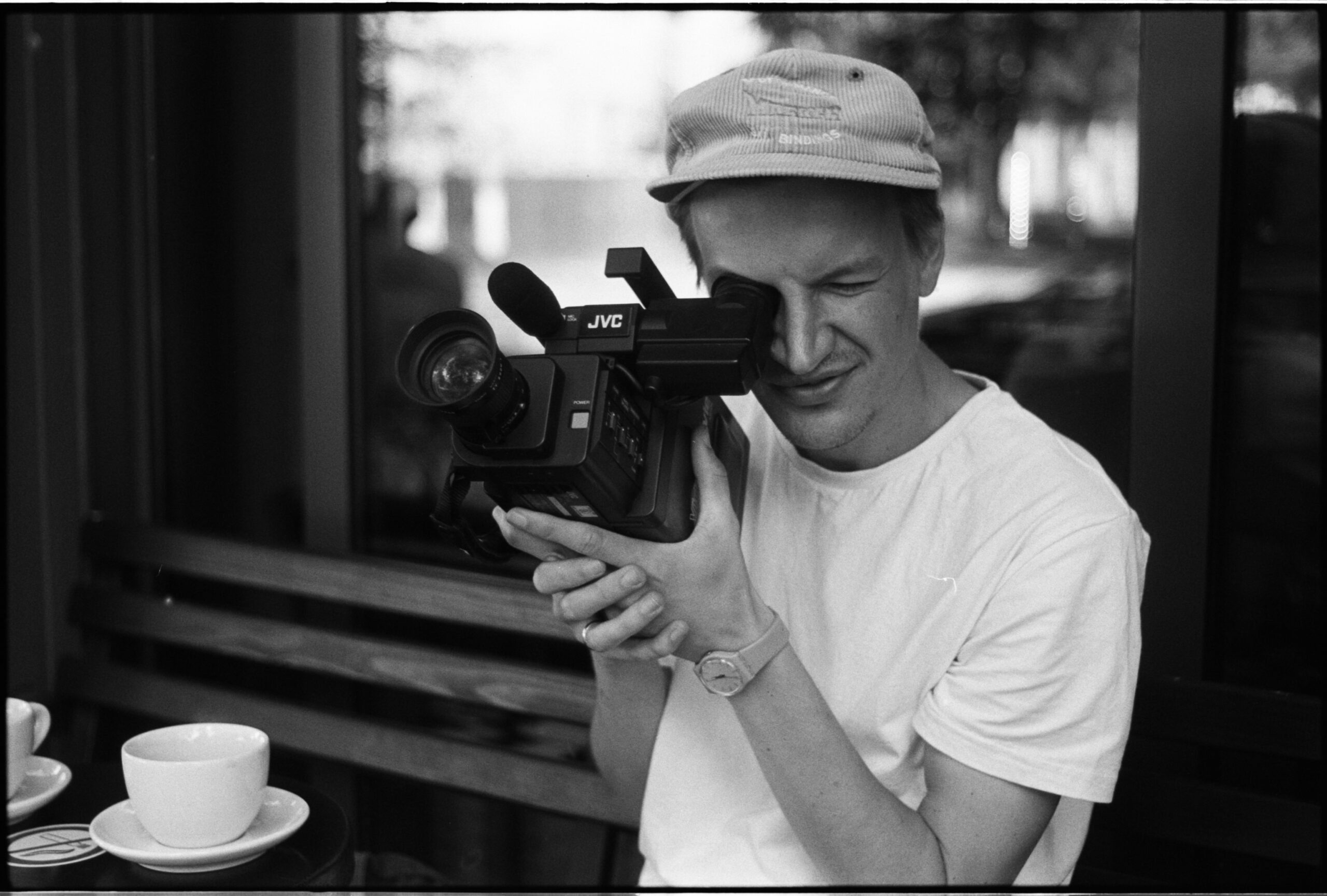 Helsinki Design Week's annual image is by ukrainian visual artist Andriy Boyar
Every year, Helsinki Design Week (1–11 September 2022) works with a designer or an artist to create a topical visual that is a response to the festival theme. This year's festival theme is "We are open". Openness is essential in any development, and integral in the design process. Staying curious and receptive is a choice. Openness also acknowledges its own incompleteness: the design industry is full of contradictions, has unsustainable practices and entails much room for improvement in terms of equality and diversity.

HDW teamed up with Hiring for Peace and during the last couple of months, the team has worked with visual artist Andriy Boyar and learnt about his collage technique in image creation. Our Programme Director Anni Korkman meets Boyar for another Google Meet call.
AK: I guess I never asked this about your way of working with vintage images – why is that? How do you collect them? How long have you been doing that for?
AB: Sometimes it's not you who chooses the technique but the technique chooses you. A few years ago, I started to do collages from old Soviet magazines. I created a series of works called "This is POZOR" and took part in the local art show in Kyiv. I liked the process of working with vintage images, the magic of collage art itself and the result of my work – the series "This is POZOR". After that, I started playing around with magazines, tried mixing collage art with photography, and the slit-scan technique, and started collecting vintage magazines at flea markets.
During the last two years, I've created more than 100 music album covers. Most of them are made in a collage or mixed technique, so it became my style, as many friends and clients say.

Andriy Boyar
AK: If we decide to work with a material that is scarce or limited we give our creativity some constraints. Is this something you've had in mind?
AB: Of course, the imagery is a kind of a limited material but there are too many magazines that have been produced and most of them had a high circulation. There are even some art challenges when people make collages from the same issue of the magazine. It's like 40-50 people around the globe have the same magazine and try to create different collages from the same images.
But for me collaging is just one of many varieties of art techniques that I like. That's why I like the term "visual artist". Today you do collages, tomorrow you take photos and in a few months, you can film a short surreal movie.
AK: What is your work like? Why do you do what you do?
AB: Before the Covid pandemic, I mostly worked in the film industry: I directed music videos and commercials. I used to do photography and some other forms of visual art more as a hobby, but during the pandemic, it became my occupation, and I put filmmaking in second place. For the last few years, I have worked as a designer and illustrator, mostly doing cover art for music.
During the last year, I also worked in the skateboard field: I started skateboard deck manufacturing in Ukraine and now I'm working on launching my own skateboard brand.

I mostly work with album covers – I like music, my wife Olga is a musician. I have many friends in the music industry and I even was a co-founder of a small independent music label called WATRA together with my friend and musician Kostya Pochtar aka Postman. Album cover is a very special and unique piece of art. There are no exact rules about what to do, your clients are mostly musicians with the same taste in music and vibe as yours, and sometimes your work could be printed as a physical copy on a vinyl sleeve and become a part of musical history.
AK: How would you describe your creative process? What is the best part?
AB: When you are the designer who works with the music cover art you become that lucky person who listens to the unreleased music of the band. Also, it's a very big credit of trust when the young band chooses you to make the album cover art for their debut single, EP, or album. Cover art is not the regular everyday design of an ice cream pack or something. Cover art will be a part of the whole band's career and last for decades. Sometimes you show the cover concept to the band for the first time and here is the answer: "This is exactly what we wanted for this song!", and this is the best moment of the process.
AK: What would be your dream project?
AB: My dream project in this field is to design an album cover for one of my favorite music bands. Radiohead would be good.
AK: Amazing. What are your thoughts regarding HDW's festival theme?
AB: Every person needs to keep open to something new. When you are trying new things, you always get a new unique experience. The more experience you have, the more interesting your personality becomes. 
AK: Agreed. Tell us about the annual image. What do you wish people to feel when they see it?
AB: I created the image based on a vintage photo from the magazine. I distort the face of a boy in a way that our mind and eyes still could understand that it's a boy – but at the same time we realize that it's something new for us. It's something familiar but at the same time, something completely different.
AK: Watching an artist create a strong image is like magic to me. To be able to make a shift in the viewer's mind by one simple look is so hard. So thank you! What is next, what is the future like?
Now we have war in my country. On 24 February, Russia launched a full-scale war against Ukraine. And this war is still going on. Missiles, artillery, tanks, and thousands of Russian soldiers – this is our reality now. The only future I can be sure of and speak about, for now, it's our Ukrainian victory and peaceful sky.

Andriy Boyar