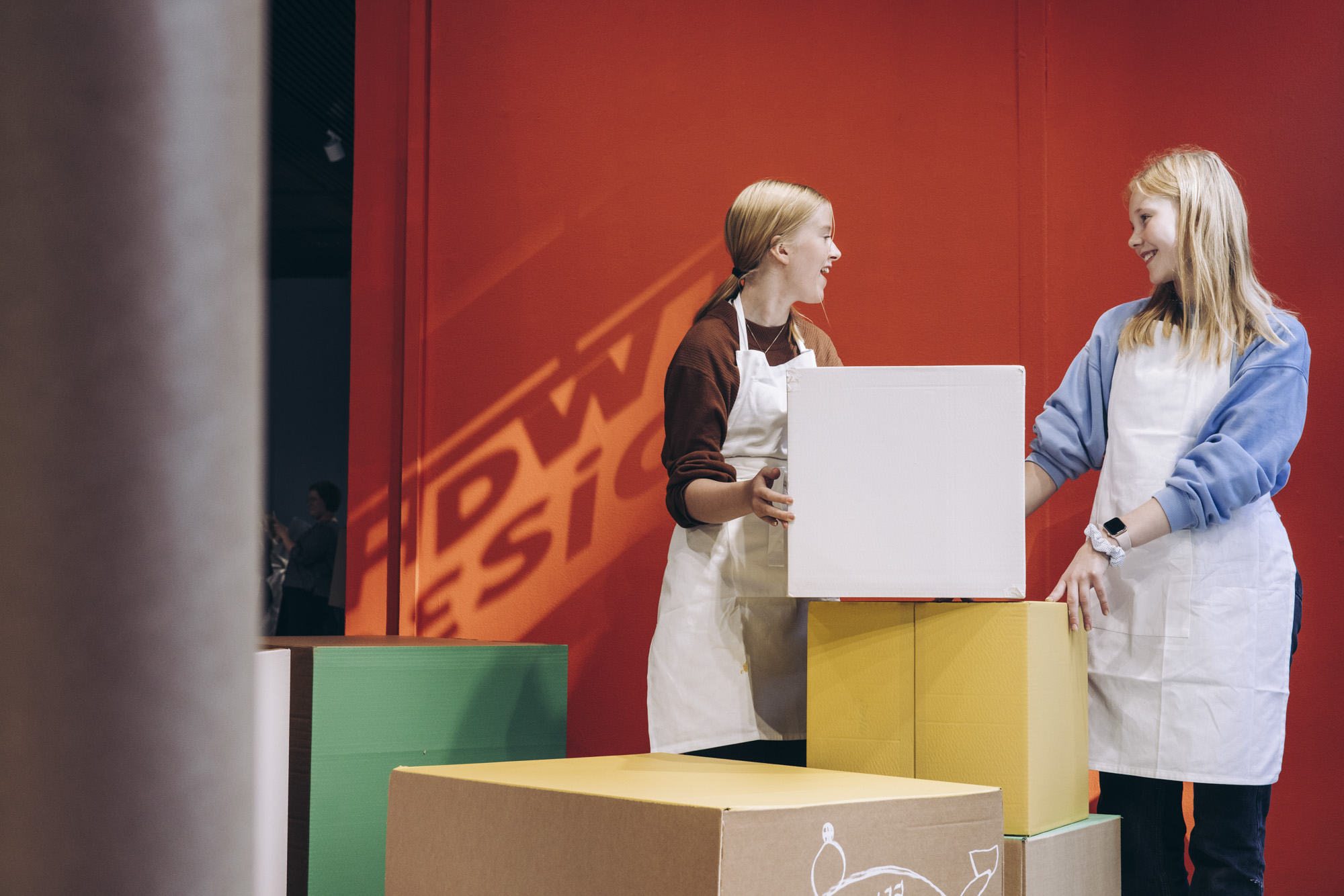 Children's Design Week is all about exploration, play and rebellion
The event series organized in cooperation with a long-term partner of HDW, the Finnish Association of Design Learning SuoMu, gives a voice to kids who too rarely are heard about urban development. HDW Children's Design Week proves that decision makers can do better – and may find support in the methods of design learning.
"For a curious mind everything is possible. The world desperately needs opportunities and the joy of exploration," say SuoMu members in charge of HDW Children's Design Week, the designers Mari Savio, Paula Susitaival and Anna Kokki.
In operation since 2013, the spark that ignited SuoMu hit Mari Savio when she served as a Design Learning Specialist for the Arts Promotion Centre Finland. In this position, she was able to focus on the field of design learning and explore its impact in Finland and internationally. Savio prefers the term design learning instead of design education, for example, because "it is not only for children. Design learning is very much a lifelong learning path."
Those who attend HDW Children's Design Week know that learning can be fun. The festival starts with Design Market at the Cable Factory where kids have been invited to attend their first demonstration. There will be a free-of-charge banner workshop at the Cable Factory to brainstorm and have fun with some crayon markers.
Design company Hakola will bring its "Colour Riot" (Värikapina) installation to the Cable Factory, inviting kids to come explore and play and start a revolution for a happier everyday life and joyous design. At the Cable Factory, Hakola is also to launch a playful multipurpose Domino bench designed by Ville Auvinen.
Pelitalo Tactic is to build a MiniHome® play studio for kids to try out interior design. The MiniHome® play set designed by legendary Eero Aarnio is a fascinating toy-game-design combo.
These main partners of HDW Children's Design Week are both design companies passionately invested in the wellbeing of the next generation. Working together, collaboration, is typical to all design. "In both design and design learning, we develop our co-thinking, co-creation and co-inventing skills," says SuoMu's Director Paula Susitaival.
"At Hakola, we have rebelled for years to bring the joy of colours in design! The Hakola design philosophy entails that matters should not be taken too seriously, and that we have a lot to learn from kids," says Creative Director Annaleena Hakola.
The message of HDW Children's Design Week is that development and creative thinking are keys to a wider paradigm shift

According to Savio, design learning as such is not complicated at all but "to change the way of doing; not by protocol but by feeding curiosity and individual independent thinking."
"Play is key in creativity. It is a way to see the world from various perspectives. The MiniHome® toy set designed by Eero Aarnio for Tactic is a fantastic example of play as a means to learn, design and express oneself. MiniHome® is more than a play set: it is a gate to imagination. MiniHome® provides an opportunity to create worlds of one's own, by combining room design, decoration, doll-house playing and 3D puzzles," says CMO of Tactic Jemina Heljakka. "We are over moon excited to be able to bring this playfulness and learning to HDW Children's Design Week."
It is all about changing the point of view. "If all people in this world situation would want to develop and think how to fix and improve matters, that would be revolutionary because our thinking would dramatically shift from passive, distractive or paralyzed to being active – seeing solutions and alternative ways of doing things in our environment." This paradigm could bring new hope to young people, in particular. "What we should give to kids is hope," Savio says.
"Small and sometimes bigger failures are part of the deal, and we are to learn from them and try again. It is important to create tools and means for kids and young people to discover alternatives. The future is not one but many, and the spectrum of possibilities available will strengthen kids' faith in the future," says an active member at SuoMu, designer Anna Kokki.
The Finnish Association of Design Learning SuoMu to be celebrated in many ways
The 10th anniversary festivities of The Finnish Association of Design Learning SuoMu will mostly take place during HDW Children's Design Week.
"HDW has always been a playmate to us, and we want to party with our friends, not alone," Savio says. The long-term cooperation between HDW and SuoMu has included countless of events and happy collaborations. Savio thanks HDW for bringing design close to the people. "HDW is a huge co-development festival where people can share what they have achieved."
Design learning will be in focus with this year's Helsinki Design Award, too, granted by the City of Helsinki and Helsinki Design Week. In cooperation with SuoMu, recognition will be given to a person or team from Helsinki having promoted or advanced design learning or the field in general in an exceptional way. The award will be handed out by Mayor Juhana Vartiainen on Tuesday 12 September, and the winner can be met at Helsinki Design Weekly's interview on the stage of the HDW main venue Merikortteli on Friday 15 September.
HDW Children's Design Week protest sign workshop at the Cable Factory during Design Market 9–10 September 2023 at 11–18. During the workshop, kids will have a chance to experience the Värikapina installation by Hakola and the MiniHome® play-home studio by Tactic, too. Free entrance, no pre-registration.
The banners are collected to constitute an urban installation at the Telakkapuistikko park located next to Merikortteli from 11 to 17 September. HDW Children's Design Week will also host plenty of other events. All of them can be found in the event calendar on the HDW website.