All Antilooppi buildings are made for people
Helsinki Design Week's Main Partner this year is real estate investment company Antilooppi, the owner of the industrial property Merikortteli of historical value that functions as the unique main venue for the festival.
Antilooppi is a forerunner in its field, the owner of several properties in the Helsinki Metropolitan Area and firmly invested in the sustainable development of city districts. CEO Tuomas Sahi says Antilooppi operates in a human-oriented way. "All buildings are made for people. They have a purpose of use, and understanding and supporting that will lead to properties serving people. To benefit all involved."
Operating in the long term
Antilooppi aims at making an impact and having a role in its operating area. The company's values – pioneering, corporate responsibility and commitment – spring from its strategy. According to Tuomas Sahi, the most important strategic dimension is corporate responsibility/sustainability. "We are a long-term property owner and developer. We do not focus on property sales but long-term presence. That means we need to be extremely committed to the district, its people and the changes taking place in the world."
Antilooppi's impact can be seen in the districts of Punavuori and Ruoholahti and in eastern inner Helsinki in Sörnäinen and Hakaniemi. Antilooppi sees great potential in the districts that are already arousing interest among people. The idea is not to transform these areas but to highlight and improve their features that people already appreciate. "Inner city environment will attract commuters in the future, too. Encounters are an important part of modern employment, and in these districts people love to stay outside the working hours, too. That is valuable."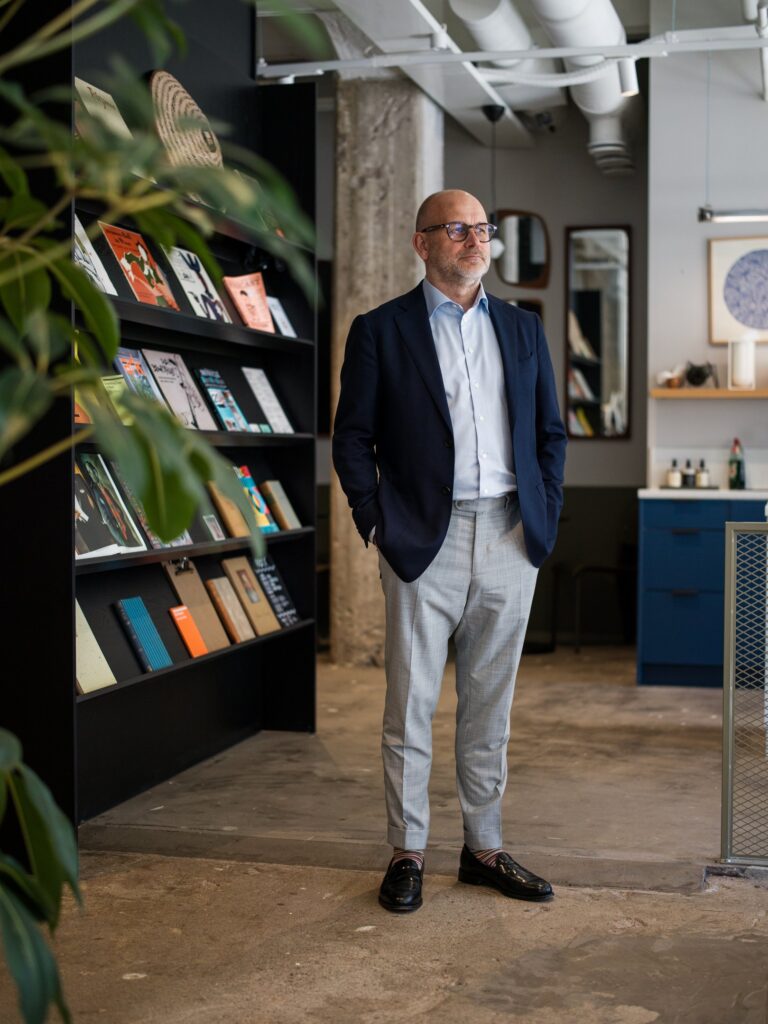 Towards common goals while focusing on people
Tuomas Sahi has made a career of 30 years in the property business. First in the Stockmann Group, then managing a company that owned several shopping centres. To him people have been and still are key. "For the last 30 years I've applied people's wishes and needs to physical environments, making environments serve people. Whether we are talking about a shopping centre, department store, office environment or a specific district, such as Hakaniemi or Ruoholahti," says Sahi, who has served as Antilooppi's CEO since 2016.
Sahi sees a clear analogy between work environments and shopping centres. "If a property does not serve its purpose, it has no value." Among other projects, Sahi took part in brainstorming the top-floor restaurant area of the Kamppi shopping centre together with 11 restaurateurs. Instead of the buying customers, the Kamppi block was developed first and foremost for the city residents. "Yet at the same time the buying customers are getting something extra and out of the ordinary."
The analogy applies to customer accounts, too. While Antilooppi specialists have engaged shopping-centre tenants in looking for ways to attract buyers and make them stay, they also engage other clients in making employees stay in the workplace – as showing up at the office is not the norm anymore. "With online shopping available, people no longer need to go to shopping centres, but they may want to go there if they are offered something genuine with added value. The same applies to work environments: there is no need to show up at the office but perhaps it will pay off anyway. We should probably try and make people want to show up at the office," Sahi says.
Tuomas Sahi notes that employment was already going through the motions before the changes brought on by the pandemic. At Antilooppi, specialists have recognized two major forms of employment: the work people do alone at a desk and the work where they meet other people, such as colleagues, customers and partners. "The work done alone can be done anywhere. The work that requires meeting people face to face, however, needs to be performed in various environments, rooms, places and events. This affects the kind of work environments that we offer to people." In Sahi's opinion, encounters will be emphasized in the era of automation and there will be more need for more diverse work locations. Encountering people supports wellbeing at work.
In practice, the challenges of working alone versus with others are met with Antilooppi's flexible POOL concept that provides a third and even a fourth alternative to working between the office and the home. At the moment, there are altogether 9 POOL locations, at Merikortteli and on Tallberginkatu, for example. "It is the employer's social responsibility to take into account that, in addition to various ways of working, there are different people and life situations. Somebody will want to do their desk job at the office rather than at home, and we want to make that possible, too. Not everything can be done in MS Teams," Sahi notes.
"It is the employer's social responsibility to take into account that, in addition to various ways of working, there are different people and life situations."

Tuomas Sahi
Concrete action for the wellbeing of people and the environment
Corporate responsibility is one of Antilooppi's cornerstones and applied in every detail from material choices to accessibility. At Antilooppi, corporate responsibility concerns climate-friendly solutions as well as human wellbeing at work. "Wellbeing obviously requires healthy houses where ventilation works but also offering people better opportunities for hybrid work." Sahi emphasizes the importance of a healthy company and management culture to employee wellbeing and office attraction. He thinks that overall human wellbeing is a common goal to Antilooppi and its clients. "We share an important interest with other employers. People need to obtain genuine additional value from the workplace. It is not enough to make the office more fun. We also help people do their jobs better."
Antilooppi aims at a completely carbon-neutral property portfolio by 2030, and sustainable solutions are embraced at an early conceptual level. Always Ready Offices are high quality premises that need no renovations. "Who renovates their apartment top to bottom every two or three years? Nobody! This is one example of how to reduce your carbon footprint by concept design." The POOL concept reduces companies' emission load by providing multipurpose premises. "If, say, 20% of the company's premises are shared, their carbon footprint will be 20% smaller. The third option is to locate premises closer to where employees live to reduce transport."
Antilooppi buys carbon-neutral energy but also strives to develop the energy efficiency of its properties with building services systems, such as solar panels. Accessibility is another important part of their CSR/sustainability strategy: their properties are located in districts that are well connected by public transport, and biking possibilities are being supported in various ways.
A functional city is a diverse mix of living, employment and services
Sahi says that a genuinely vibrant city must include several factors to function properly: apartments, jobs and private and public services. He hopes that cities remain cities and that the conditions for this are nurtured. He also highlights Antilooppi's responsibility in Helsinki's urban development. "I feel that we are obliged and responsible because we are a major property owner in Ruoholahti and Hakaniemi, for example. We play a major role in how the city districts are being characterized and experienced." The type of brick-and-mortar businesses, for one thing, vastly affects the district's attractiveness and identity. A reasonable amount of tourism will support the services, and vibrant services will benefit the residents. "It's a symbiosis in which we all play a role," Sahi concludes.
If Helsinki remains a city and develops as such, Antilooppi's unique strategy will have a strong position and the company will have the opportunity to co-develop it with their clients, Sahi believes. "We cannot assume clients to jump on the bandwagon right away as they are not used to property owners having resources, ability and willingness to participate and support," Sahi says, and continues: "What I wish for Antilooppi in the future is that our current and future clients understand this. We truly believe to be able to help and support our clients despite their ways of working. There are various ways to operate, and we must try and support all of them."