"Designing a temporary exhibition involves ecological responsibility," says designer Lauri Johansson
Known for creating versatile premises, designer Lauri Johansson is in charge of Helsinki Design Week's main exhibition architecture, open at Merikortteli 13–17 September. Whether he is working on an exhibition, restaurant or retail space, one thing is of essence to him: the context of the space under construction.
Lauri, what is exhibition architecture in practice?
It is all about composition. Architecture creates a physical frame for the exhibition, inside which the exhibits form an orderly composition. In a joint exhibition, for example, there may be diverse items divided under several themes. To a museum exhibition, the contents often come from a curator, and the designer in charge of the exhibition architecture is their work partner, delving into storytelling and illustration by using the objects.
The design of exhibition space and hanging must start from the basics: how to move around the room and present the contents in the best possible form. The story and atmosphere of the room are created with colours, shapes, materials, furniture, instructions and the use of text copy and moving images. To me, this work is like stage design.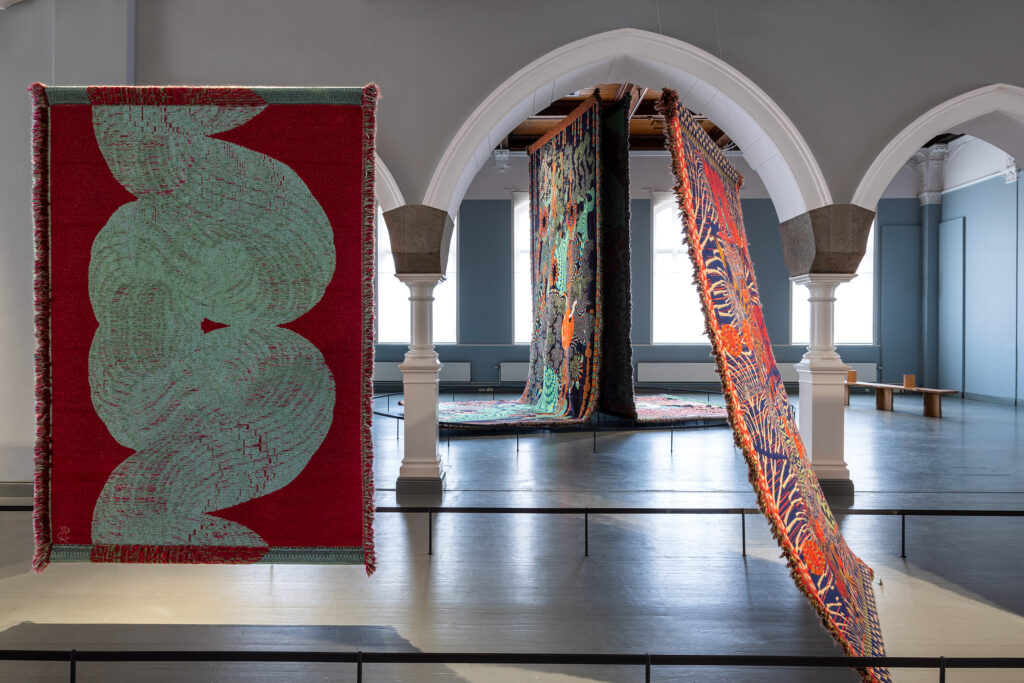 You designed the architecture of this year's Helsinki Design Week festival area on the top floor of the Merikortteli block. The exhibition and events are held side by side above the rooftops of the Punavuori district.
Regarding the main exhibition, I focused on technical implementation, on having all the necessary equipment and technology brought in for the festival. We created it into a building that was not originally designed to house events. It was therefore very important to ensure that the exhibition frame complies with current building regulations and that the premises are as accessible as possible.Curator and editor-in-chief of the Asun magazine Ulla Koskinen was responsible for the content of the exhibition. Together with the exhibitors she chose the object sets and decided their presentation style to create the exhibition experience. The exhibition displays items from Artek & Juslin Maunula, Johanna Gullichsen, Nikari and Secto, for example.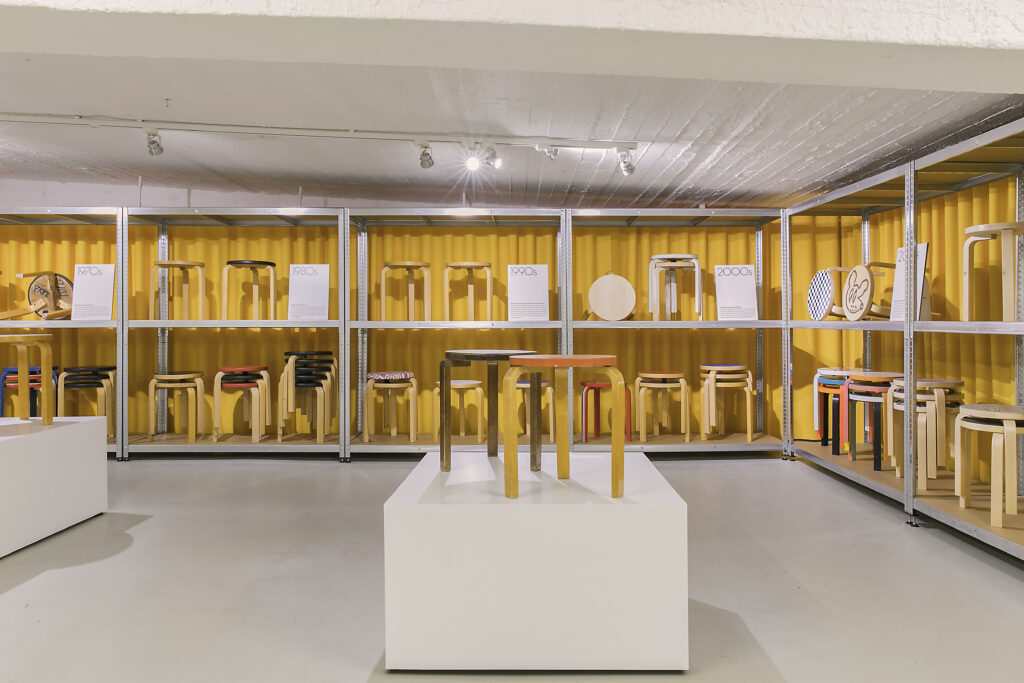 So, the actual exhibition room is of your doing?
Yes. It includes a stage for the speakers and a wine bar for Let Me Wine who import natural wines to Finland. My objective was to create an attractive living room type space in the city. The 6th floor of Merikortteli has space for a few hundred people, and the festival lasts for one week only. Designing the room therefore required us to think about ecological responsibility, too. I needed to figure out how to sustainably create a temporary yet memorable space for the exhibition.
Sounds like you could really use all the help available.
The room is a joint effort of people in the industry, and my role was to compile it all into a functional package. We were fortunate to work with really good material and furniture suppliers. We borrowed bricks to build the benches and bar counter from Wienerberger specialized in sustainable construction. After the festival they can re-sell the bricks for another purpose.
Another partner, Durat, provided composite seating panels which create an aesthetically interesting contrast against the bricks. Composite panels were chosen because three quarters of the material can be returned for further processing. The chairs were borrowed from Artek 2nd Cycle, pine furniture from Vaarni and tables from Selka.
Let's take a step back in time. How did you end up working with exhibition architecture?
I did my bachelor's degree in 2006 at the University of Art and Design Helsinki (UIAH), which is now the Aalto University School of Arts, Design and Architecture, under the watchful eye of architect Tuomas Toivonen. We were a small group of designers, and the purpose of the project was to create architecture for the Masters of Arts exhibition. This became my bachelor's thesis.
Later I worked with Tuomas and his partner designer Nene Tsuboi in our joint Now Office. Tuomas had a solid background in exhibition architecture, and I trained for the field working with him.
Exhibitions have been an attractive format for me, as they give room to explore and search for various forms of expression. They involve more freedom than brand-focused spatial design, for example. The effort behind exhibitions to present new information and interpretations of various topics appeals to me and corresponds to my values. I expanded my expertise to other cultural premises when I founded my own company in 2009.
In addition to the festival area in Merikortteli, you have designed exhibitions for the Design Museum and Artek, for example. You have also designed retail space for Vyner Articles, for example, and interiors for the Mat Distrikt and Albina restaurants together with Eliisa Korpijärvi. What do these places have in common?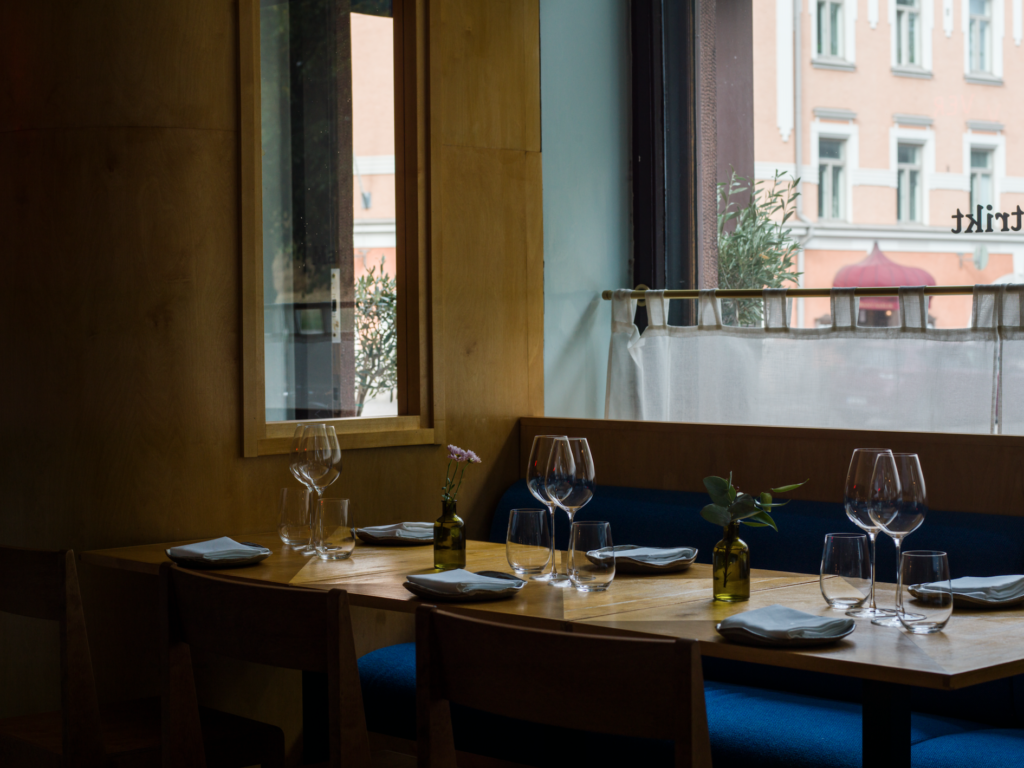 The context surrounding them. In my opinion, the best premises always engage with their environment, what feels logical and natural in that context, and what might be an interesting discord between the space and its environment. As a designer, I do not have a preconceived notion that I apply to everything I do. Instead, I adapt my work to the requirements and context of the project – to what feels natural in any given situation.
Let's delve deeper into the context of spatial design.
Considering context in spatial design does not necessarily mean that the designer applies a certain style or era in their project. However, understanding the space under construction will help steer choices and solutions in a certain direction. They may be in complete contrast with the room or align with the framework. The choice needs to be deliberate and informed, however.
Exhibitions are mainly temporary. It is easier to make contrasting choices in exhibition architecture because there is no risk of the space becoming obsolete. In more permanent locations, such as restaurants and hotels, the rooms must stand the test of time and age gracefully.
How do you see the context of Helsinki Design Week?
It is a festival that celebrates innovation and design industry development. At the same time, it strives to offer people experiences they cannot have at home or at work – a festival enables more revving. HDW also opens doors to premises and buildings that city residents rarely get to see on the inside.
Yes, HDW events have been known to reveal some of the city's well-kept secrets. What do you think visitors should pay attention to in Merikortteli?
The 6th floor is a splendidly raw space. The floor is unfinished concrete, and the pale walls have traces of demolished structures and old interiors that remind me of patchwork. Columns across the rooms create rhythm in the space and emphasize the ceiling height of more than five metres. The windows offer a view of the rooftops of Punavuori. In a bare and bright space, the finishing, details and colours of the exhibits stand out well.
You designed your first exhibition for HDW at Teurastamo in 2014. Your imprint was also on the Fiskars Art & Design Biennale in 2019. Which has been the most memorable experience during the partnership?
In 2022, the festival took place at the "Sugar Cube," the famous white building designed by Alvar Aalto in Kanavaranta. The former headquarters of Stora Enso have divided the public opinion since completion in the 1960s. Yet only few people have visited inside the building. I designed a wine bar for Artek on the 6th of the building. There was a view to all directions, and that is where one really understood the idea of the building. All the stars were aligned in that project.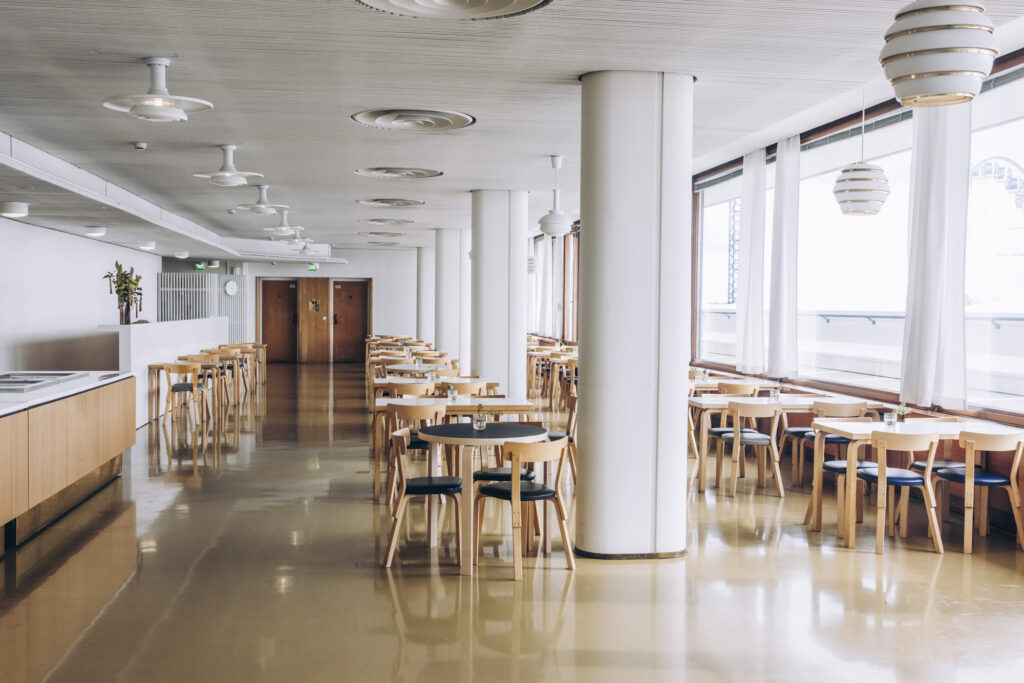 What kind of a cultural capital is Helsinki?
Helsinki encompasses a rich history of design and architecture, significant and appreciated both locally and internationally. In addition to well known national romanticism and modernism, Helsinki boasts interesting, high quality design from later decades that deserves attention.
I would like contemporary designers to be better known so that they could have opportunities to create new pride in our city.

Lauri Johansson

It would be great if these phenomena and people were presented to a wide audience – which is what Helsinki Design Week is doing, absolutely. Many travel from Helsinki to Copenhagen to attend 3 Days of Design or CHART. If the design disciplines in Helsinki strengthened their cooperation even more, we could have an equally attractive event here. Nevertheless, Helsinki Design Week is an exemplary step in the right direction.

Helsinki Design Week at Merikortteli 13–17 September 2023 (Wed-Fri 2-8pm, Sat-Sun 12-8pm). Get your tickets here.