Learn about the 2018 Open Studios tour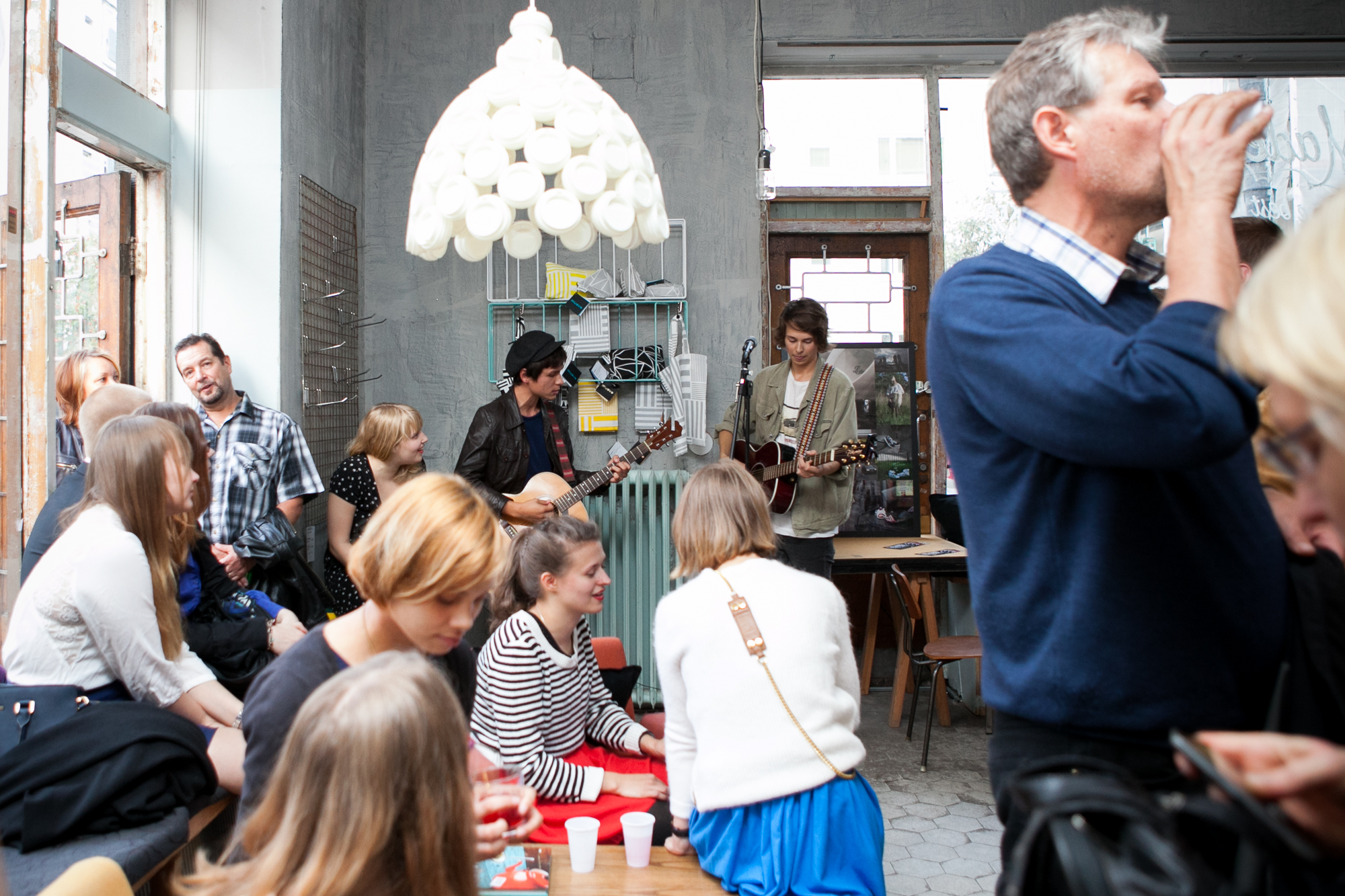 Open Studios introduce the most interesting work spaces in Helsinki 13 and 14 September.
Evening events organized by Helsinki Design Week, the Museum of Finnish Architecture and the Mushrooming studio network let the forerunners of the creative fields and architecture open the doors to their offices to tell us about their activities. We can expect inspiring encounters and versatile programme for two whole nights.
Register to join the tour and check the schedule in more detail.
Open Studios on Thursday, 13 September:
On Thursday, the studios are open from 17.00 to 20.00.
Profit Interior
Spatial design agency Profit Interior creates multifunctional, adaptable and enjoyable working and learning environments as well as premises for cafes and restaurants. During the Open Studios evening, we'll get a peek at an ongoing project by Lake Kallavesi, among other things.
Snellmaninkatu 27
Tuomas Siitonen & Johannes Nieminen
A working community located in Hakaniemi consists of architect Tuomas Siitonen's office and graphic designer Johannes Nieminen's practice. Siitonen and Nieminen often cooperate creating exhibition designs for museums. During the evening, we'll get to see some of Siitonen and Nieminen's work and learn more about their approach.
Hämeentie 4 C TH 10
Kanttia2 ja Pinto
Architects' office Kanttia2 and design agency Pinto present their approach, which combines architecture, product design, design and service design, as well as their new premises located on the 6th floor of former Elanto headquarters building.
Hämeentie 11
Ark-byroo/archtours
Ark-byroo/archtours is an agency specialized in design, the history of architecture and excursions. During the evening, we'll hear about their most interesting projects. What makes an architect tick for an old office building, hospital or prison, for example? And what fascinates an architect travelling to Finland or from Finland to another country?
Kustaankatu 3
Open Studios Friday, 14 September:
On Friday, it's open doors time at creative agencies from 18.00–20.00. During two hours we'll have a chance to visit them at our own pace or on a guided tour.
Napa Agency
Napa Agency is the first illustration agent in Finland, listing 17 professional Finnish illustrators. The agency is known for its impressive illustration styles. During the evening, we'll meet some of Napa Agency employees and learn about their activity as well as what it's like to work with an agent.
Pursimiehenkatu 13 A 3

Berry Creative
Creative Agency Berry Creative consists of architects, graphic designers and artists. The agency creates goal-oriented brands and environmental art. During the evening, we'll meet the agency people and have an opportunity to print our own posters in their workshop.
Annankatu 16 B 44-47 6th floor
Evermade
Evermade is a digital agency that creates fantastic websites and services. Evermade designs and implements websites, applications and other digital services based on their experience of hundreds of projects.
Lönnrotinkatu 18 C 2, 00120
Duotone
Duotone is specialized in photography, video shoots and creative guidance. Duotone encourages utilizing the creative abilities of all individuals in the team and experiments various end results with the client. Duotone believes that commercial success is achieved through creativity and an inspiring process.
Eerikinkatu 48
Publics
Publics is a modern-art agent and a curatorial organization that has opened a new art-themed library, reading room and event space in Helsinki. Publics is committed to presenting new ideas, sustaining critical thinking and making modern art easier to approach to the public. We'll have a chance to learn about Publics' activity and library designed by the internationally known Julia collective.
Sturenkatu 37-41 4b
Verstas 247
Verstas 247 craft gym provides a space and equipment for crafts people for working out with textiles and other handicraft materials. It's an innovation that represents the sharing economy: shared use of tools and equipment helps save natural resources and money. Verstas 247 helps using natural resources sustainably also by providing reusable second-hand materials. Just like a gym, Verstas 247 is open all day and all night.
Toinen Linja 23, 00530 Helsinki
Werklig
Werklig is a brand design agency whose clientele includes the City of Helsinki, Holvi and Helsinki City Museum. We'll have an opportunity to visit their offices and meet their people.
Ympyrätalo, Siltasaarenkatu 18–20 B 9