Men explain their small cabins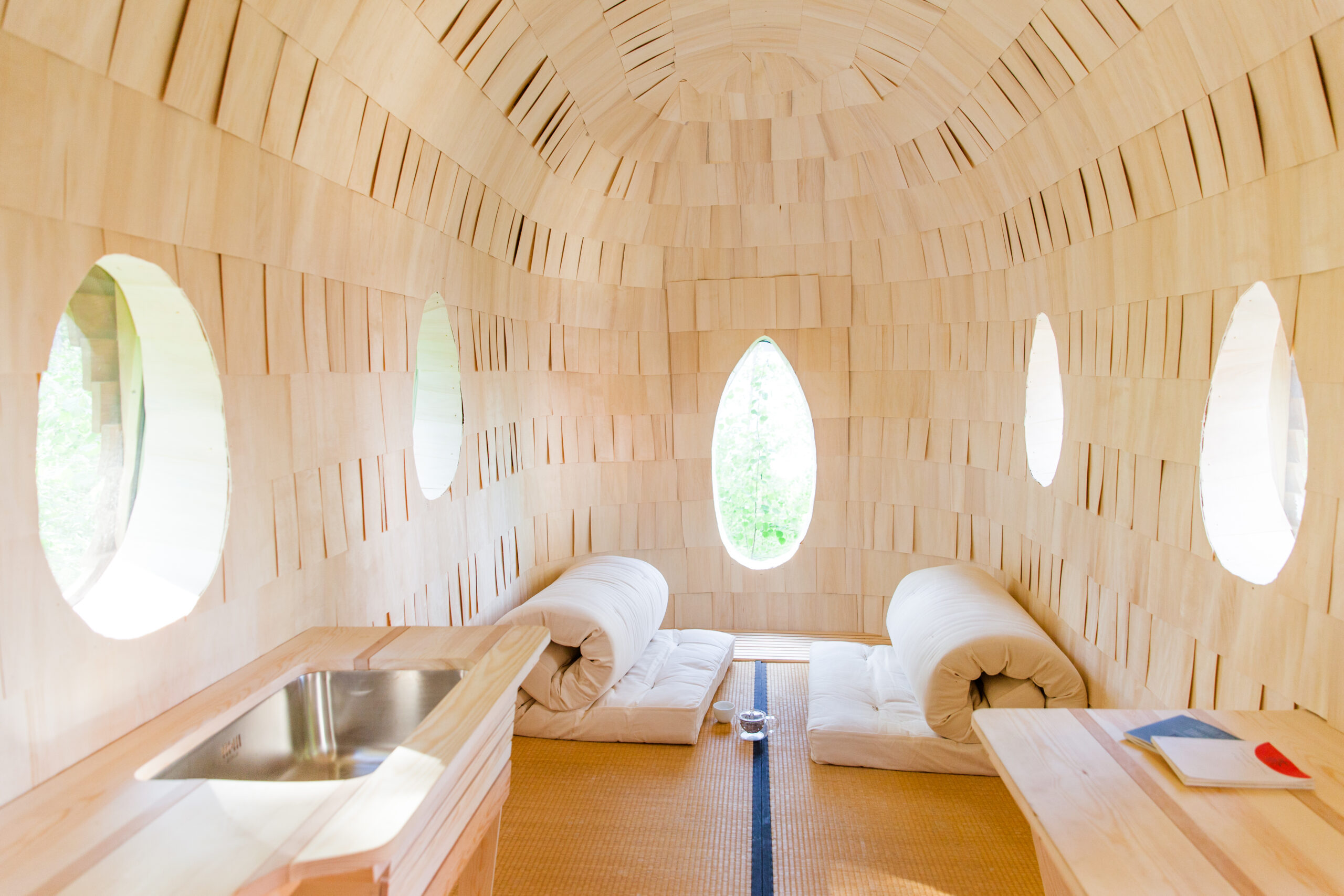 Is a small cabin the answer to the humans' nesting instinct? Could the core of summer-housing be squeezed into a tiny urban cottage? And who gets to design a cabin, build it and on whose permission?
Is a small cabin the answer to the humans' nesting instinct? Could the core of summer-housing be squeezed into a tiny urban cottage? And who gets to design a cabin, build it and on whose permission?
In the last podcast this spring, we'll discuss cabin life and new ecological solutions with architect Harri Hautajärvi, designer Robin Falck and structural engineer Toni Goltz who specializes in ecological materials.
How do you define a cabin? How does it differ from a house?
Harri: "That is a really interesting question. Once again we can go all the way back to ancient Rome where rich people had a villa or a palace in the countryside to visit when they got tired of the city. Going to a cabin is pretty much the same thing. This phenomenon hit Finland for the first time in the early 19th century. That is when the first villas and summer houses were built here. In the end of 1920s, small weekend cabins designed by architects were in fashion. In the 1930s, the design of small sauna cabins began, and the concept of the Finnish summer house was born. Since the 1960s and 1970s, summer houses have been built in masses, and now we have approximately half a million of them in Finland. I assume we have more cabins per capita than anywhere else in the world."
Both the Nolla Cabin designed by Falck as well as the Luomukoti ("Eco Home") designed by Goltz are made of ecological materials. Which materials do they involve?
Robin: "In principle, designing an ecological cabin is a fairly complex issue. First of all, the cabin needs to be built. For the Nolla Cabin, I chose spruce plywood produced in Finland and other materials produced as near the cabin location as possible so that the material delivery would not require much transport. If a cabin is made of wood and ecological materials produced nearby, its carbon footprint is very small. But once you add a human being in the formula, challenges appear. Then we need to study how the human being will behave in that space."
Toni: "My Eco Home is made of chemical-free materials. The cladding consists of spruce shingles and heat-treated pine. Insulation is domestic hemp fibre, and the frame is made of pine and spruce. I chose mainly pine and spruce for the floors and interior structures and aspen, which is light and smells good, for the interior surfaces."
Is a close-by cabin the answer to more ecological summer-housing?
Robin: "It's important to use the cabins that already exist and to have easy access to them. Families driving for hours to their cabins after work on Fridays and then back on Sunday is a hot topic now. We need to see if cabins could be located more near our homes or in an area with public transport."
Harri: "Finland is concentrating on a few growth centres, and this will increase people's need to escape to the nature. For example in Helsinki, the parks are being developed for housing as the population increases. There is plenty of demand for these types of allotment garden and summer cabin areas. Some have been built in Espoo, for example, but there is a need for many more, and they could be built around the cities. Design competitions to create these areas and cabins might be a good idea.
We often talk about designing small-scale tiny cabins, but in reality, the younger generations of Finns expect all amenities from their cabins. The trend is to build a rather large second home with HVAC which often has more conveniences than the city home."
Listen to the entire interview here. The playlist for the programme was selected by graphic designer Jenni Väre who is in charge of the Helsinki Design Week 2019 visual appearance. The new look will be launched 12 June!
Helsinki Design Weekly will take a break for the summer. You can listen to all the episodes with the Podcast application, on Spotify or on the Radio Helsinki website.
The programme was enabled by our partners Modeo and Design Museum.
Photos: Nolla / Neste, Luomukoti, Paavo Martikainen