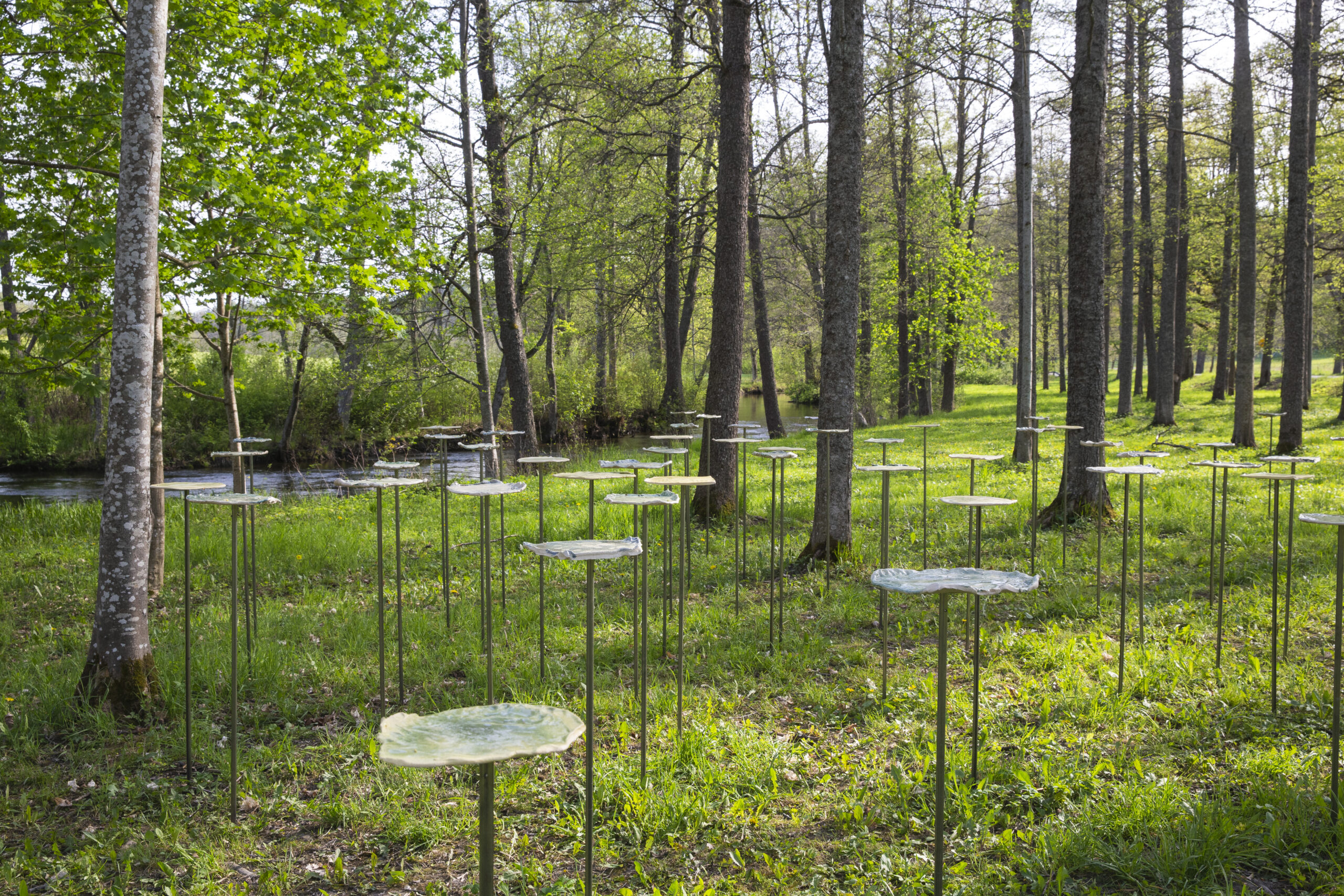 Fiskars Village Biennale invites us to notice the hidden details
Fiskars Village Biennale's full programme is published today. The second edition of the biennial which brings together design, architecture, and contemporary art is hosted at Fiskars Village from 22 May – 4 September 2022. Owing to its varied side programmes, the biennial expands throughout the Raasepori region, offering experiences for locals and visitors alike. The Fiskars Village Biennale serves to support artists, designers and event visitors, while also leaving space for a sense of wonder; the collection of events invites attention to hidden details as well as to messages delivered by our surroundings. What does our nearby environment feel like, and how do the different senses impact our experience?
The three main exhibitions in the biennial are: the newest chapter in the international research initiative U-Joints – titled Knots&Knits, a brand new concept called the House by an Architect, as well as the group exhibition Hidden, organised by the Onoma Cooperative of Artists, Designers, and Artisans in Fiskars. Complementing one another, the main exhibitions invite their visitor to observe the world from a new angle. Knots&Knits highlights the beauty of the connections and joints found all around us, and the House by an Architect concept celebrates the skill of designing a small space. Hidden shifts our attention to perceiving just how all-encompassing and individual our collective experiences are.
U-Joints: Knots&Knits reveals overlooked details – knots are found everywhere
Knots&Knits is part of the U-Joints research initiative, spearheaded since 2018 by designer, writer, consultant, and teacher Anniina Koivu and architect Andrea Caputo. Joints are everywhere; this broad category includes mechanical ones such as clamps, springs, nails, staples, racks, and different adhesives and tapes. Joints can also be textiles, fabrics and ropes –– all of which hold our world together. A knot is considered to be the oldest way to connect things.
At the Fiskars Village Biennale, the ever-growing and evolving U-Joints ("universal joints") emphasises not just the functional but also the aesthetic importance of this key design component.
"There will be a large classification wall in the Granary, where we will collect images, videos, text, and material samples. Connection types are featured in the classification as subtypes. Subtypes include, for instance, weaving, making knots, knitting, threading, and braiding. There is a small story about each type with examples that relate to design, handicraft, or art," Anniina Koivu shares. "Beyond the ingenious functional solutions, we also look at the stories behind different joint-making methods, their cultural origins, and their impact on society. As we trace the details of joints and connections, we discover all kinds of fascinating people and events, and find ourselves slowly weaving an ever more complex picture of design details."
The extensive book U-Joints –– A Taxonomy of Connections, resembling an encyclopaedia in its depth and commitment, will be published this summer. "A joint is an ancestral and primitive necessity as well as a highly advanced contemporary solution. U-Joints highlights this key structural concept that has so far been clearly underestimated," says Andrea Caputo.
A House by an Architect can become a home
The goal of the Fiskars Village Art & Design Biennale is always to offer current and surprising encounters at the crossing points of art and design. The 2019 design exhibition presented product design. For Social Seating, curator Jasper Morrison wanted to emphasise the ability of designers to interpret the archetypal design task of "design a bench" in a variety of ways. A series of custom-made benches was born from this mission, serving to offer visitors — together or alone — many types of restful pauses along the riverbanks.
In 2022, curator Kari Korkman will pick up where Morrison left off: now it is time for architects to design a house. But more precisely, a house of no more than thirty square metres. The motivation derives from new legislation; the construction of houses smaller than this will soon be possible without the current construction permit procedure. The material is limited to wood. The end result is a series of very diverse mini-houses. As before, the architecture and design exhibition of this year's biennial also celebrates creativity, and goes to show how a consistent assignment can produce different outcomes. Participants include Anssi Lassila (Oopeaa), AS LL TK and Aalto University, Sommarnöjen, and Studio Puisto.
Ulla Koskinen is responsible for curating the interior design of the houses, together with leading designers and design companies such as Artek, Nikari, Woodnotes, Fiskars, and Iittala. The contemporary art exhibition curated by Helsinki Contemporary adds to the experience. Visitors can also stay overnight in the miniature houses, and almost all of them are up for sale.
House by an Architect opens to the public on Friday 26 May at 12 pm.
The world inspected in the exhibition Hidden – Forms of the Senses runs on many senses
The Hidden exhibition, in the black and white hall of the old copper workshops at Fiskars, plunges into the interpretation of our "lost" senses. We live in a strongly visual world where the role of seeing is highly emphasised, often at the expense of other senses. Curated by creative director Laura Sarvilinna, the exhibition challenges its visitors to interpret the world around them in a multisensory way. The exhibition design has been informed by individuals with sensory impairment, and researchers and thinkers in the field of art. In addition to art, architecture and design, the perspectives on the topic are both anthropological-ethnological and philosophical. Accessibility plays a crosscutting role in the exhibition design in terms of architecture, graphic design, and materials used, as well as in the contents of services. The local artist cooperative Onoma's summer exhibitions make the ironworks into an internationally recognised destination for art and design fans, year after year.
An interdisciplinary side programme runs throughout the summer
Thanks to an open and interactive call organised in the Raasepori region, the summer calendar is full of diverse programming.
Fiskars, the main partner of the Biennale, wants to open up a discussion on the immeasurable value of biodiversity — with its own installation to be located in the former ironworks grounds. The presentation will consist of ten greenhouses designed for the Biennale, which will examine in parallel the raw materials used in Fiskars products as well as living, growing plants. Through this juxtaposition, Fiskars wishes to remind visitors that in addition to developing circular economy practices, we must also be able to cherish and deeply appreciate our surroundings in their natural state. Not everything is meant to be consumed.
Nikari, the design studio operating in Finland's oldest workshop space, will open its doors to visitors, together with sister company Woodnotes, every Friday night from May until September. Guided tours of Villa Skeppet –– designed by Alvar Aalto for his friends Göran and Christine Schildt –– are also part of the programme. The exhibition Professional Copies, which presents the oral history of Finnish design, showcases creations by e.g. Pi Sarpaneva and Maj Kuhlefelt (P&M Design), Eero Rislakki and Pertti Palmroth. The Home&Found "festival of recycled houses" in June presents houses and lots for sale and rent in the Raasepori region, as well as exhibiting villages and services found in the area.
The selection of nearly thirty other events includes, for example, an exhibition at the Granary of children's products made from slightly flawed Artek furniture pieces by students of the Swiss design school ECAL. The parallel programme will expand to the Raasepori region, offering sculptures, paintings, dinners, poetry evenings, piano concerts, live podcasts, workshops, furniture launches, and fashion shows. The Fiskars Village Biennale is designed and produced in accordance with a sustainability plan.
Ticket sales start today. With one ticket (18/10 €) you can experience all the main exhibitions. See the biennial website for more information.