Sofia Ilmonen pushes back against the newness of fashion
Helsinki Design Weekly's Crystal Bennes chats with fashion designer Sofia llmonen about bringing modularity to fashion, the importance of thinking sustainably and the challenges of building a business from scratch.
To start off, you're known for your modular approach to garments. We've had modular furniture for a long time, why not modular clothing? You started working through these ideas during an MA at Aalto University. What prompted you to want to work in this way?
The modular concept wasn't an idea that I started to work on straight away. It emerged from my general desire to do things differently. After graduating from the London College of Fashion, I worked in London for five years. I was interested in more sustainable ways of doing fashion, but it felt like the industry was making minor changes—using more organic materials, for example—and, although these are good things to do, I felt that what we really needed to be looking at were systemic-level changes.
When I started MA studies, I had an idea to try something completely different in terms of pattern cutting. The starting point was zero-waste pattern cutting, which led me to using rectangular pieces. Then, in the next course, I started to find ways to combine the pieces. Could they incorporate adjustability? The MA programme was an amazing opportunity for me to test things. I didn't have any commercial pressure to make something that worked the first time. Course by course, I developed the idea into pieces and the pieces into functional wear. Things that didn't quite work in one mini collection, I adjusted and adapted for the next one.
By the time I presented my graduation collection, it had come together in the final format. Although, of course, now that I am making more commercial pieces, I have had to do some design development so that the garments can be produced more time-efficiently.
It is hugely obvious from looking at the garments and the individual modules that it is a very time-consuming technique.
I previously worked for Alexander McQueen and the ethos there is that it doesn't matter how long it takes to make something as long as we can bring the artistic director's vision to life. The years I spent there taught me a lot about craftsmanship and haute couture techniques which is something you can definitely see in my work as well.
My approach to design has always been more technical and sewing based. That's part of who I am.
For me, sewing is like therapy. I don't mind that it takes so long to make each module or to make each garment. They are not designed for one-time use, they are meant to last. So even though it takes a long time, one single module can take up to six or seven hours to make, it makes sense because it is meant to last and to be transformed and reinvented over a long period of time.

Sofia Ilmonen
I'm assuming that you have some help now with making the garments, that it isn't just you?
It's not just me, I have some additional sewing help now. Because of the time required to make the pieces, this is reflected in the prices of the garments which are quite high. It's been a little bit of a struggle for me in terms of who can actually afford the pieces. But I have also been lucky to have some amazing collaborations with artists who can see the value of, not only what we are making now, but also the future possibilities.
I wanted to ask you about what sustainability means to you in real terms. There's obviously the modularity concept and your choices of fabric, but what about the question of collections and need for constant newness? Do you feel that you have to produce four or six collections a year to keep pace? And does that conflict with your sustainability goals?
I can say that I definitely feel pressure to be doing new things all of the time. It's this idea that you are nothing if you don't have something new to show. My idea with the new collections is that I retain the existing modules but change the silhouettes where the colour ways are right. Maybe I add a colour or print, something to the mix to tell a new story with the same modules. I'm trying to push back against the newness obsession, but the pressure is real and you feel that you're expected to have at least two collections per year. As a new business, the amount of resources it takes to put together a new collection are enormous and you don't have any guarantee that you will see a return on that investment.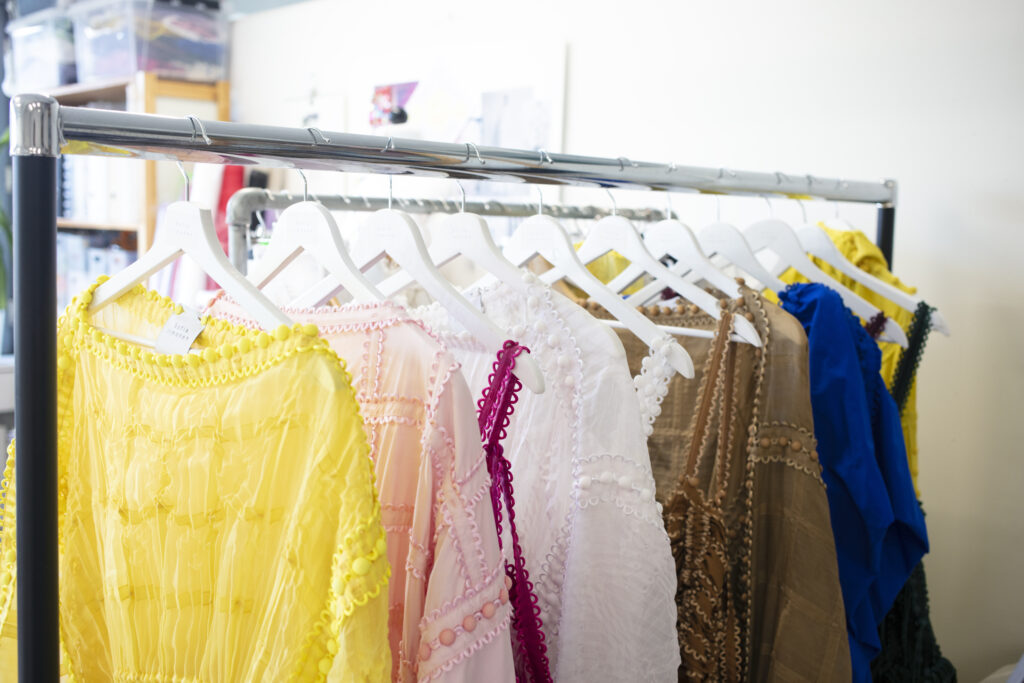 There's a very strong sense of bold, monochromatic colour in your brand, but I know you also have, or at least had, a keen interest in natural dyes. Could you say more about your interest in colour?
Yes, my BA graduate collection was all made with natural dyes. That was ten years ago when I was concentrating more on sustainability in materials, but I am still interested in natural dyeing.
In terms of commercial use, the problem with natural dyes is still that you can't source naturally-dyed materials at scale. Although there are some suppliers, the material choices are very limited. I also have to look at colour fastness which is a big concern with using natural dyes.
Until last month, I have been working on a collaboration with BioColour. I will be making a mini collection that draws on their research into colour fastness, but also consumer perception of colours and natural dyes. We are interested in how people who buy clothes think about colours and natural dye and whether the fading is a positive or negative aspect. It is such an interesting research project and I am really happy to be able to be part of it with my modular structure.
To come back to the question of sustainability in relation to materials, what are you looking for when you make fabric choices?
One main thing is the durability of the material, because I want the garments to last for a long time. So, the main material for me is cotton poplin. Then, I will choose a supplier that does quality cotton with all the available eco-certifications.
Even though I know that cotton isn't the most sustainable material, at least I am choosing it for a reason—it's very durable and high quality. That's important for me. What's the point of choosing material that isn't long lasting?
I also use silk organza with similar environmental standards. Material choices are always works-in-progress. There are certain materials I need for the different parts of the modular structure, for the button loops, for example, which can only be man-made polyester. So, I'm thinking about whether polyester is always bad or is the problem for short-use garments. But I'm always keeping my eyes open for more sustainable materials. My ultimate goal would be to use mono materials for the module so that everything could be recycled at end-of-life.
Do you think that your customers care about sustainability or mainly the aesthetics of your garments?
Honestly, it's a bit of both. Often people like the look of my brand and then they find out about the sustainability ethos. Or sometimes people approach me because they want to choose something sustainable.
In terms of the modularity, do you have a sense that people who buy your garments take the dresses apart and refashion it into a new silhouette themselves? All those button holes look a little intimidating!
It's interesting you ask that because I have also been thinking of moving into providing this as a service. So, you can send your garment back and have it made in a new silhouette. Or you can purchase a manual with instructions to modify the garment yourself. I've mocked up a trial publication which is a little bit like one of those Ikea booklets. Product design is quite closed, there's not really an easy way to change things. I'm not thinking exactly along the lines of open design, but certainly there is the possibility for the buyer/wearer to change the garment themselves.
I feel that there's a good possibility to expand the relationship between garments and the customers who own the garments. Maybe the wardrobe of the future will be more like transformable, adjustable modules instead of fixed garments.
You won the Mercedes-Benz Sustainability Prize in 2021 which came with a pretty substantial cash award. I'm assuming that this was pretty important in enabling you to launch your own label?
It was as part of the Festival d'Hyères competition that I won that prize and it felt amazing because the entire basis of my collection was sustainability. When I was making my MA collection and sewing these modules, it was in the middle of the coronavirus pandemic and I often wondered if I was a bit crazy. The application submission was before I graduated and I applied and wondered if anyone was going to understand what I was doing. So not only was it incredible to receive the prize, but also the confirmation that I am doing something right.
And yes, the prize money was one reason why I could start my business. The competition also included a mentorship from Orsola de Castro, which was great, and afterwards we continued conversations which led to an invitation to show the collection at Berlin Fashion Week.
How has it been working for you since starting the brand? Do you have a studio practice where you design and make? Or are you designing and then outsourcing the manufacturing work?
I have a lovely studio which is a shared workspace between five people, all of whom work in fashion or textiles. For the sewing and production side of the modules, I have a number of freelancers helping me out, so it's mainly just me working here in my corner of the studio. The shared studio is amazing because we all work in the same field. Even though I'm running a business alone, I have people to support me or give feedback. It's a great vibe here.
Can you talk a bit about your design process?
Now, because I have a good understanding of how the modules work, I do sometimes work in sketches. But it's still really important that I see a prototype of a garment on a mannequin or model. I make prototypes of everything. I have a set of prototype modules which I put together and assemble and reassemble. I work on a stand a lot to see how the modules drape. Experimenting with draping and combining the modules in a hands-on way is a big part of my design work.
And are your prototype modules plain muslin or the finished coloured cotton poplin?
All my prototypes are white. I need that as a blank canvas when I start. So, first thoughts are always white and then the next stop would be to decide what colour I want something to be. Although it does happen that I sometimes find a colour I love and then design a silhouette around that colour.
What about working in fashion while being based in Helsinki? I know some people love that it's a bit smaller and quiet and they can focus on their work, where other people feel that the scene is too small which frustrates their ability to build and grow a brand. How is it for you?
I feel exactly how you described it. It's a beautiful creative city to be in and quite a close-knit community of designers. We can share ideas and our struggles. But then, compared to a city like London, the manufacturing side for fashion is almost non-existent. You have to look outside Finland to produce garments which does make it more difficult. Especially in my case, because it's a time-consuming, more haute-couture technique, I haven't really found a factory happy to accept this type of work. It has been a long journey to find the right kind of people to help with the production, but it's starting to improve.
Do you feel that there's a strong industry-wide support system in design in Finland?
There isn't necessarily that support system in Finland for fashion. We don't have something like one company or organisation who supports the industry. There's Fashion in Helsinki who do a great job and nurture a supportive feeling between designers. I really feel that if one brand is getting positive attention, that's something which benefits everyone. It lifts us all. But it's easy to work in your own little bubble and I think that some kind of fashion council who could support all of the designers would be a good idea and a big help. Every time someone starts their own brand, they go through all of the same struggles all over again. It would be beneficial to have a central organisation to promote the Finnish fashion industry, but also to help ensure that knowledge is shared so that every new designer doesn't have to go through all of the same struggles again and again.