Founders of Let Me Wine: "We will not want to do this anymore if it gets too serious"
During Helsinki Design Week (13–17 September 2023), the 6th floor of the Main Venue Merikortteli will house the Let Me Wine & HDW Pop-Up wine bar. Let Me Wine, founded by Toni Feri and Lauri Kähkönen, is a company that imports natural wines to Finland. These guys make wine easy to approach, one delightful glass at a time.
Toni and Lauri, your company is rather unique in Finland. What makes Let Me Wine what it is?
Toni Feri: We buy wines mainly from producers who produce very small amounts per year. Many of them are very popular internationally, and we may only obtain very small batches of each wine. This is why most of our wines are not available throughout the year and we offer seasonal and limited editions. It is therefore important that our customers can trust our offering. You can buy any bottle from us and trust that it is of high quality. Most of our sales come through restaurants, the rest is bought by consumers. However, since the beginning we have been building our brand to be known by consumers, too.
You are spotted regularly around Helsinki and Finland from festivals to pop-up restaurants.
Lauri Kähkönen: We have organized plenty of events at the kiosk of the Karhupuisto park next to the Way Bakery that we founded. For example, unique and popular pop-up restaurants together with Finnish-French chef Maud Saddok, and during Midsummer, we poured wine at the Solstice festival in Ruka. Early this autumn we had the honour to organize the 20th anniversary festivities for the cheese store Lentävä Lehmä. Let Me has always been actively engaged in whatever is going on in Helsinki.
We came up with the company name inspired by the 'let me love' stickers seen around the city in the early 2000s. The label of our 'let me love' pet nat was designed by the same artist in the spirit of these stickers. In fact, 'let me love' is a perfect Let Me product: natural, indulgent and relating to the city.
Now that you mentioned pet nat, what kind of wines do you carry in your portfolio?
Toni: We have been building our portfolio little by little by visiting small wine events in Europe. They attract fewer people compared to big trade fairs so that there is a chance to spend time with and learn to know the producers. We usually sit down to have dinner with them at the end of the day.
It is important for us to include large, world-famous brands and upcoming producers side by side in our selection. We love to work with young wine producers; it is so cool to grow together with them.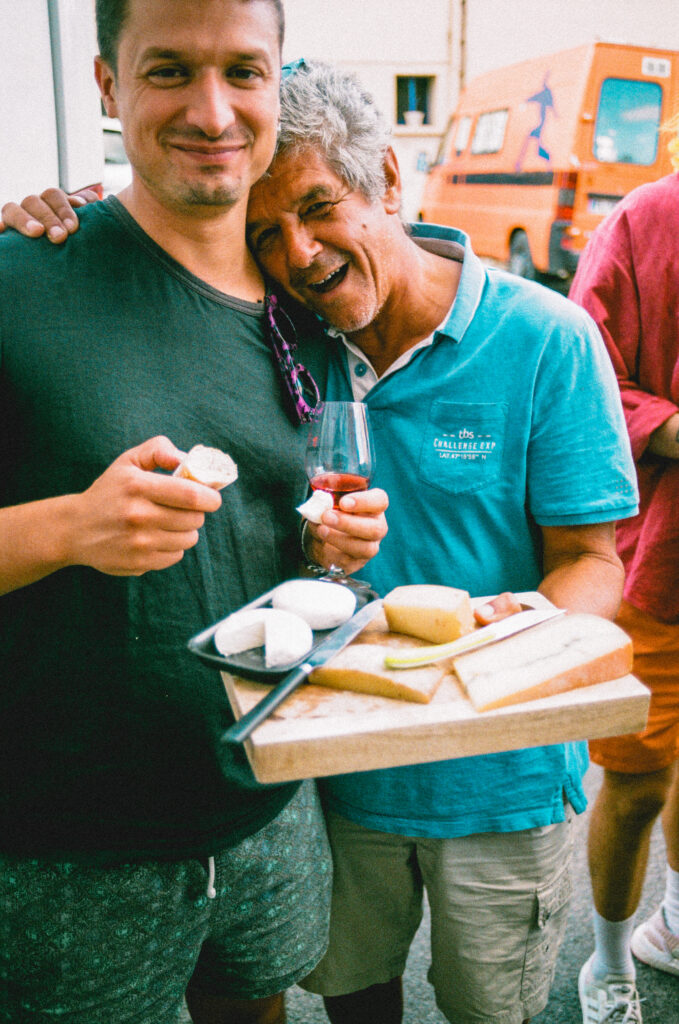 Helsinki Design Week's theme for this year is 'Once upon a time'. What is Let Me Wine's story?
Toni: We founded Let Me Wine feeling rather punk. We had an enormous amount of energy and motivation but no experience in imports. We have learned and mastered business skills along the journey. At first, we thought all Let Me wines should be "totally crazy". Over the years we have become a more serious importer, however, with wine from top producers plus fun ideas.
Lauri: We both have solid backgrounds in the restaurant business. Toni was a sommelier at restaurant Grön, and I am one of its two founders. That is where we got the idea to establish Let Me Wine. At that point we felt wine was not fun enough. People were expected to know all kinds of details about wines up to a point when it got nearly scary to try a new one. We wanted to make wine more approachable.Toni: We had run Let Me Wine for about six months when Grön received a Michelin star. After that it became easier to approach wine producers. They were then able to trust that we know something. Had we worked with imports for ten years, this company would look very different.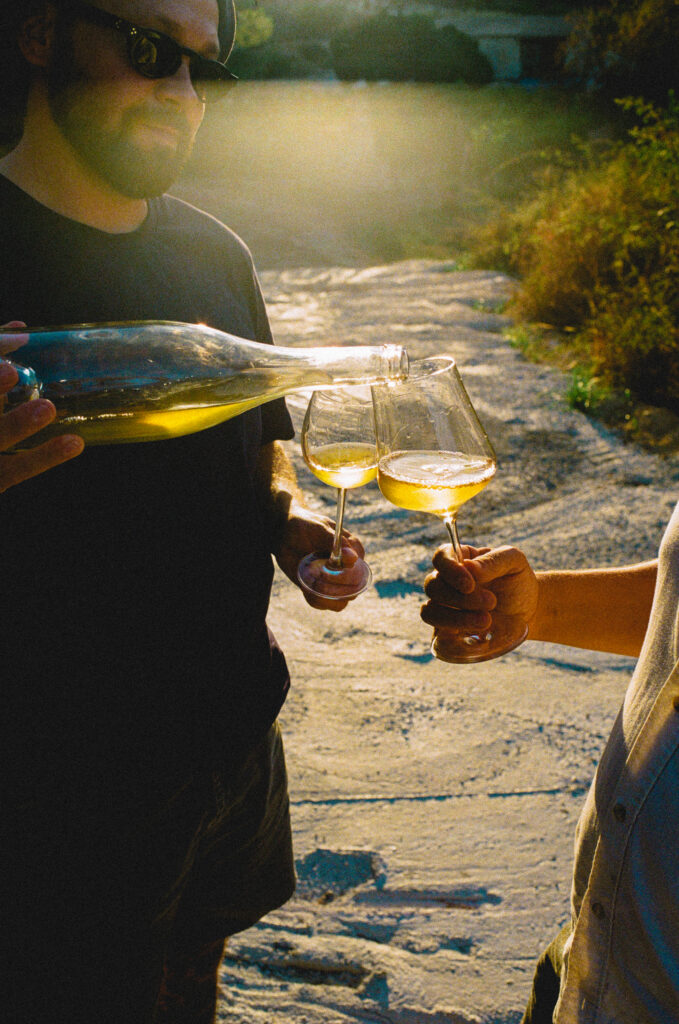 Your wine philosophy has been popularized, so to speak. How do you make natural wine approachable?
Lauri: You need to go a bit overboard with any new idea to stand out from the old. During the early days of Let Me Wine, we would pour wines targeted at hardcore wine enthusiasts to any group of people. That did not fly, and we soon found middle ground. However, on occasion we still need to convince people that natural wines are not dull or smell like fertilizer.
What about wine in general?
Toni: There is no wine production nor a long history of drinking wine in Finland. People are fairly open to new ideas. In traditional wine countries including France, Italy and Spain, people tend to be more conservative. They have learned since childhood that one is supposed to drink this wine with this food and that is it.Lauri: There is plenty of theatre involved in drinking wine; candles, swords, pins and then some. That is not our thing. I will not want to do this anymore if it gets too serious.
So, you are saying that there is no need for a textbook or a manual to enjoy wine.
Toni: Our message has always been that wine does not need to be taken too seriously. We want people to try any Let Me wine without hesitation. Each vintage year is different but will include a taste of the area, producer and grape variety. We find it most fascinating that each wine tastes a bit different every time. It is such a pleasure to find one superb vintage year among ten. If every vintage year is perfect, that is boring.
Let Me Wine's appearance differs from traditional alcohol imagery; it is explicit and breezy, designed by awarded graphic designer Aliina Kauranne. What is the message in that?
Lauri: Our look says that we like to talk about vibrant wines. That is our clue. It is nearly impossible to describe a flavour or fragrance on social media. The various tones and shades of wines make excellent visual elements. Just think about a ray of sunshine hitting a glass of wine.
Toni: We wanted our personalities, too, to be included in the brand. Some small breweries print rather aggressive labels. We import bottles with labels that differ somewhat from the traditional style. They feature pastel colours and cool typography. After all, wine is an indulgent drink. It is great to include love and softness in the Let Me brand.
You regularly publish curated what-are-you-listening lists enclosed with a wine recommendation. How do you combine wine and music?
Toni: I think wine is much more than a companion to food. Wine goes with so many moments. To me it is just as logical to match wine with music as it is to match it with food.
I listen to a mixtape and reflect on my feelings. Music can be light or sparkly or more complex requiring concentration. It is the same with food: you can choose a wine that is the complete opposite.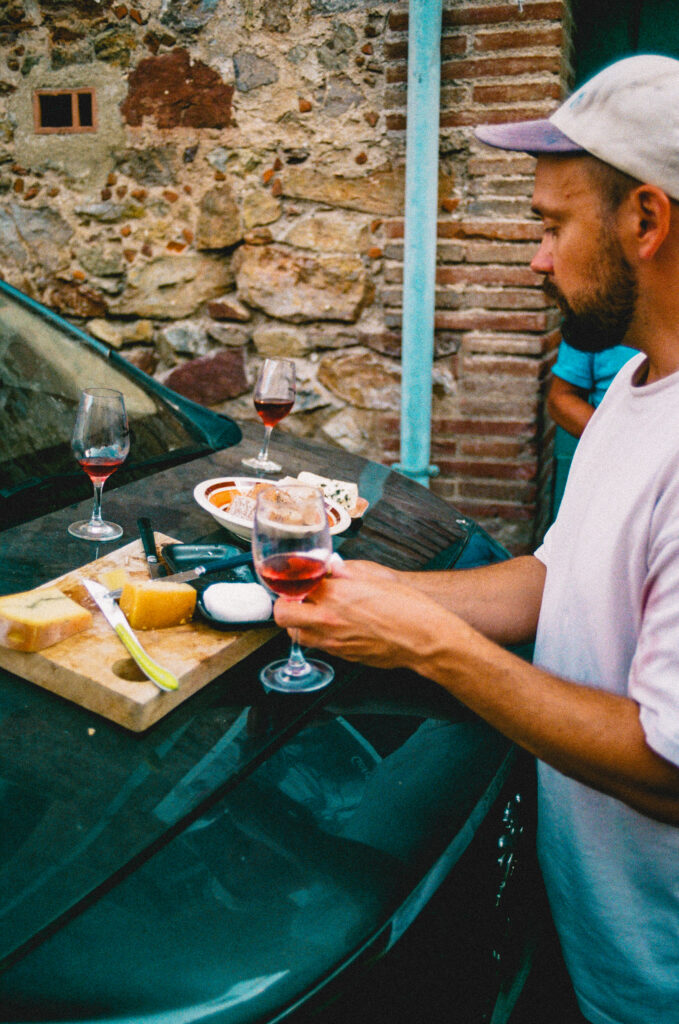 This is the first time for you to partner with Helsinki Design Week. What does it mean to you?
Lauri: For us this is an amazing opportunity to connect with new people and introduce a new wine culture in Helsinki. A large part of the Let Me Wine identity is to help make urban culture stronger. It is an honour to collaborate with Helsinki Design Week.
Toni: HDW brings creative people in Helsinki together, and it is always a pleasure to cooperate with creative people. I have had the best conversations about wine with creative people, independent of their specific field, such as theatre, music or design.
Indeed, creativity is not related to a specific field. What makes a creative wine producer?
Toni: A wine producer works with nature. Nature is full of living, uncontrollable organisms. It takes creativity to find the right solutions and end up with a beautiful, delightful product. In this business creativity is not about fancy label design. Instead, creativity is all about choosing your unique process and path.
Lauri: Our heroes are people who cultivate rare grape varieties despite pressure and objections from their community. For example, Italian Camillo Donati, who is a producer doing his own things towards his 70s. Thirty years ago people thought a wine producer can survive with sweet Lambrusco alone. Had he followed the masses, the world would have lost something very special.
What is the one thing Let Me Wine never compromises?
Toni: All wine must be organic or biodynamic and environmentally and socially sustainable. At the moment Finns consider natural wine dull and odd-smelling. I consider natural wine organically produced, its soil cared for, and made from a grape variety that originates in the region. The soil must be cared for so that it is in better condition tomorrow than today.
Let Me Wine & HDW Bar at Merikortteli 13–17 September 2023 (open daily Wed-Fri 2-8pm, Sat-Sun 12-8pm). There will also be a festival closing night party on 16 September. Learn more and get your tickets here.