Vyner Articles created a scarf with at least 7 uses for HDW
Helsinki Design Week's Design Market is taken to the vendors' retail stores from 10 to 12 September. Dividing the market suits the pandemic situation and enlivens the city centre: small designpreneurs' operations are an important part of urban culture.
Weekly met Vyner Articles' founder Heikki Salonen. Design Market customers can visit Vyner Articles' new studio on Kasarminkatu or their online store. Design Market will also feature a new scarf for Helsinki Design Week by Vyner Articles: it is a bandana with many functions.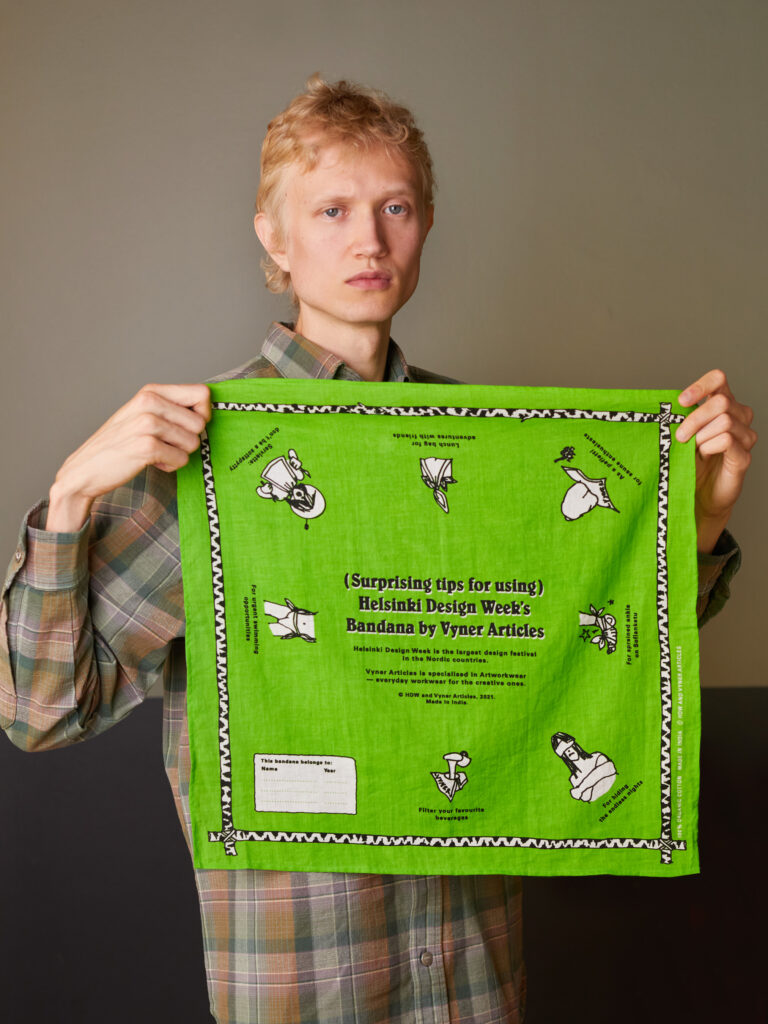 Weekly: How are you at Vyner Articles?
Heikki Salonen: Our goal is to keep doing interesting projects. We update our agenda all the time and develop our skills at the same time. We hope our own interests are reflected in the work of our company into something that others, too, can identify and maybe fall in love with. At the moment, we are interested in recycling. In particular, we are studying different materials and whether, instead of organic cotton, we could use something else that has been recycled.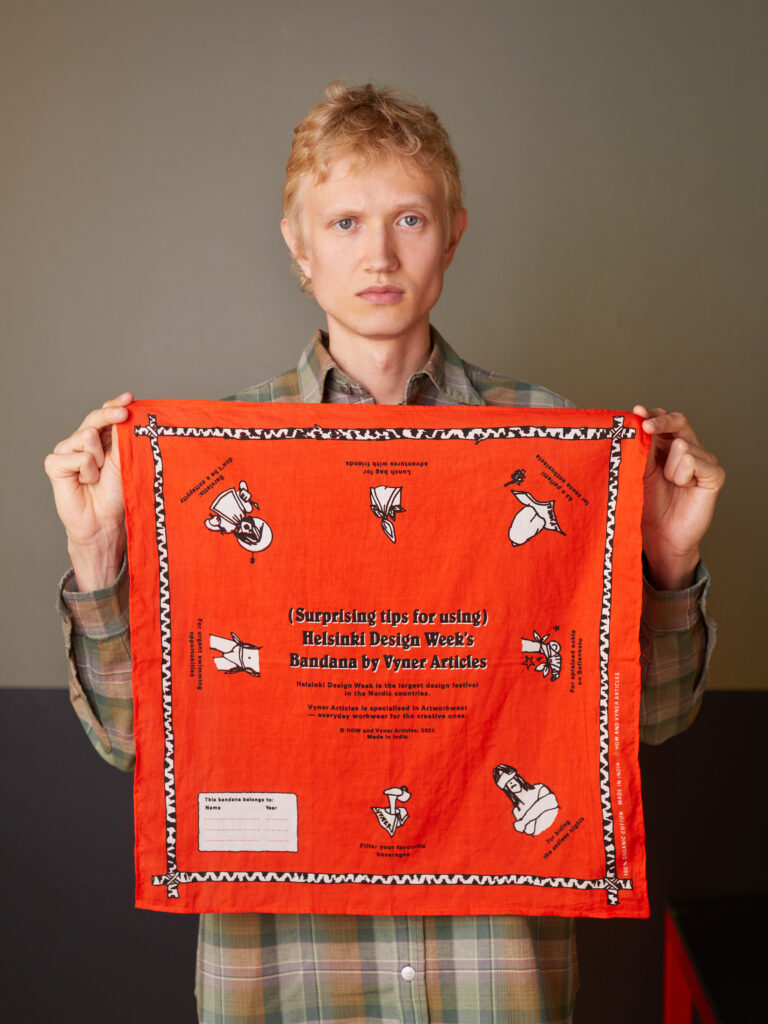 W: Tell us more about your new studio on Kasarminkatu.
HS: Our studio is also a store. I am inspired by Skatesystems and communities where hobbies, work, friends and fun all happen in the same space. Vyner Articles is a group of odd creative people, and a piece of clothing is always a social project. It requires context, while a chair or a glass can be admired without a person attached. It is always great to see how people own their Vyner Articles. Our studio space enables these encounters, and sometimes they are surprising.
W: Vyner Street is located in East London. How important is it to you to be local, and does moving to Helsinki and changing the scenery show in your design work?
HS: I hope it does, as well as all other life lessons learned and what we are living through at the moment. Clothes must reflect and comment on the present.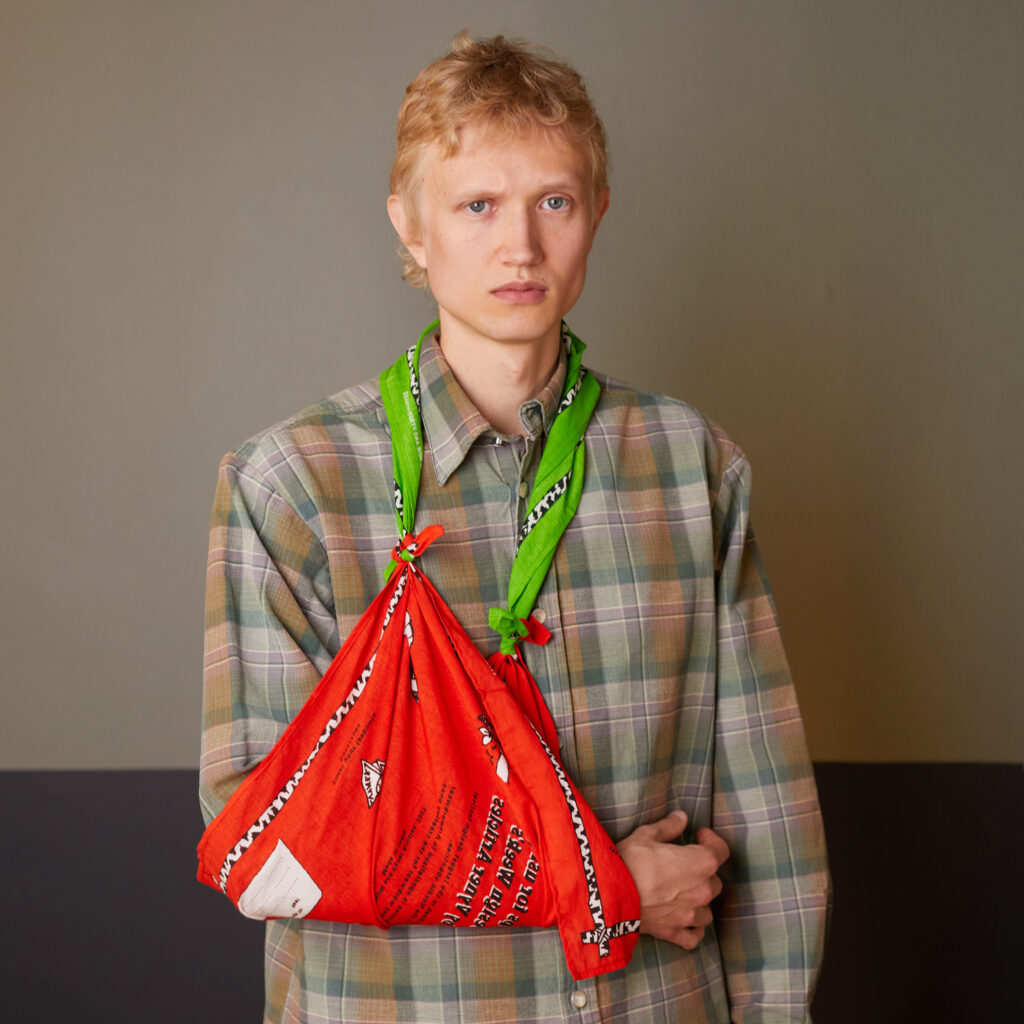 W: What is "artworkwear," that is, who do you design for?
HS: The idea is to make clothes that can be worn by anyone, because clothes that look like you will make you feel the most comfortable. There is all type of *work* in the modern world. That means any *wear* can be called workwear. Interesting people often look interesting, too. The truth is, they look like themselves, they're just wearing the kind of clothes that make them feel comfortable. I want the outfits I design to change according to who's wearing them.
W: In a Weekly interview a couple of years ago you said that you always sketch the first ten key outfits on certain known persons whom you appreciate, according to their specific style. Do you still do the same, and if yes, whom have you designed for lately?
HS: Oh yes. The last time I designed my collection on a few dogs I know: Hilma, Victor and James.
Vyner Articles x HDW bandana can be found here.