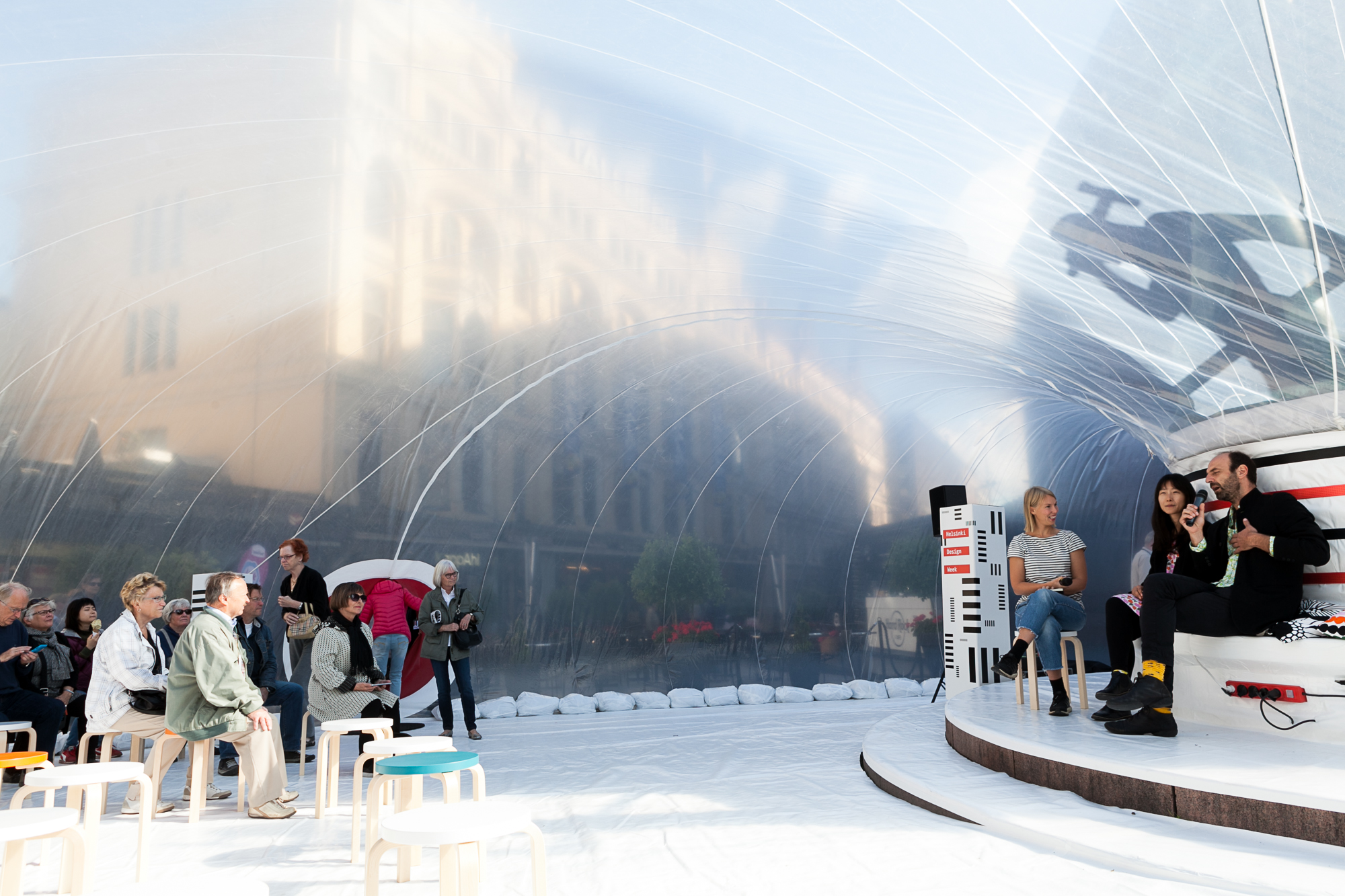 Weekly's picks of the wide festival programme
Everything around us has been designed by someone. Design is so much more than just objects!
Helsinki Design Week (8–17 September 2023) offers a wide variety of programme aimed at curious city dwellers. Make sure to check at least a concert inspired by the rapid development of health technology, a bazaar offering Afro-Finnish handicrafts, an architect's home at Hvitträsk arranging multidisciplinary art-themed evenings and students' bio-based material experiments.
Kentauri2050
11 and 12 September, 7pm. Tickets 29,50e/24,50e.
Kentauri2050 is a visual-kinesthetic concert inspired by the rapid development of health technology, Shakespeare's A Midsummer Night's Dream and Philip K Dick's dystopian sci-fi. More details can be found here.
Wild Birch and New Aesthetic of Sustainability at Artek.
8–17 September. Free entry to the exhibition, talks event is by invitation only.
Artek teamed up with design studio Formafantasma and as a result of their collaboration a new wood selection – wild birch – is introduced. In wild birch the natural marks of wood such as darker core wood, knots and trails left by insects are visible allowing more of the tree to be used to produce Artek's long-lasting products. Stool 60 Villi, made of wild birch, is launched at Artek Helsinki store. More details can be found here.
Weekly Bonus tip: Artek is one of the Exhibitors at the Main Venue Merikortteli, too!
Story of Roya and Liliia
14 September. Free entry, no pre-registration.
The premiere of AIDA Impact short film, that shares the inspiring stories of two women, Roya and Liliia, who work at AIDA. Through their heartfelt narratives, we explore the profound experiences of leaving home and embarking on a new journey. As AIDA Impact celebrates its 5th anniversary, we also honor our work over the years and our collaboration with Duotone. At the event you have an opportunity to design and buy your own AIDA pieces, with special HDW prices. More details can be found here.
Weekly Bonus tip: The founder of Aida Impact, Elina Siira, is joining the Design Diplomacy Talks programme, too! She will be playing cards at the Estonian Embassy. Book your spot here.
Basaari
16 September. Free entry, no pre-registration.
Good Hair Day brings together Afro-Finnish vendors, entrepreneurs and artisans for a one-day bazaar event. The Bazaar provides an opportunity to find new products and creators and support Afro-Finnish businesses. More details can be found here.
Architecture Walk: 1970s Eastern Pasila.
14 September, 15 September. Tickets 10/5/0 € (card only), pre-bookings via this form.
The walking tour introduces one of the most significant compact cities of the 1970s, Eastern Pasila (Itä-Pasila). The almost utopian approach that strongly shapes the environment can be seen and felt in an urban area that is unique and usually evokes a wide range of emotions. The walking tour of Eastern Pasila takes visitors through a district that was built in the 1970s as a prime example of utopian urban planning. More details can be found here.
Art evenings at Hvitträsk
9 September, 14 September, 16 September. Tickets /9/4€ or Museum Card.
The art evenings at Hvitträsk provide an opportunity to delve into the world of art, hear interesting discussions and stories about artists, architects, and cultural history. As part of the art evening, you will also have the chance to explore the Studio Life exhibition showcasing contemporary ceramics by the Arabian Art Department Association, the Hvitträsk architect home, and the museum's beautiful surroundings. More details can be found here.
Encounter Iced Sound
16 September. Online event, free entry.
Encounter Iced Sound at Helsinki Design Week is an interactive event by architecture practice rotative studio (Alexandra Sonnemans and Caterina Viguera) and composer and musician Ramon Landolt, which is about the collaboration and convergence of architecture and sound. More details can be found here.
Particularly mundane – a collection of products that bring joy to the everydayvista tuotteista
13–16 September. Free entry, no pre-registration.
Studio Viippola presents a collection of everyday objects and textiles that bring joy to life. Small rituals such as drinking morning coffee, listening to the radio, watering houseplants, or taking a walk in the nearby forest increase our daily well-being. Well-designed and carefully chosen objects support the enjoyment of everyday life and create a good atmosphere at home. This is an exhibition as well as an open doors event at the studio.
Visions of the streets of the future
8 September, 13–15 September. Free entry, no pre-registrations.
How to design the street of the future? How can design increase the comfort of the city? What do urban designers do? You will get the answer to these questions at the exhibition and workshop organized by WSP Design Studio. Esplanade's street experiment is full of surprising details, each of which has been carefully considered. In the exhibition presenting the experiment, you will get to know the new look of the streets and the story behind the design solutions. In addition to the street experiment of esplanades, the exhibition will feature new sign models for the inner city of Helsinki. More details can be found here.
Aalto University: Designs for a Cooler planet
7–18 September.
This year Aalto University students are exploring the Invisible – what don't we see even though we should? Aalto researchers and students invite everyone to experience what they think should be made visible. The displayed projects aim to shed light on the hidden and noteworthy, encouraging us to look beyond the surface and consider what lies beneath. The festival showcases research-based experimental and creative projects, samples and prototypes that have the potential to transform the way we see, think and live. Designs for a Cooler Planet offers everyone a chance to explore the Invisible through over twenty research and study projects in Otaniemi. The exhibition ranges from the secrets of brain research to slow fashion outfits from famous NÄYTÖS2023, bio-based material experiments and fresh thinking considering buildings and architecture – and everything in between. There are also a variety of open events and seminars, and a satellite exhibition at Helsinki. More details can be found here.
Weekly Bonus Tip: As a part of the Designs for a Cooler Plant exhibition opening, we are joining forces and organizing a PechaKucha Night! Learn more and book tickets here.
There are over 100 other design and architecture events. You can find them here.